The word "fintech" is defined in the Oxford dictionary as "computer programs and other technology used to support or enable banking and financial services."
That's an underwhelming and frankly shortsighted definition of what fintech really is.
Fintech is an emerging financial services sector that began as technological window-dressing for the back end pen-and-paper processes of finance.
But as we speak, fintech is gaining a head of steam as a hugely disruptive force in the markets, and it encompasses everything from online banking and mobile payments to Bitcoin and innovations in financial literacy.
And a whole lot more…
This week, I'm going to tell you what fintech really is and how it's going to change the world. I'm also going to tell you how you can make money investing in the tiny companies about to become the next Microsoft, Apple, Google, Visa – in short, the owners of the fintech future.
Here's just a small sampling of newly architected fintech solutions:
Cutting costs and improving quality of financial services
Leveraging advanced analytics to interpret customer behavior
Supporting delivery of personalized services
Advancing agility, innovation, and capabilities to leverage new technologies
Disintermediating traditional intermediaries and generating frictionless transactions
The most obvious impact fintech providers are having is on the banking industry, where these smaller, more nimble startups are moving into every banking activity in every corner of the markets.
And banks should be worried…
Cracking Open Fintech's Huge Market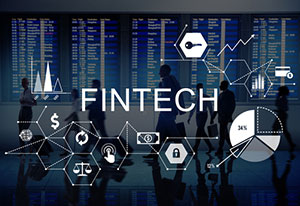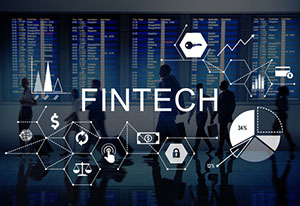 Let's start with something we've talked about a lot in recent months – online lending, a fintech assault on traditional bank lending.
The projected value of online lending is expected to be at least $290 billion by 2020, according to Morgan Stanley.
And that's just a small slice of the larger fintech pie…
The $3.6 trillion predicted value of digital payments to be processed in 2016, as estimated by Juniper Research, is being aggressively targeted by a multitude of fintech companies.
In a global $100 trillion economy, there's plenty of room for fintech disruptors.
A McKinsey & Co. report, "The Fight for the Customer: McKinsey Global Banking Annual Review 2015," identified 12,000 fintech companies and said 60% of traditional bank profits and revenue could go to fintech companies in the next 10 years.
That's huge.
Maybe that's why a 2015 PwC survey found 83% of financial services professionals were worried about losing business to upstart fintech companies.
It's not that there are so many of them, it's that they're getting some serious financial backing.
McKinsey reported venture capital investments in fintech totaled $12.2 billion in 2014, up from $4 billion in 2013.
Global investment in fintech in 2015 was over $16.6 billion, according to Bill Sullivan, head of Global Financial Services Market Intelligence at Capgemini.
And fintech is only going to get bigger, disrupting more than just the banks while growing into one of the most powerful transformative forces the market has ever seen. It's going to affect the mechanics of every single financial transaction – it's already happening thanks to things like Square and Apple Pay.
However, there's a bit of work that needs to be done first.
Fintech's First Order of Business
In spite of the extraordinary reach of computerization, the increasing "Internet-ing" of everything, transactions across computer networks being an all day, every day event, and the advent of the cloud, today's systems are still exclusive, centralized, monopolistic, opaque, and vulnerable. Exclusivity and control is why providers of every service that isn't on a "
blockchain
" continue lobbying for the status quo.
Blockchain is fintech's principal battling ram, and it will singlehandedly upend established, entrenched, even what are now "new paradigm" providers of traditional services.
Blockchain is essentially an ongoing digital record of asset ownership or contracts.
Think of a giant nugget of gold you find in your yard, that's the "block." As you chip off pieces and use them, everything you do with every piece of that block creates a chain of records. If you buy a car and use a piece of your gold, that gets recorded on the digital ledger, both on the chain of records associated with your original block and as part of the chain of records that proves you bought the car, who you bought it from, where it came from (the dealer, who got it from the factory, even the parts can be blockchained), and how much you paid. When you sell the car in the future, clear title can be proven without an intermediary because of the chain. The gold you used for payment continues down a chain of its own.
Because all the transactions are recorded on a vast network of computers, your network, the auto dealer's network, the manufacturer's network, the chain theoretically can only be verified by the most recent parties to the transaction. If another party claims the gold was his, or the car was his, it's immediately disproven by the clear chain. The more individual transactions are connected across different networks, the easier it is to verify and safeguard ownership rights, or contract rights, or whatever is being chained.
Theoretically, if someone tried to enter a false claim on an asset that's been extensively chained, they have to access an untold number of computers and networks to alter all kinds of chains to get away with theft or some other criminal act. As blockchain grows across the global economy, it becomes more secure, more powerful, faster, and cheaper to transfer assets.
But that's just the beginning…
Blockchain Will Pave the Way for More Fintech Innovations
Blockchain technology will totally change wholesale and retail banking, counter-party validation, trading, how trades are cleared and settled, risk management, money management, credit scoring, financial education, insurance, title to and the transfer of real estate, lawyering, healthcare – everything from birth certificates to Social Security payments.
For example: Blockchain will make derivatives trading more secure as counter-parties and contracts won't ever be in doubt. Being more interconnected won't mean increased risk – thanks to blockchain, likely results will better be able to be predicted. "Smart contracts" with terms that get triggered will be registered on the blockchain and transparent to all parties. Ownership of assets will be able to be traced backwards and forwards, creating an undisputed chain of title and conveyed rights.
While global blockchains are the future, they may be "too aspirational" to be immediately accepted by everyone.
That's why corporate technologists are pushing "siloed" blockchains, where assets can be stored and moved privately on closed-loop blockchains and can be accessed by outside parties with permission, and then enter more expansive networks, which will become the global blockchain.
The simplicity and transformational nature of blockchain will make digital information unique and unchangeable by any party without the agreement of all parties. It will create trustworthy, efficient transactions across a transparent distributed ledger, where each participant has an exact copy of all the ledger's data and all additions to the chain are propagated throughout the network.
For blockchain to work on a global basis, ledgers must be open, interoperable, nonproprietary, completely transparent, open source, available via liberal licensing terms, and, most importantly, strictly governed.
Once that happens, the fintech revolution will truly begin.
That's all for today. Next time, I'll show you just how the blockchain will revolutionize the way we live. I'll also tell you who some of the big fintech players are, and who's going to end up getting left behind in the coming fintech future.
Follow Money Morning on Facebook and Twitter.
Big Banks Could Implode Before They're Broken Up: Risk, competition, and tough regulation are strangling big banks – which is setting the global economy up for a system shock that'll rival 2008's financial crisis. These banks need to be curbed for our good, but in an orderly, systemic fashion. And that's not shaping up to be the case…
Join the conversation. Click here to jump to comments…
About the Author
Shah Gilani boasts a financial pedigree unlike any other. He ran his first hedge fund in 1982 from his seat on the floor of the Chicago Board of Options Exchange. When options on the Standard & Poor's 100 began trading on March 11, 1983, Shah worked in "the pit" as a market maker.
The work he did laid the foundation for what would later become the VIX - to this day one of the most widely used indicators worldwide. After leaving Chicago to run the futures and options division of the British banking giant Lloyd's TSB, Shah moved up to Roosevelt & Cross Inc., an old-line New York boutique firm. There he originated and ran a packaged fixed-income trading desk, and established that company's "listed" and OTC trading desks.
Shah founded a second hedge fund in 1999, which he ran until 2003.
Shah's vast network of contacts includes the biggest players on Wall Street and in international finance. These contacts give him the real story - when others only get what the investment banks want them to see.
Today, as editor of Hyperdrive Portfolio, Shah presents his legion of subscribers with massive profit opportunities that result from paradigm shifts in the way we work, play, and live.
Shah is a frequent guest on CNBC, Forbes, and MarketWatch, and you can catch him every week on Fox Business's Varney & Co.