More than 38 million Americans are expected to travel over the 2016 Memorial Day holiday period, reported AAA last Thursday.
Of that amount, 33.9 million travelers, or 89%, will reach their destinations via automobile.
That's a 2.1% uptick from last year.
We can thank low gas prices for the surge…
As of today, the average price per gallon for regular gas is $2.28. That's about 20% lower than the price of gasoline this time last year.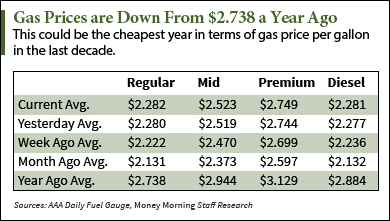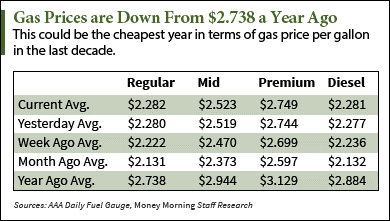 In fact, the last time gasoline prices were this low for a Memorial Day holiday was in 2005, when they averaged $2.10, AAA stated.
These Six Retail Stocks Are Toast: Aeropostale's bankruptcy and Macy's 15% post-earnings plummet are just the latest indications that retail stocks are in crisis. As the sector bleeds out, these six companies will be the first to go…
Gasoline demand this summer is likewise expected to break the all-time record highs set in 2007 due to the combination of relatively low prices and a healthy economy, reported the U.S. Energy Information Administration (EIA) in April.
In spite of this increase in demand, however, oil inventories remain so well-supplied for this time of year that they're acting as a ceiling to how high gasoline and oil prices rise this summer.
The EIA specifically predicted that the national average price for regular would be in the $2.04 range this summer, with some variances by region.
Last year, the average summer price of gas was $2.74 a gallon.
Follow on Twitter @moneymorning or like us on Facebook.
How the Crude Oil Price Affects Consumer Spending: This cheap gasoline and oil price environment is allowing people to spend that extra cash elsewhere. And this chart shows just how much low crude oil prices are affecting consumer spending in the United States…