Back in April, we looked at the "sell in May and go away" phenomenon… and how you can use seasonally sideways markets to make money every day of the month.
And as I predicted, it's May, the bears have flexed their muscle, and the markets are trading sideways. In fact, since 1950, the Dow Jones Industrials have returned just 0.3% in the May to November period.
So it's likely you'll find some stocks in your holdings that aren't really moving much, one way or another.
But… this is where we separate the investors from the traders.
Buy-and-hold investors, who've been under some heavy pressure this year, will have to sit and wait it out until November, grinding out, on average, less than half a percent along the way.
But traders can take some of their immobile stocks and start collecting income immediately.
Let me show you how this works. It's really easy…
When Getting Stuck in Neutral Is a Good Thing
The best part about this strategy is that anyone who has an optionable stock can do it. You have more choices than to simply sell it for a profit, or maybe even a loss.
And you don't have to use your valuable shares of, say, Apple Inc. (Nasdaq: AAPL) or Lockheed Martin Corp. (NYSE: LMT), although you could if you wanted to and were willing to sell them.
But this strategy works best with a stock you're "neutral" on yourself, meaning you don't expect it will move much and you don't consider it an important strategic component of your holdings. That's important; I say it because there's a very real chance you might have to part with them.
There are some other important considerations. I'm not recommending you make this trade: Only you can decide to do that after consultation with your broker or certified financial advisor about your risk tolerances and needs. Make sure you actually own the shares you're writing calls on, lock, "stock," and barrel. Do not, under any circumstances, attempt this strategy on margin with borrowed stocks, as that would actually be one of the riskiest trades there is.
With that said, let's take a look at the income-generating possibilities of the covered call…
How Covered Calls Work
With this strategy, you want to sell a call option on at least 100 shares of your stock. Remember, one contract is the right, but not the obligation, to buy (or call away) 100 shares from you.
It's possible to sell, or "write," a call as far out in the future as the Chicago Board of Options Exchange will allow. And when you're selling or writing a call on stock you already own, you're dealing with covered calls – you can "cover" the amount of stock that may get "called" away.
Now, you can write covered calls on a four- to six-week basis, which means if you choose to do it, you can achieve a regular, steady rhythm of income each month.
Like I said, it's preferable to do this with stagnant or flat-trading stocks, and stock that trades in a mostly sideways range, with room between support and resistance is fine.
I'm going to show you an example of a sideways, meandering technical setup, but if you're holding other stocks that are behaving in a similar, go-nowhere fashion, you might consider trying this strategy with them.
So here are the range-bound shares of Linear Technology Corp. (Nasdaq: LLTC).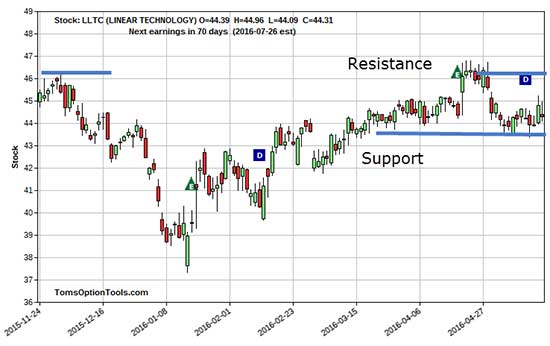 Linear Technology has rallied off the January lows, just as many stocks have. It has been hovering at around $44 since March 2016, with one decent attempt to pop higher in April… that stalled out and sank back to the $44 support.
So in this case, we can look out to a June "standard" expiration (these kinds of options always expire on the third Friday of every month) and select a strike price just slightly "out of the money," meaning the strike price is higher than the current stock price, and select the LLTC June 17 2016 $45 call (LLTC160617C00045000).




Now, what could happen to a covered call writer is… they get "called out," which would mean the market "called" away the stock at the strike price, or $45.
In this case that would mean the markets bought the stock from the writer (seller) of the call at $45 per share. And since one contract consists of 100 shares, the sale price would be $4,500.
But wait!
How You Collect Income from This Strategy
You can see in the "Bid/Ask" column of graphic above that before the stock is sold, the writer/seller of the call option stands to take in between $0.70 and $0.80 per share, just for putting the stock up for sale.
So, let's say you make $0.75 per share. You would get $75 per contract ($0.75 x 100).
Of course this is not a scorching rate of return. It's just shy of 2% – only around 566% more than the market's 0.3%, in one-sixth the amount of time – you're far ahead of the game and you've got steady income.
But there's another moneymaking scenario to consider. One that would unfold if the expiration date comes along and the stock is above $45.
You'd get to keep your $75-per-contract premium, plus a nice $1-per-share profit on the shares, so you would in fact be making $1.75 per share. That takes your return up to 4%, although you'd have to wait for LLTC shares to come back down to $44 if you decide you want to try writing covered calls on it again. But in this market, you likely don't have long to wait.
On the other hand, if at expiration the stock is not above $45, it isn't likely to be called away. You'd keep your $0.75-per-share premium, and you would have the choice to look out another four to six weeks to do it again.
Now, it's important to note that the covered call writer could be forced to sell the stock at a loss, too. If you own LLTC at $44, for instance, and for some reason it gaps down to $40, you might get called out if you chose to write a call at $40, and the premium you collect might not offset the capital loss there.
But in general, as long as you're not unwilling to part with the stock, this is a good way to put "lazy," do-nothing shares to work for you in the May to November doldrums.
Follow Tom on Facebook and Twitter.
The Secret to Wall Street's Fastest Profits… Up until five years ago, this way to make money didn't even exist. And since then, Wall Street bankers, traders, and hedge fund managers have been happy to keep the strategy under wraps and the profits to themselves. But with the hidden pattern Tom Gentile's spotted, ordinary investors now have an inside track to cashing in on this fast weekly profit potential. To learn exactly how you can generate extra cash quickly, go here now.
Join the conversation. Click here to jump to comments…
About the Author
Tom Gentile, options trading specialist for Money Map Press, is widely known as America's No. 1 Pattern Trader thanks to his nearly 30 years of experience spotting lucrative patterns in options trading. Tom has taught over 300,000 traders his option trading secrets in a variety of settings, including seminars and workshops. He's also a bestselling author of eight books and training courses.