As I told you last week, financial technology (fintech) disruptors are poised to change the world as we know it.
And the future is already here - right now, innovators are already hard at work on the next innovations that will destroy big businesses and create tomorrow's giants.
Today, I'm going to show you specific ways in which fintech is altering the way we do business and what that means for the future of finance.
Then, I'll walk you through who some of the losers will be in this new creative destruction process, and who some of the giants of the future will be that we'll want to own.
Including the one fintech company you need to keep an eye on now - before it starts minting millionaires.
Here's How Blockchain Will Change Everything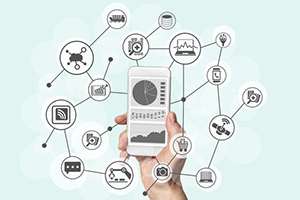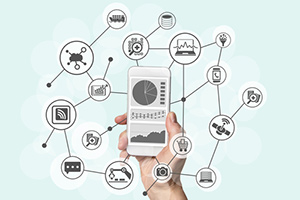 Last time, I told you that the basis of a lot of the fintech disruptor businesses will be built on blockchain technology - an ongoing digital record of asset ownership.
Here's a short list of some core financial intermediaries that will be massively disrupted, if not totally disintermediated, by the swinging new blockchain barbarians at the gate:
In the financial world, authentication of identity and reputation of parties, determination of business' conditions, and terms of  transactions have mostly been handled by banks, ratings agencies, analysts, and analytics firms. In the world of blockchains, reputation, business metrics, contract terms, and transactions accrue on the blockchain itself.
In the payment systems world, where card network intermediaries make sure no money is spent twice and there are no duplicate transactions, the blockchain will democratize processes, do the same by consensus with transparency, while reducing friction costs.
Savings institutions and intermediaries will be replaced by blockchains that enable direct "peer-to-peer" relationships.
The traditional control and distribution of loans will be disintermediated by the blockchain where anyone can check creditworthiness before issuing credit, transparently follow the transfer of loans and payment histories, collect payments, and determine settlement.
Exchanges that provide matching engines for traders and provide post-trade clearing and settlement will be disintermediated by blockchain technology capable of cutting all trading, settling, and clearing functions down to minutes and seconds from days and weeks.
Insurance and risk-management services will be better supported on decentralized blockchains capable of providing better access to actuarial risk and pricing functions.
Traditional accounting practices and providers that aren't able to keep pace now with different accounting methodologies, making accurate analysis and comparisons impossible, will be replaced by transparent distributed ledgers, making auditing in real time possible.
And the Losers Are...
Fintech is an overlay on top of the Internet. In other words, it is the next Internet.
It transforms paper and physical steps into the digital world, ultimately realigning business priorities, allowing the "right-sizing" of technology implementable at extraordinary speeds.
There are going to be lots of losers in the tsunami of fintech whose functions will rapidly become obsolete.
Banks' legacy systems are already being replaced with new fintech solutions, but that's not preventing banks themselves from coming under attack.
As rapidly developing fintech solutions become accessible on smartphones and the appeal of more personalized higher impact digital technologies disintermediates bankers, the need for banks will be questioned, ultimately destroying systems and institutions.
It's already happening...
Payment platforms and P2P apps inherent in the likes of PayPal, Apple Pay, World Remit, and Ripple are moving money out of the traditional banking system, perhaps for good.
ANT Financial, the Alibaba payments company spun out of Alibaba Group Holding Ltd. (NYSE: BABA), just raised $4.5 billion, giving the "startup" a $60 billion valuation.
Betterment, an algorithm-based robo advisory firm just got a round of funding from Bessemer Venture Partners, yielding it an instant $100 million valuation.
The first round of losers in the fintech onslaught are going to be banks, trust companies, and savings and loan institutions.
Banks are already cutting staff, realigning their loan departments, and recalculating how they determine creditworthiness. They have to. Fintech companies are starting to eat their lunch.
While banks are beginning to incorporate some of the new paradigm fintech solutions to traditional banking services, they're never going to be able to adapt quickly enough to keep pace with upstarts infiltrating their once-protected grounds.
The One Fintech Innovator You Need to Watch
The new kids on the block will replace banks and old-school lending and trading institutions.
I'm talking about companies like Digital Asset, the one fintech innovator that I think has the best chance of breaking out of the pack and setting the gold standard in the fintech future.
Run by former JPMorgan master of the universe Blythe Masters, along with a who's who of power players and technology futurists, Digital Asset is a software company that builds distributed, encrypted straight-through processing tools that improve efficiency, security, compliance, and settlement speed.
In short, this is the company that's building - from the ground up - a brand-new high finance infrastructure for banks, dealers, exchanges, central securities depositories (CSDs), custodians, central clearing counterparties (CCPs), and other critical financial infrastructure providers.
Digital Asset works with its clients to develop what they call "Business Logic Engines" tailored to specific asset classes and market needs.
They also create solutions to bridge the old infrastructure with the newest fintech innovations, upgrading existing processes and services along the way.
While you can't invest in this company just yet, in a few short years, it's going to be an industry giant.
Knowing what they're doing, who the giants will become, and why it's critical to our financial future is actually about your financial future. Not because they will change every corner of finance, but because we are going to invest in the biggest winners about to come out of the shadows and rule the future.
In the coming months, I'm going to tell you who (besides Digital Asset) we're going to invest in and how much we stand to make.
Imagine buying into Microsoft, or Apple, or Google for a few bucks a share and what you'd be worth now. That's where we're going. That's where fintech will take us.
Next week, I'll be back with details on some fintech news that just broke a few days ago.
A "company" whose extraordinary name is itself indicative of the future of fintech, with no managers, no legal documents, and no central server, raised almost $200 million, virtually anonymously, by issuing "tokens" that represent ownership interests in what are expected to be profits generated by a computer program that no one party controls.
Next week I'll reveal the details of this fintech disruptor and see if it's worth watching.
Follow Money Morning on Facebook and Twitter.
This Could Be the Most Disruptive Force in the Markets: With billions in capital pouring into more than 12,000 financial technology companies, fintech is set to overtake the markets. Along the way, this technology - its principal battering ram - will singlehandedly upend traditional financial services and revolutionize our everyday lives...
Join the conversation. Click here to jump to comments…
About the Author
Shah Gilani boasts a financial pedigree unlike any other. He ran his first hedge fund in 1982 from his seat on the floor of the Chicago Board of Options Exchange. When options on the Standard & Poor's 100 began trading on March 11, 1983, Shah worked in "the pit" as a market maker.
The work he did laid the foundation for what would later become the VIX - to this day one of the most widely used indicators worldwide. After leaving Chicago to run the futures and options division of the British banking giant Lloyd's TSB, Shah moved up to Roosevelt & Cross Inc., an old-line New York boutique firm. There he originated and ran a packaged fixed-income trading desk, and established that company's "listed" and OTC trading desks.
Shah founded a second hedge fund in 1999, which he ran until 2003.
Shah's vast network of contacts includes the biggest players on Wall Street and in international finance. These contacts give him the real story - when others only get what the investment banks want them to see.
Today, as editor of Hyperdrive Portfolio, Shah presents his legion of subscribers with massive profit opportunities that result from paradigm shifts in the way we work, play, and live.
Shah is a frequent guest on CNBC, Forbes, and MarketWatch, and you can catch him every week on Fox Business's Varney & Co.