Getting a government out of financial trouble is never easy, which is why you'll be hearing about the Puerto Rico debt crisis for a while.
Right now Congress is considering a bill that would allow Puerto Rico to begin restructuring its debt and alleviate some of the suffering the crisis has caused.
The situation is both complex and troubling, and so here we present to you "The Puerto Rico debt crisis, explained"…
What's the Latest on the Puerto Rico Debt Crisis?
Puerto Rico has nearly $70 billion in public debt. That amount is so large relative to the Puerto Rican economy that the government has been struggling to make the payments.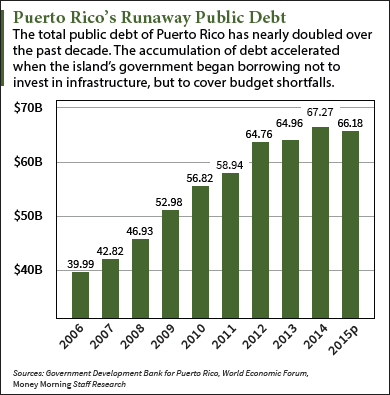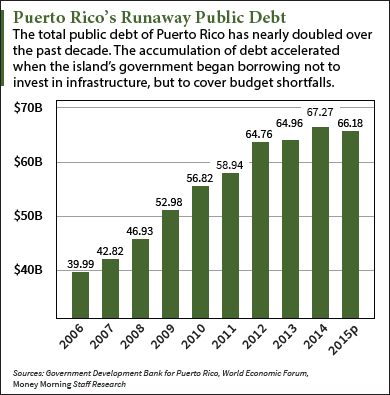 The crisis has caused the Puerto Rican government to drastically cut back services. To save money, about 10% of the public schools have been closed, and tens of thousands of public employees laid off. The island's government has hiked the sales tax from 7% to 11.5%.
Meanwhile, unemployment is over 12% — more than double the overall U.S. unemployment rate. And the poverty rate is an alarming 45%.
Those problems are the result of the financial gymnastics Puerto Rico has done to maintain its debt payments, but it has reached the end of the line…
"You could describe the haircut as a partial bailout — but it will be creditors, not taxpayers, taking the hit."
Puerto Rico missed a $422 million debt payment on May 2, its third default since the beginning of 2015.
But what really has everyone worried is a nearly $2 billion payment due July 1. That payment includes $805 million in general obligation (GO) bonds, which have protection under the Puerto Rico constitution. That would be the first state-level default on GO bonds since 1933, and could force a restructuring of all $13 billion worth of Puerto Rico's GO debt. That's why Congress is rushing through a relief bill known as PROMESA.
What Will PROMESA Do? Is It a Bailout?
The Puerto Rico Oversight, Management and Economic Stability Act (PROMESA) is not a bailout, although some opponents of the bill have tried to label it as such. No taxpayer money will be spent whatsoever.
Instead, PROMESA — supported by both Democrats and Republicans — will create a framework for the restructuring of the Puerto Rico debt. That means the bondholders (the people and institutions who bought the debt) will receive less than 100% of what they are owed. The "haircut" will vary with the type of bond.
You could describe the haircut as a partial bailout — but it will be creditors, not taxpayers, taking the hit.
One proposal floated in April was for non-Puerto Rico residents to receive $0.74 on the dollar for GO bonds, $0.54 on the dollar for bonds backed by sales taxes, and $0.36 on the dollar for Government Development Bank bonds.
What's the Difference Between These Bonds?
General obligation debt is by law debt guaranteed by the full faith and credit of the Puerto Rican government. According to the Puerto Rico constitution, GO debt must be paid before any other expense, including spending on the general welfare of the citizens.
Many hedge funds snapped up GO debt at a discount when it became clear Puerto Rico was having trouble keeping up with the payments. These hedge funds could sue the Puerto Rican government for payment in full, although such a move would be tied up in the courts for years.
The bonds backed by sales taxes were launched in 2006 and were used to cover budget shortfalls and avoid spending cuts.
The Government Development Bank is a Puerto Rico entity set up after the Great Depression to fund local infrastructure. It lends to the Puerto Rico government and localities. But in recent years these bonds were used to fund basic government operations. With the GDB itself now teetering on insolvency, these bonds are the most at risk.
Anything Else I Need to Know About the PROMESA Bill?
Yes, it will also create a seven-member Financial Oversight and Management Board. The members will be appointed by the president based on recommendations from Congress.
The primary purpose of the oversight board is to supervise the restructuring process. But it will have the power to enforce balanced budgets on the Puerto Rico government — as well as needed fiscal reforms — should Puerto Rican officials fail to do so. However, the intent is for the board to work with Puerto Rican officials and the island's creditors on solutions satisfactory to all parties.
When the Puerto Rico debt crisis is resolved, and the government again has adequate access to credit markets, the oversight board will dissolve.
Puerto Rican officials don't like this provision, which they see as undermining the island's self-governance, but are willing to accept it to get the debt relief they need from the PROMESA bill.
Is There Any Way the Puerto Rico Debt Crisis Can Affect Me?
Maybe. If you invested in Puerto Rico municipal bonds directly, you already know you're in for steep losses.
But many Americans don't realize that their retirement funds may be invested in Puerto Rico debt. And some high-yield municipal bond funds also loaded up on Puerto Rico debt. Here's an in-depth look at the municipal bond funds with the most exposure to Puerto Rico.
Why Doesn't Puerto Rico Just Declare Bankruptcy Like Detroit Did?
Because it can't. An obscure change to federal bankruptcy law in 1984 excluded both the District of Columbia and Puerto Rico from the kind of Chapter 9 bankruptcy protection available to U.S. states and municipalities.
That's why the PROMESA bill is needed. Because of that 1984 change, only Congress can give Puerto Rico permission to restructure its debt.
How Did Puerto Rico Get into Such a Desperate Fix, Anyway?
The road to the Puerto Rico debt crisis was paved with good intentions. Decades ago, generous welfare programs were launched to lift citizens out of poverty. But as the costs of these programs mounted, the island government took on more debt.
That debt was manageable until about 10 years ago, with the phasing out of tax breaks that had attracted pharmaceutical, textile, and electronics companies. That caused many of these companies to pull out of Puerto Rico, destroying 80,000 jobs and decimating the tax base.
Since 2006, the Puerto Rico economy has contracted every year, forcing the government to borrow more and more money to balance budgets and "keep the lights on."
But Who Would Buy This Debt? Didn't They Realize Puerto Rico Was Getting in Over Its Head?
Municipal debt is generally considered one of the safest of investments, particularly when the issuing entity is part of the United States. But as Puerto Rico sunk deeper into debt, other incentives emerged.
For one thing, bonds from Puerto Rico are "triple-exempt." That is, they are free from taxation at the local, state, and federal levels. As Puerto Rico started to falter, yields rose. Those higher than average yields made Puerto Rico bonds very attractive to yield-hungry fund managers in a low interest rate environment.
Since the crisis erupted in earnest a couple of years ago, "vulture" hedge funds have piled in, particularly on the GO bonds. In many cases, the hedge funds bought at below the par value of the bonds, hoping to make a fat profit by forcing the island government to repay at full price – as it is obligated to do under the Puerto Rico constitution. However, the government has balked at cutting essential services to citizens to line the pockets of the hedge funds.
What Happens Now?
It's up to Congress to pass the PROMESA bill, which at least gives Puerto Rico a way to move forward. And remember, it is creditors — not U.S. taxpayers — who will take a haircut under the legislation.
The good news is that PROMESA has the support of Republican Speaker of the House Paul Ryan, as well as President Barack Obama. Lawmakers believe the bill will pass with a majority of both parties.
Reservations about the bill on both sides of the aisle are tempered by the knowledge of what inaction would mean. Doing nothing will result in still more economic pain for the island's 3.5 million inhabitants and lead to a default that would require a Washington bailout costing tens of billions.
PROMESA should pass before the July 1 deadline. But even if it doesn't, just being close to passage should be enough to reassure the markets.
Follow me on Twitter @DavidGZeiler or like Money Morning on Facebook.
China's Debt Bomb: The Puerto Rico debt crisis has already caused ripples in the markets. So just imagine the global impact of a major debt crisis in the world's second-largest economy – China. Here's why China's unstable mix of government control with elements of capitalism is getting very close to blowing up…
Join the conversation. Click here to jump to comments…
About the Author
David Zeiler, Associate Editor for Money Morning at Money Map Press, has been a journalist for more than 35 years, including 18 spent at The Baltimore Sun. He has worked as a writer, editor, and page designer at different times in his career. He's interviewed a number of well-known personalities - ranging from punk rock icon Joey Ramone to Apple Inc. co-founder Steve Wozniak.
Over the course of his journalistic career, Dave has covered many diverse subjects. Since arriving at Money Morning in 2011, he has focused primarily on technology. He's an expert on both Apple and cryptocurrencies. He started writing about Apple for The Sun in the mid-1990s, and had an Apple blog on The Sun's web site from 2007-2009. Dave's been writing about Bitcoin since 2011 - long before most people had even heard of it. He even mined it for a short time.
Dave has a BA in English and Mass Communications from Loyola University Maryland.