The NFLX stock price has rallied 8.54% to a one-month high of $97.26 this week after three Wall Street firms released upbeat reports on Netflix Inc. (Nasdaq: NFLX).
Monday, UBS, RBC Capital Markets, and Piper Jaffray shared an optimistic outlook for the stock price over the next several months.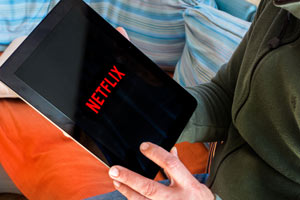 And these newest recommendations have confirmed what we've been saying about the Netflix stock price all year…
UBS reaffirmed its "Buy" rating with a $141 Netflix stock price target. The firm cited data showing how the landscape is changing throughout several prominent European countries like the UK and Germany, among others. UBS noted Netflix is doing "quite well" in Europe even in the face of strong rivals like Amazon.com Inc. (Nasdaq: AMZN).
RBC restated its "Outperform" rating with a $140 NFLX stock price target. The firm referred to a U.S. survey revealing high usage, high satisfaction numbers, and an improved selection of content. RBC also found that users are less sensitive to price than many analysts had previously thought. RBC also noted a European survey showing a growing readiness to pay for streaming content, rising market share, and high levels of satisfaction.
Piper Jaffray maintained its "Overweight" rating with a $122 NFLX stock price target based on a recent survey. The firm said it has recently held a survey of more than 2,000 Internet users in Mexico and Brazil. The survey discovered that Netflix's brand awareness was high in both countries, and so was intent to subscribe. Those are both good signs for the company in those countries. Piper Jaffray said Netflix's subscriber tally can grow to 141 million by 2020.
Another bullish catalyst for the Netflix stock price in 2016 has been the company's original content…
Tuesday, Stifel Nicholas issued a rosy outlook for the NFLX stock price based on the high number of movies and television series in its summer catalogue.
In a company blog post on Monday, Netflix Chief Content Officer Ted Sarandos highlighted a number of third-party and original films set to debut on the company's U.S. service this summer. Most original films will be available globally.
Plus, Netflix's U.S. output deal with Walt Disney Co. (NSE: DIS) will officially begin in September. That's ahead of the previously stated "late 2016" start. Sarandos noted the deal will make Netflix "the exclusive U.S. pay TV home of the latest films from Disney, Marvel, Lucasfilm, and Pixar."
With all four of these Disney studios releasing blockbuster hits on a regular basis, Stifel said the Disney deal could be a game-changer for Netflix's U.S. movie offering. The firm also said several original series set to launch this summer will draw viewers. Stifel has a $143 Netflix stock price target.
Now that we know how some of Wall Street's biggest banks are investing in Netflix stock, here's how we recommend playing NFLX now…
The Best Way to Play the NFLX Stock Price in 2016
JPMorgan Chase has an "Overweight" rating on Netflix and advises clients to buy any weakness in the stock. The NFLX stock price fell 19% from mid-April to early May following solid Q1 earnings, but subscriber growth disappointed.
Morgan Stanley is also bullish on Netflix. The firm expects Netflix will likely see a ramp-up in third-quarter net subscriber additions. Morgan Stanley said the recent pullback in the Netflix stock price was an opportunity for long-term investors.
Money Morning is also bullish on the Netflix stock price with a long-term view.
Netflix is a momentum stock, skyrocketing from just over $8 a share five years ago to a high of more than $133 per share in late 2015. That's a meteoric 1,562% gain.
However, the Netflix stock price is also notoriously volatile. That's why shares are best suited for the long-term investor. It's extremely difficult to time the movements of the stock on a day-to-day basis.
Netflix remains the leader in the streaming-video space, and by a comfortable margin. While competition is increasing, new rivals are not likely to upset Netflix's commanding lead. Talks of an activist push to shake up the company's board could also fuel the Netflix stock price.
Follow us on Twitter @moneymorning and like us on Facebook.
The Top 5 IPOs to Watch in 2016: There was an absence of IPO activity toward the end of 2015. But we'd like to see these five companies go public in 2016. And if they do, they'll be the most exciting and promising deals of the year…
Related Articles: