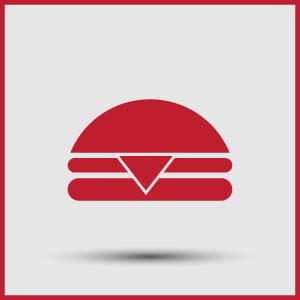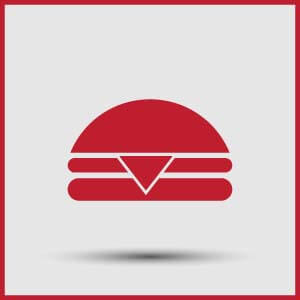 With a U.S. Federal Reserve that's currently chasing inflation, it is important to remember what can happen when inflation goes out of control…
A dangerous phenomenon takes hold, called hyperinflation. It is different from regular inflation because of the very rapid increase in the money supply. The result is an erosion of the purchasing power of a currency.
And with that, prices absolutely skyrocket.
This is exactly what's happening to Venezuela's economy, where the price of a hamburger just surged to $269.  
Currently, 6.3 Venezuelan bolivares are worth one U.S. dollar, according to Bloomberg. And a hamburger costs as much as 1,700 bolivares, the AFP news agency reported. That means even Venezuela's middle class can't afford a simple meal.
Inflation in Venezuela is now at staggering 720%, according to the International Monetary Fund.
In fact, hyperinflation is now pushing Venezuela to the brink of economic collapse. And it all started because of some terrible missteps by the Venezuelan government…
How Hyperinflation Is Destroying the Venezuelan Economy
Since 2003, Venezuela's government and central bank have instituted tough currency controls. This has caused many citizens and businesses to turn to the black market, where they don't need government approval to buy dollars at the legal rate, according to Bloomberg.
Venezuela has had the fastest growing inflation rate in the world since 2015. In terms of consumer prices, the country's inflation rate is 121% higher than the second-highest ranked country for inflation, Belarus.
Because hard goods and assets like automobiles and homes are scarce, people want dollars to protect their savings, according to Bloomberg. In fact, the dollar is about the only store of value Venezuelans have left…
And in a desperate bid to buy dollars, Venezuelans have weakened the black market value of the bolivar 80%, according to Bloomberg. The current black market exchange rate is 423 bolivares per dollar — about 66 times the official rate.
Its government's currency measures have tossed Venezuela into economic turmoil. Debt has ballooned as people disengage from the economy.
And it's only going to get worse…
On May 22, two Barclays analysts said the unofficial black market exchange rate could reach 600 bolivares per dollar by the end of 2016.
So not only is Venezuela's official economy being gripped by inflation, but its black market is, too.
The IMF expects Venezuela's economy to contract 8% this year, with one in five people unemployed by 2017.
Unless its government makes drastic monetary policy changes (and fast), it looks like it's only a matter of time before Venezuela's economy fully collapses.
We hope Fed policymakers have tuned in…
Venezuela's financial disaster should be a teaching moment for the Fed…
How the Federal Reserve Can Learn from Venezuela's Mistakes
While the United States doesn't have currency controls like Venezuela, the Federal Reserve can still learn from Venezuela's hyperinflation crisis.
Inflation is a lagging indicator, which means it can often outpace expectations.
So while inflation in the United States is currently below the Fed's 2% target, it can catch up most unexpectedly.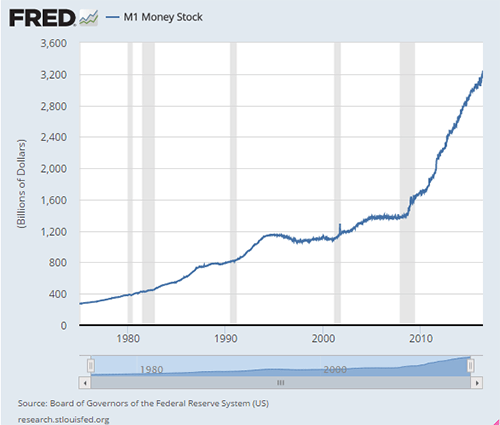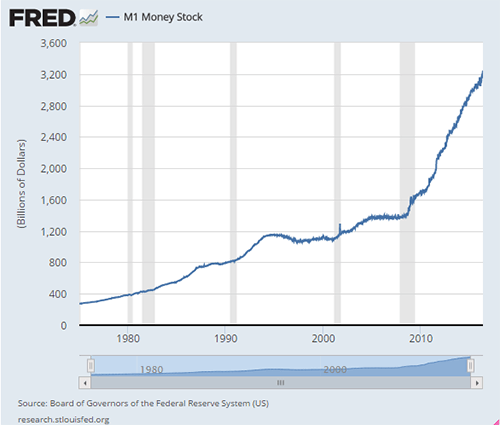 Check out the graph above. The money supply in the United States has ballooned over the past decade. This was caused by the Fed's quantitative easing (QE) program during the economic recovery. The Fed spent trillions of dollars on asset purchases to boost the money supply… and create inflationary pressure.
We have yet to feel the full-fledged inflationary effects from QE. But when we do, it could hit hard. Keep in mind, we only just ended asset purchases in October 2014.
Every Fed meeting, we hear Fed Chair Janet Yellen say that inflation is still below target. When inflation finally catches up, the Fed needs to be ready to control it.
And let's hope that they'll be able to…
Follow Money Morning on Facebook and Twitter.
Related Articles: