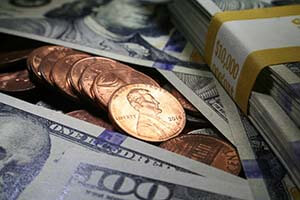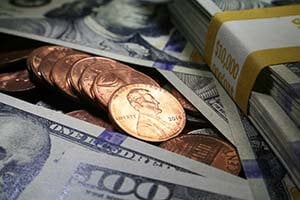 Our penny stocks to buy 2016 list was formed with some very specific factors taken into account...
You see, penny stock trading can be very attractive. The shares are by definition inexpensive: They have to sell at $5.00 or less to be considered a penny stock. A look at the market's charts every week will show a number of penny stocks that surged handsomely in the sessions.
Although penny stocks can return profits in the triple digits, it is more prudent to think of them as potentially strong profit generators rather than vehicles to make you rich.
Why? First, investors interested in penny stock trading need to realize that penny stocks are highly speculative investments that can go up, but can also just as easily go down. Markets, in general, are volatile, and investors always need to keep the risk of a downturn in mind. Penny stocks, though, are even more volatile.
In part, the volatility is due to the prices of penny stocks. A $1.00 fall or rise in a $4.00 stock is a 25% move, much more than a $1.00 fall or rise in a $40 stock, where the $1.00 accounts for only 2.5% of value.
In part, the volatility is also due to the companies. Penny stock companies are often small businesses with cutting-edge products in development. Some of them have great promise, but the developing products have yet to come to market - and therefore have yet to turn a profit.
Also, although they can be profitable investments, their speculative nature makes them unsuitable to be a big part of any investor's portfolio. Money Morning analysts advise never allocating more than a small percentage of a portfolio to penny stocks. No single penny stock should ever be more than 2% of your total investments. That way, while any gain in penny stock trading will happen only to 2% or less of your portfolio, so will any loss.
What to Do When Picking Penny Stocks to Buy 2016
Because of the speculative nature of penny stocks, investors interested in penny stock trading should make sure they research the companies thoroughly before investing. A number of analysts follow some penny stocks. Information can also be found via writing, calling, or visiting the company's website.
It is also a good idea to trade on either the NYSE or Nasdaq, where reporting requirements are stricter than the Over-the-Counter Bulletin Board (OTCBB) or the Pink Sheets. Penny stocks have been subject to scams in the past, and research and reporting requirements will help investors only invest in reputable companies.
Investors interested in penny stock trading should also focus on companies that have cutting-edge products.
One company that does is FuelCell Energy Inc. (Nasdaq: FCEL).
Money Morning thinks the shares of this penny stock - priced at $6.82 now - could climb to $21.85 based on an estimate of the company making $500 million in revenue by 2019 and maintaining its current price/sales ratio. If the P/S ratio climbs to the S&P 500 average of 1.77, the implied price for FCEL would be more than $31.
FuelCell Energy handles stationary fuel cell power plants for distributed power generation and has for the last 10 years focused on onsite "microgrid" fuel cell power plants - a business that is just now starting to gain traction.
In mid-April, Roth Capital recommended FCEL as a "Buy."
Here are some more penny stocks to watch in the energy sector - although we are still evaluating if these are buys.
Energy Penny Stocks for 2016 - Watch for Breakouts
On the list of Nasdaq top penny stocks was Bonanza Creek Energy Inc. (Nasdaq: BCEI). This penny stock rose 28.3% on May 25. But it's down 50% for the year.
BCEI is a Colorado-based independent oil and natural gas company that acquires, explores, develops, and produces onshore oil and nature gas in the United States. Bonanza Creek's production is centered in Colorado and Arkansas. Its activities stand to be gainers on the stabilization and rise of oil prices.
BCEI rose so much May 25 because of three positive earnings estimate revisions for the company. With buzz like that, this penny stock could move higher in the days ahead.
The second top penny stock to watch in energy benefited from oil prices. That's California Resources Corp. (NYSE: CRC). It rose 16.03% on May 25 to $1.81.
For the year, this stock is down 20%. But a continued rise in oil prices could help it double. The company is an independent oil and natural gas exploration and production outfit.
Tech Penny Stocks to Buy for 2016
Ekso Bionics Holdings Inc. (OTCMKTS: EKSOD) is a Money Morning top penny stock that has huge potential this year and beyond.
Ekso also received other major news recently: In early April, the U.S. Food and Drug Administration (FDA) approved the use of one of its exoskeleton products, the GT robotic skeleton, to help people with hemiplegia and people with a range of spinal cord injuries. (Hemiplegia is paralysis of half the body caused by strokes.)
Money Morning Chief Investment Strategist Keith Fitz-Gerald noted the significance of the breakthrough shortly after the announcement. First, the announcement marks the first time an exoskeleton received FDA approval to treat people who have had a stroke. Fitz-Gerald believes that the market for stroke-related spinal cord treatment may be $25 billion worldwide. He is strongly positive on the stock both as a result of the FDA's move and because of the rapid growth of the human augmentation market in which EKSO participates - a market projected to grow to $1.8 billion by 2020, over 4,000%.
Glu Mobile Inc. (Nasdaq: GLUU) is down for the day (May 25), but is another penny stock we see with double potential.
GLUU develops and markets free games for the robust mobile phone market - a market that surpassed consoles as the biggest share of the gaming pie last year and is only poised to get bigger. It is projected to reach a $45 billion market in two years.
Investors interested in top penny stocks should be sure and research its business thoroughly before investing. Penny stocks are speculative and, while they can be profitable, they are equally subject to losses.
Because of the speculative nature of penny stocks, Money Morning strategists recommend that penny stock investing should make up only a small percentage of one's total investments. In addition, any one penny stock should never constitute more than 2% of a portfolio.
Interested in hearing more about top penny stocks? This Penny Stock Will Double Your Money - and Save a Dying U.S. Industry

Follow Money Morning on Facebook and  Twitter.