A downright miserable Twitter stock price prediction was issued Tuesday, and it reiterates what we've been telling Money Morning readers for months.
Analysts at the investment firm MoffettNathanson downgraded Twitter Inc. (NYSE: TWTR) to "Sell" from "Neutral" and cut their price target to $18 from $22. The TWTR stock price is now down 37.7% in 2016.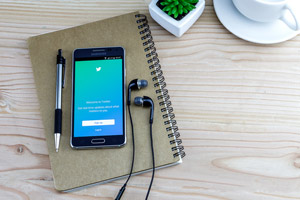 The main message from the investment firm was "hope is not a strategy."
According to the report, advertisers are "fatigued" with the platform. And strong headwinds from rivals including Facebook Inc. (Nasdaq: FB) and its photo-sharing service Instagram, as well as Snapchat and Pinterest, reaffirm the firm's bleak Twitter stock price outlook.
The report also said that some of Twitter's new initiatives, such as integration with partners like DoubleClick and monetizing logged-out users, are simply "too little too late."
The firm said its discussions with industry contacts at both traditional media and digital agencies don't bode well for Twitter.
"The commentary we continually hear is that most aren't pushing their clients to increase their budgets on Twitter or are actively steering clients away from Twitter altogether," the report said.
MoffettNathanson also doesn't believe management understands the gravity of its situation. Twitter appears "content to pat itself on the back for continually beating self-generated bottom-line forecasts."
The investment firm warned investors about slowing growth back in mid-November, and since then the stock has fallen more than 45%. It also believes that outside of possible merger and acquisition (M&A) activity, there is no need to own TWTR stock in 2016.
But M&A activity might not even be enough to save the Twitter stock price now…
Headwinds Remain for the Twitter Stock Price in 2016
While MoffettNathanson said Twitter could be acquired, it's not currently a very attractive option. Not even to major tech companies like Alphabet Inc. (Nasdaq: GOOGL), Facebook Inc. (Nasdaq: FB), or Apple Inc. (Nasdaq: AAPL).
The firm is also projecting Twitter's FY2016 revenue at $2.655 billion, and EBITDA at $705 million. That compares to consensus for $2.72 billion, $730 million. For 2017, the firm expects $3.126 billion and $862 million, versus consensus for $3.296 billion and $921 million.
Money Morning has been bearish on the Twitter stock price for months.
Disappointing earnings, waning monthly user counts, and a heavy short positions in the stock are among the reasons why we are avoiding Twitter stock. Money Morning Chief Investment Strategist Keith Fitz-Gerald perceptively said back in January 2014 that betting on "Twitter's failure may be far more profitable than betting on its success."
At $14.41, Twitter shares are down 37.73% year to date and trade well below their November 2013 IPO price of $26.
Like the report states, we also see no compelling reason to own Twitter stock right now.
Follow us on Twitter @moneymorning and like us on Facebook.
Seven More of the Best Stocks to Buy… With market swings thanks to the Fed and other factors, it's hard to determine if we're heading into a real bull market or just a short-term rally. That's why our Money Morning gurus have compiled the best stocks to buy that focus on long-term gains. Here are the companies that will offer returns – no matter what the market does…
Related Articles: