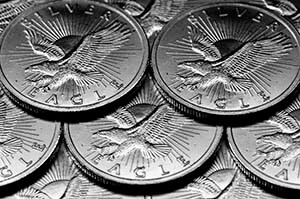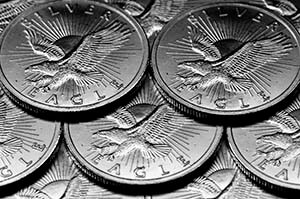 There is more upside on the way for silver prices in 2016.
Money Morning Resource Specialist Peter Krauth believes that any decline in the price of silver is temporary - and a buying opportunity.
Not only has the silver price risen strongly, it has outpaced the rise of gold, which is not the historical norm. Over the near term, some cooling down from this year's upward move in silver may occur. Nothing rises straight without a pause in any market, and silver is no exception.
Silver has been in a robust run-up year to date, rising more than 20% since the beginning of the year. However, it has also pulled back recently.
The price of the iShares Silver Trust exchange-traded fund (ETF) (NYSE Arca: SLV), a proxy for the silver price per ounce, is currently $16. A few weeks ago, it was approaching $18, so the markets are seeing a slide.
Even with the changing market, there are several factors pushing up silver prices in 2016.
Let's take a look.
Strong Demand to Fuel Silver Prices in 2016
Silver is benefiting from one of the best fundamentals there is, strong demand and weak supply.
One of the strongest sources of demand is investors of silver coins. Demand has been growing steadily. Last year, more than 81 million ounces of the U.S. Mint's Silver Eagles and Canadian Silver Maple Leafs were sold in total. In 2014, the total was slightly over 73 million ounces. That's an 11% jump in one year.
This year? By the middle of April, 17 million American Silver Eagles had been sold. If that trend continues, sales look on target to hit historical records this year as well.
Supply of silver, however, has been dropping steadily since 2001. Demand has been strong for the past several years. The differential between supply and demand is very good for the price of silver.
But investors are not the only source of silver demand. Silver is a large component in solar energy cells. It has high conductivity. As a result, solar panels use roughly 15 to 20 grams of silver each. Of the silver mined annually, solar panels use 10%.
With concerns about the greenhouse gas effect of using oil and gas rising, solar panels are increasingly in demand themselves - and that demand is only forecast to go up. In fact, the market for renewable energy should hit over $158 billion by 2023. Silver will be part of that increase as well.
Will silver prices rise as a result of demand? The picture strongly indicates yes.
Silver Prices in 2016: This Ratio Forecasts a Rise
One of the best ways to forecast the price of silver is to explore the gold/silver ratio (the price of gold divided by the price of silver). Historically, it has traded in a range of 47-50. For the past several months, the range has been 72-83.
Given the recent price of gold at $1,235 per share, it is currently at 77. However, if it trades at a range similar to the past, silver would reach more than $22 per ounce. That's Krauth's outlook for the ratio for 2016.
Krauth also believes that silver is in a multiyear bull market. He sees the gold/silver ratio dropping as low as 15 or 16 by 2020 or shortly after. That means silver prices at approximately $250 per ounce - a stellar advance from current prices.
Volatility and Uncertainty Pushing Silver in 2016
Precious metals are a safe haven for investors in periods of global uncertainty and market volatility. So far this year, the broader markets haven't impressed investors. The Nasdaq is slightly down, but the Dow Jones Industrial Average is flat.
Not only that, but the markets recently got spooked by news that the Fed might be much more inclined to raise interest rates next month. The news sent stocks down on May 18 after an intraday climb, and provoked jitters on the opening May 19.
If stocks look likely to remain flat or drop, investors often turn to precious metals. That can drive silver prices higher.
The market's jitters about the Fed may well affect the price of silver near term. Precious metals and interest rates trade inversely: A rise in rates can mean a drop in precious metals because they are denominated in dollars and become more expensive as rates climb. Gold, for example, fell 1% on May 18 as news of possible Fed tightening spread throughout the markets. In addition, rising rates often make income investments more attractive.
How should investors participate in the long-term silver bull? For investors who want to buy equities rather than physical bullion or coins, there are two Money Morning recommendations.
How to Play Silver Prices in 2016
The first is the Sprott Physical Silver Trust ETV (NYSE Arca: PSLV). Although it trades on the exchanges and can be purchased easily, it's backed physically by the white metal. It is stored at a third-party location in Canada, and the bullion is inspected and audited regularly.
The second is the ProShares Ultra Silver ETF (NYSE Arca: AGQ). ProShares Ultra Silver leverages the spot price of silver: It holds futures contracts rather than physical silver.
In addition to knowing the long-term trend and what stocks to buy, investors should allocate their portfolio appropriately for precious metals.
Money Morning Chief Investment Strategist Keith Fitz-Gerald advises a 1:10 ratio between precious metals and bonds.
He also advises balancing a portfolio at least once a year. That allows investors to realize their profits on investments that have done well while not allowing a rising investment to become more of a percentage of a portfolio than is prudent.
Investors interested in buying precious metals should practice dollar-cost averaging. Buying a fixed amount at intervals allows investors to take advantage of pricing during pullbacks and minimizes the risk of buying near a peak.
Want the best guide to buying and investing in precious metals? We have it for you here, for free: The Essential Guide to Buying Gold & Silver.
Follow  Money Morning on Facebook and Twitter.