The U.S. Foods Holding Corp. (NYSE: USFD) IPO price has officially been set, making it the second-largest IPO of 2016.
As USFD stock starts trading today (Thursday, May 26), investors want to know if they should buy shares of the massive foodservice company.
Before we get into whether or not you should buy USFD stock, here's what you need to know about the company's market debut…
What Is the USFD IPO Price?
The U.S. Foods IPO priced at $23 a share last night (Wednesday, May 25), near the high end of the $21 to $24 range. It sold 44.4 million shares and raised $1.02 billion to become the second-largest debut of the year behind MGM Growth Properties LLC (NYSE: MGP). The company is valued at roughly $5.1 billion.
Founded in 1853, U.S. Foods boasts more than 250,000 customers across the country, including university dining halls, private restaurants, and hospitals. With a fleet of 6,000 delivery trucks and 62 distribution centers, it's the second-largest food distribution company in the country after industry rival Sysco Corp. (NYSE: SYY).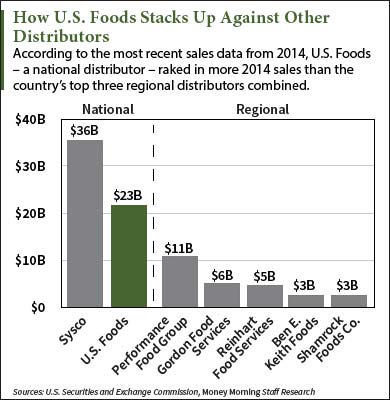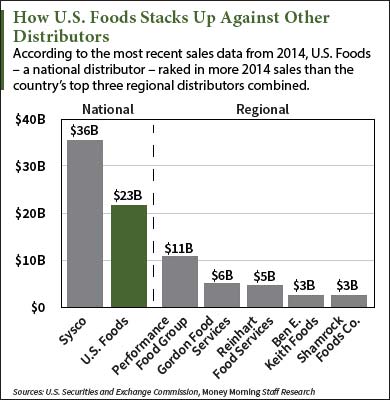 In fact, Sysco tried to acquire U.S. Foods back in 2013 for $3.5 billion. According to The Wall Street Journal, the deal would have handed Sysco an extra $20 billion in yearly revenue. But Sysco abandoned the merger last year after the Federal Trading Commission ruled against it on antitrust grounds. The FTC said the combined company would be a monopoly and control 75% of the foodservice market.
The waiting period for the deal to be approved lasted nearly two years as the companies tried to overcome several antitrust hurdles. This stalled and inevitably doomed process hit U.S. Foods' sales hard. From 2013 to September 2015, the compound annual growth rate (CAGR) for sales fell to 1.7%. That's down from 4.7% from fiscal 2011 to fiscal 2013.
Despite the effects of the failed merger, the company finally reported a profit last year. According to the USFD IPO filing, the company earned $177 million from February 2015 to September 2015 – a huge swing from $121 million in losses during the year-ago period.
This profitability has investors rushing into USFD stock on its first day of trading today. Shares opened at $24.25, representing an immediate gain of 5.4% from the $23 IPO price. Any early investor who owned 1,000 shares of USFD stock made a profit of $1,250 right when they started trading.
Although these early gains are tempting, IPO investing is a risky enterprise for retail investors. That's because any trader who isn't a big-shot Wall Street banker or hedge fund manager can rack up losses if they don't follow a meticulous strategy.
"IPOs are just a get-rich-quick scheme in which the odds are heavily stacked against you," Money Morning Chief Investment Strategist Keith Fitz-Gerald told readers. "Investors like you and me are always last in a long line of people who will profit from initial public offerings."
Without a solid strategy for investing in the USFD IPO, investors could get burned.
Here's the safest, three-step strategy for investing in U.S. Foods stock…
The Three-Step Strategy for Playing the USFD IPO
The first thing you need to make money from USFD stock is patience. In fact, you'll need to wait until the USFD IPO lock-up period has expired.
After a new stock starts trading, early investors – like those Wall Street bankers and hedge fund managers – are restricted by an IPO lock-up. This is the period of time after an IPO in which they aren't allowed to sell back their shares.
With a 180-day lock-up, early USFD IPO investors will be able to sell their shares on or around Nov. 17, 2016. This gives investors like you and me plenty of time to assess the firm's growth and avoid the early volatility typical of new stocks.
The second step to investing in U.S. Foods stock is judging the company's financial growth. The only way to do that is to wait for the company to release at least three earnings reports.
One bad quarterly report can send a newly issued stock crashing. For example, online marketplace Etsy Inc. (Nasdaq: ETSY) hit the market in April 2015 and shot up 88% on the first day. But the firm posted a $36.6 million loss in its first report as a public company, which sent ETSY stock down nearly 20%.
Although U.S. Foods is profitable, it's best to wait and see if the company becomes even more profitable over time. Bottom-line growth is one of the most important drivers of a company's stock over the long term.
And the third and final step is to use a lowball order.
A lowball is an offer to buy shares of a stock at a significant discount to its market value. Placing these orders means you're purposefully offering a low price to attract sellers desperate to quickly get rid of their shares.
Lowballs are perfect for newly issued stocks because they put the power in your hands. Since you determine the price, you're protecting your money by letting the market come to you.
The Bottom Line: Buying into the USFD IPO seems like an easy way to make a profit right now. New stocks almost always surge when they first hit the market, which can tempt retail investors into buying shares right away. But the smartest way to make money from USFD stock requires patience. We recommend waiting until the lock-up period expires, assessing U.S. Foods' financials over the next three quarters, and using lowballs to set your own prices.
Alex McGuire writes about 2016 IPOs for Money Morning. Follow him on Twitter for the biggest updates on the USFD IPO.
Like us on Facebook: Money Morning
These Five 2016 IPOs Will Eclipse the U.S. Foods IPO… Since the beginning of the year, we've been following five companies poised to go public this year. If these companies hit the market, they will undoubtedly make a massive impact on the IPO landscape. Here are the five most important IPOs of 2016…
Related Articles: