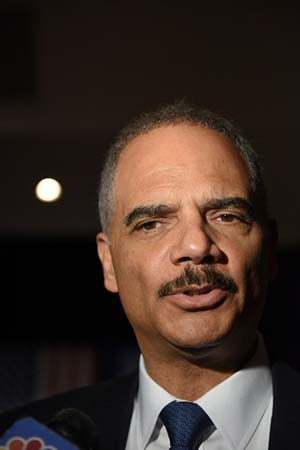 Former Attorney General Eric Holder, the man who was once in charge of prosecuting Edward Snowden, just described the whistleblower's actions as a "public service."
That's right. It seems Holder has changed his outlook on former National Security Agency (NSA) contractor Edward Snowden's data dump in 2013. That's when Holder vowed to prosecute any and all government officials who jeopardized national security by violating their oaths - a statement aimed directly at Snowden.
Not many took his promise seriously, considering Holder's legacy as Attorney General. During his tenure, he failed to criminally prosecute any of the major firms responsible for the 2008 financial crisis. When he left office in February 2015 after six years of service, he did so abruptly, citing "personal reasons."
While Holder admitted yesterday that he still believes Snowden should face prosecution, he also went so far as to claim that Snowden actually performed a "public service" by stoking a national debate about secret domestic national surveillance programs.
"We can certainly argue about the way in which Snowden did what he did, but I think that he actually performed a public service by raising the debate that we engaged in and by the changes that we made," Holder told David Axelrod - a former adviser to President Barack Obama -- yesterday on "The Axe Files."
Sneaky George Soros: Allegations have surfaced that the massive "Panama Papers" dump was funded by Hungarian-born mega-billionaire George Soros. And all because of a beef he has with Russian President Vladimir Putin. Read more...
You see, as an NSA contractor, Snowden was privy to several global surveillance programs, some of which were run by the NSA itself. To expose their wide-ranging illicit practices in 2013, he stole data detailing the programs and how they operated. He then flew to Hong Kong in May 2013, where he worked with Wikileaks to disseminate the information. On June 5 that year, the first revelations containing information provided by Snowden were made via a Guardian article about the NSA's collection of domestic email and telephone metadata from Verizon Communications Inc. (NYSE: VZ). The next day, The Guardian and The Washington Post each published an article about the NSA program PRISM, which forced the biggest U.S. Internet companies to hand over data on domestic users.
In late June 2013, Snowden attempted to flee to Ecuador from Hong Kong by way of a layover flight in Russia. However, he was detained in Moscow after U.S. authorities rescinded his passport. Henceforth, he's been in Russia, avoiding American prosecution, though his current residency permit expires in August 2017.
In the three years since the Wikileaks dump, rhetoric surrounding Snowden's actions has changed somewhat. A federal appeals court found Snowden's massive collection of stolen data to be illegal in May 2015. But then President Obama signed the U.S.A. Freedom Act a month later in June 2015. The U.S.A. Freedom Act limits the way in which government agencies can collect data. In November 2015, the NSA ceased collecting bulk phone data, moving to a more "targeted and focused" approach that doesn't rope every American into its search process.
In spite of this friendlier environment surrounding Snowden's data leaks, Holder told Axelrod that he thinks the whistleblower should return to U.S. soil as soon as possible.
"I think that he's got to make a decision," Holder said. "He's broken the law in my view. He needs to get lawyers, come on back, and decide, see what he wants to do: Go to trial, try to cut a deal."
Follow us on Twitter @moneymorning or like us on Facebook.
North Korea Just Endorsed Trump: GOP presumptive nominee Donald Trump received a surprising endorsement from official North Korean state media outlet DPRK Today. The media outlet hailed the real estate magnate as a "wise politician," and even went so far as to bash Democratic presidential candidate Hillary Clinton in the process. Here's more...
[mmpazkzone name="end-story-hostage" network="9794" site="307044" id="138536" type="4"]