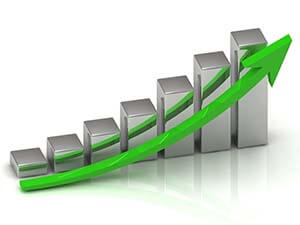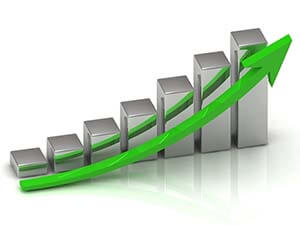 The precious metals markets have a close eye on them now as investors try to predict where 2016 silver prices are going. After climbing for weeks, silver has pulled back a bit since mid-May.
While the silver market is volatile by nature, there are some elements to gold and silver prices that make them predictable to a point. In fact, Money Morning Resource Specialist Peter Krauth anticipates a coming surge for silver prices, stating that "silver is now primed to outpace gold's gains and soar much higher from current levels."
He does see some weakness ahead first, but then the silver price climb will resume.
Here are several reasons why 2016 silver prices, in the long term, will be strong.
Silver Prices 2016 - History of Silver Prices
Today, silver is trading at approximately $16 an ounce. To fully understand how silver got here, let's take a quick look at the silver price history.
Silver experienced one of the most enduring bear markets in recent times between 1980 and 1993, when it lost 94.5% of its value. Called "Silver Tuesday," the silver price crash took place in the spring of 1980 and the metal lost 64% of its value in only one session. This crash was produced by two brothers who tried to direct the silver market through the manipulation of both purchased and futures contracts using borrowed money.
The silver market took 13 years to recover from the market manipulation scheme, and much of the economic uncertainty of the great recession aided silver's recovery. Prices rebounded from 2004 until 2011, where they peaked at $51.33. By December 2015, the price of silver had dropped 73.2% to $13.76 per ounce.
Now 2016 silver prices have enjoyed a bull market return.
Economic Indicators Pushing 2016 Silver Prices Higher
Gold and silver are complicated assets to price because there is no fundamental data tied to them as there are with company stocks. Silver prices rely on such things as global economic conditions and economic indicators.
Here are just a few of those economic factors that give insight into the 2016 silver prices forecast:
Interest Rates: Interest rates have a definite effect on the price of silver. Historically, silver prices will fall after an interest rate hike. For example, the U.S. Federal Reserve lowered its funds rate in 1975 below 2%. At the time, the country was in the midst of an oil crisis. Once the rates kicked in, the price of silver soared until the rates were normalized in 1980. As soon as this happened, the price of silver fell from $50 to $10 an ounce. While the Fed is predicting two minor rate hikes in 2016, they haven't happened yet. In fact, the FOMC met at the end of April and elected once again not to raise rates. This is good news for silver prices.
Inflation: The price of silver is a reflection of global economies and not simply what our nation's Federal Reserve elects to do about interest rates. Global inflation remains a factor in the pricing of precious metals so the actions of central banks around the world, particularly in Europe and Asia, can impact this price. Global economic uncertainty seems to be a driving factor in silver prices, and 2016 continues to contribute its fair share of this.
Low Gold/Silver Ratio: One of the biggest determinants of the price of silver is the price of gold. The gold/silver ratio tells investors the relative price of silver to that of gold. It is calculated by taking today's price of gold divided by the price of silver. The ratio hit a multiyear high of 83 in the first quarter of 2016 but has been steadily coming back down. This means that investors have more value, with the ability to purchase more gold for every ounce of silver that they own. Experts contend that these extremes are good news because they signal an excellent opportunity for earnings, which is what is occurring right now with silver.
2016 Silver Prices Will React to Demand
In addition to economic factors, silver is among the few precious metals that have diverse uses and demand worldwide. Here are just a few of the ways that the demand for silver will remain strong, which will continue to boost silver:
Industrial Uses: Silver is used in such applications as switches, batteries, and soldering materials. It is a key material in jet engine bearings and is tied to the growing solar demand because silver is a component in photovoltaic (PV) cells. The Silver Institute estimates that 70 million ounces of silver will be used for solar energy production in 2016 alone.
Silver Jewelry: Over the past several years, silver jewelry has seen a resurgence in popularity, which is a good omen for silver investors. The Silver Institute reports that a majority of U.S. retailers saw a 15% boost in silver sales last year and that half of those surveyed were increasing their silver jewelry inventory for 2016 by around 21%.
Silver Coins and Bars: The sales of silver bullion, particularly from the U.S. Mint, are approaching record numbers in 2016. The official silver coin of the United States is the American Silver Eagle coin. Sales of these coins have skyrocketed 370% since 2007 and hit a record 47 million units in 2015 alone. According to early numbers, the U.S. Mint is on track to sell upwards of 60 million coins in 2016, which is great news for the price of silver.
If there is one thing that we can be sure of in the financial markets, it's that history tends to repeat itself and the markets move based on established patterns. Several of these have been identified with regards to precious metal price movements, and they indicated that the silver prices 2016 will remain strong. As any investment is speculative in nature, it's always recommended that investors stay mindful of the overall diversification levels in their portfolio. To learn more about these markets, get this free report: The Essential Buying Guide for Gold and Silver.
Follow Money Morning on Facebook and Twitter.
[mmpazkzone name="end-story-hostage" network="9794" site="307044" id="138536" type="4"]