The silver price correction I've been cautioning readers to expect is finally upon us, as the price of silver has not been able to escape the broader sell-off in precious metals recently.
Silver peaked right along with gold prices in late April and has followed a similar decline ever since. As expected, the U.S. Dollar Index (DXY) bottomed right around the same time.
Then, silver prices consolidated between $17 and $17.50 until mid-May. The DXY had already been rebounding, and then it got a second wind and kept climbing higher.
Once the hawkish FOMC minutes were released on May 18, U.S. dollar strength weighed on the price of silver. That caused it to drop from $17.20 to $16.50 within a couple of trading days.
Silver's been consolidating below $16.50 since then, as the DXY manages to stay above 95.
And as we approach June, all the attention will again be pointed at the U.S. Federal Reserve to see whether a rate hike arrives. The next FOMC meeting is June 14-15.
Unfortunately, I don't expect the silver price to move higher in the short term. However, silver's long-term potential is a much more bullish story, which is why I'm going to share with you the factors affecting silver's short- and long-term paths right now.
Let's do that now – plus take a look at how silver moved last week…
Here's What Moved the Price of Silver Last Week
Silver prices began the last trading week on a sour note. On Monday, May 23, prices declined 1.1% to close the session at $16.35. That was the lowest settlement since mid-April.
But the silver price weakened even further the next day. The metal fell another 0.9% on Tuesday to $16.20.
Unsurprisingly, the dollar rallied that day to about 95.65. That was the strongest it had been since the middle of March.
Here's how the U.S. Dollar Index trended last week…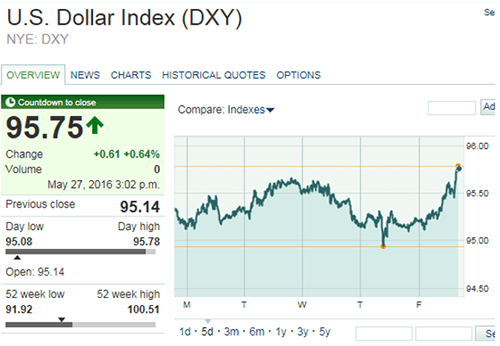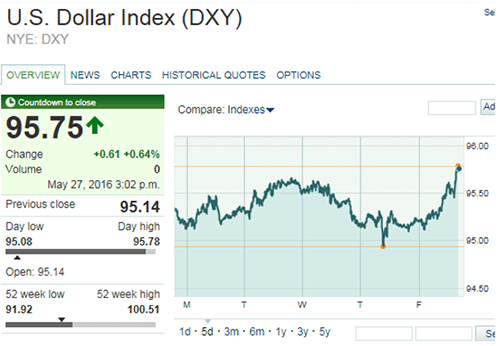 On Wednesday, May 25, the price of silver saw a little bit of strength. After opening slightly higher at $16.23, it gained 0.6% to $16.29 by the close.
More gains came on Thursday when silver prices saw a considerable bounce during trading. The weakening dollar fueled silver's gains as the DXY temporarily dropped below the 95 level. This pushed the silver price toward $16.48 in early morning trading before settling flat at $16.29.
On Friday, May 27, the dollar broke back through the 95 level to trade at 95.53 by midday. That weakened the price of silver to $16.21 by the same time.
But then Fed Chair Janet Yellen gave a speech at Harvard University…
During an event at the university on Friday, Yellen said another interest rate hike would be appropriate since growth appears to be improving. She specifically cited the strengthening labor market as a sign the economy is growing at a confident pace.
These statements caused the DXY to spike to 95.76 by mid-afternoon, which pulled silver prices and gold prices down 0.9% and 1.2%, respectively. The silver price ultimately closed the week at $16.27 for a 0.1% loss on the day.
After last week's decline, many investors have started comparing the recent silver price performance to gold prices. There's one interesting thing to note about how the two metals have been trading since the sell-off began…
This Chart Shows an Interesting Trend Between the Price of Silver and Gold
It's interesting to note that silver prices have experienced a bigger sell-off than gold prices since the metals correction began.
You can see this in the following chart…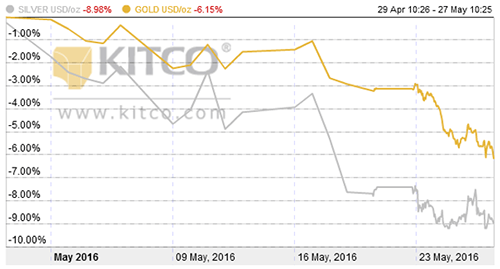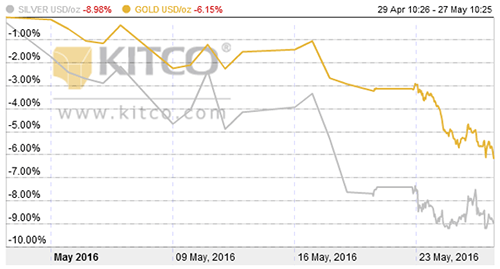 But here's an interesting twist on the recent silver price action…
When comparing silver prices and silver stocks, the latter actually haven't leveraged silver prices on the downside as much as one would think. It's typically been on a 2-to-1 basis at least.
In fact, let's use the iShares Silver Trust ETF (NYSE Arca: SLV) and Global X Silver Miners ETF (NYSE Arca: SIL) as respective proxies for silver prices and silver stock prices. Since the late April correction, silver stocks have slightly outperformed the silver price.
Check out this chart here to see what I mean…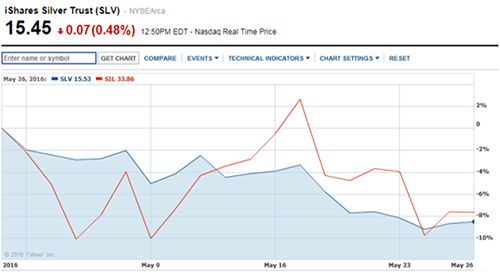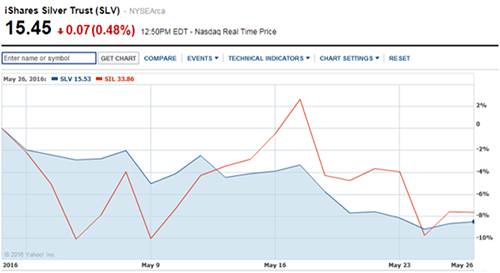 If we focus on the action in mid-May – when the FOMC minutes showed the Fed was contemplating a June rate hike – silver stocks gained as silver prices moved sideways. Silver stockholders might have been pricing in more value in the stocks than in the metal itself.
Now, let's look at silver's technical price action to gain some insight into what might lie ahead.
After taking a look at this chart below, we can clearly see the trend reversal that began at the end of April…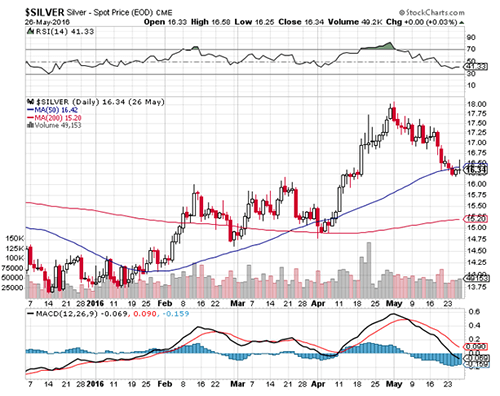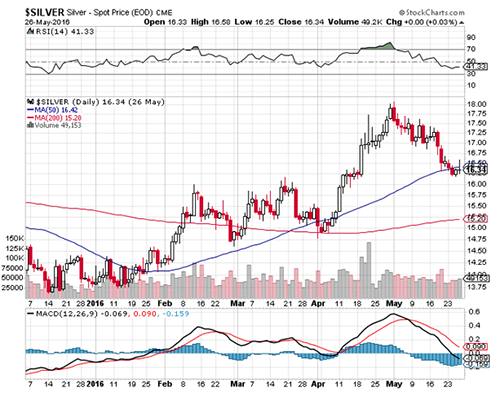 With Friday's action in the price of silver, we are now below the 50-day moving average, which is a bearish move. If you couple that with the negative momentum in both the RSI and MACD indicators – both of which measure the oversold conditions of silver prices – then it's reasonable to expect further weakness in the near term.
The silver price chart points to initial support for silver at the $16 level. If that's breached, the next support will be at $15.50 followed by $15.20, which is silver's current 200-day moving average.
Despite these bearish indicators, I don't expect this weakness to last past this summer. On a seasonal basis, silver tends to bottom in June before moving in a trading range until late August.
The Bottom Line: While silver prices will pull back a bit more in the near term, I think we'll see the price of silver get its upward momentum back before too long. From my perspective, silver could easily regain the $18 level this fall and make a push towards $20 before the end of 2016.
Stay tuned for more updates on the price of silver in 2016. Follow us on Twitter and like us on Facebook.
Make Money from Silver Prices No Matter Where They Move… Despite the recent sell-off in precious metals, they're still must-have assets for your portfolio. That's because they're the perfect "crisis insurance" whenever the stock market endures volatility. Still, most investors don't know how to profitably play silver or how to get their hands on it. Here's your guide to investing in both silver and gold in 2016…
Join the conversation. Click here to jump to comments…
About the Author
Peter Krauth is the Resource Specialist for Money Map Press and has contributed some of the most popular and highly regarded investing articles on Money Morning. Peter is headquartered in resource-rich Canada, but he travels around the world to dig up the very best profit opportunity, whether it's in gold, silver, oil, coal, or even potash.