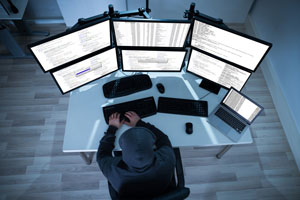 Between 2011 and 2015, the U.S. Fed detected a total of 51 cyber breaches in its computer system. Many of these incidents were described internally as "espionage," according to Federal Reserve records obtained and released by Reuters today.
The Fed's computer system plays an integral role in global banking; it holds sensitive information on monetary policy correspondences and discussions that drive financial markets.
According to the heavily redacted documents Reuters acquired via the Freedom of Information Act (FOIA), staff members at the central bank suspected spies in dozens of the incidents. In fact, between 2011 and 2013 – when the central bank's trading desk was purchasing huge amounts of bonds – eight security incidents involved Fed staff members reporting "malicious code" in the software they were using.
Who will be Trump's VP? Some say Sarah Palin. Others say Newt Gingrich. Still others are claiming former Minnesota Gov. Jesse Ventura will nab "second-in-command." We've sifted through the litany of possible candidates to bring you our top five…
Four hacking incidents in 2012 were distinctly labeled as acts of "espionage," according to Reuters' records. "Information" had been "disclosed" in at least two of those cases, though what kind of information and to whom it had been revealed was not included in the findings. "Information disclosure" is a cybersecurity umbrella term referring to ways hackers access unauthorized information. The ways range from head-on hacking attacks to a computer system's "security wall" to emails sent unintentionally by an unaware staff member to an incorrect recipient.
It remains unclear if the 51 espionage incidents involved foreign governments. However, the Fed is often the target of foreign cyber thieves. That was the case earlier this year when, on Feb. 5, Chinese hackers stole $101 million in Bangladesh Bank funds from the New York Federal Reserve.
Reuters' batch of cases represent only a sliver of all cyberattacks launched against the Federal Reserve. This is because the report only included incidents involving the Washington-based Board of Governors – a federal agency that is subject to public records laws.
Follow us on Twitter @moneymorning or like us on Facebook.
Japanese Prime Minister Warns of a Worldwide Market Crash: Group of Seven (G-7) summit leaders met recently to voice their concerns about emerging markets. Their host, Japanese Prime Minister Shinzo Abe, didn't waste any time to drop some disturbing information about an impending global financial crisis….
Related Articles: