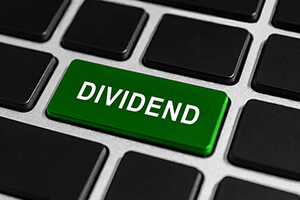 There are always trends that make particular sectors the best to go looking for top stocks to buy right now. One type of stock that is always a good idea for stock hunting are those that pay dividends.
Top stocks that pay dividends let you cushion any dips, and they provide returns when share price acceleration may not be rewarding investors. In markets such as these, investors tend to trend toward "Dividend Aristocrats": companies such as Johnson & Johnson (NYSE: JNJ) and McDonald's Corp. (NYSE: MCD), which offer dividends of 2.85% and 2.90%, respectively.
Dividend Aristocrats: Top Stocks to Buy Right Now
When looking for dividend stocks to buy, keep in mind that the aristocrats are widely considered 50 S&P 500-listed companies whose yearly dividends have risen for at least 25 years in a row. That means each of these aristocrats has a long and stable history of both dividend payout and steadily rising payouts.
Companies that offer investors passive income streams always become more attractive in periods of volatility as well. Right now, the market faces some uncertainty about whether the Fed will hike interest rates in the near term and how much it may raise them before the end of 2016. The upcoming election poses uncertainty as well, about trade and Fed policy among other factors.
According to MFS Investment Management, dividend stocks are 70% less volatile than earnings over a period of time. So dividend plays are among the stocks to buy right now.
However, Money Morning recommends dividend stocks that also have significant potential for share price appreciation based on profit outlook.
Here are two Money Morning recommendations for top dividend stocks to buy right now.
Top Stocks to Buy Right Now: High Yield with Capital Gains
Our first top stock to buy right now is Virginia-based Altria Group Inc. (NYSE: MO), which has a current dividend of 3.57%. That's a nice yield for investors from a company that is primarily known as one of the largest tobacco enterprises in the world. It also owns more than one-quarter of SABMiller Plc. (LON: SAB), one of the world's biggest alcohol companies.
MO shares currently sell at $63.92, up 11.4% year to date – a particularly impressive showing in markets that have tread water or fallen slightly on the year. This year's performance comes on top on strong returns of 15% in 2015.
Altria's dividend policy is one of the most robust and reliable of any blue-chip company. Over the past six years, it has raised its dividend by 48% – including 17% during the financial crisis of 2007-2009.
The dividend was raised in September 2015, and Money Morning expects it to be raised again in 2016.
We see this stock going to about $75 a share, an increase of 18.5% from current levels. The price target is based on forecast 2017 earnings per share (EPS) of $3.31 and price/earnings ratio (P/E) of 22.8.
Top Stocks to Buy Right Now: Cash-Rich Tech Is a Dividend Machine
There was a time when no one would think "tech" when they thought "dividend."
That time is past. While tech companies were once upon a time research and development companies that plowed extra cash into more innovative products, many of them have been sitting on a cash hoard for a while. Most spectacularly, that includes Apple Inc. (Nasdaq: AAPL), whose recent earnings miss (and subsequent stock plunge) attracted investor attention.
Yet as Money Morning Director of Tech & Venture Capital Michael A. Robinson points out, Apple has huge profits. It's why the recently quarter results also included a huge 10% hike in its dividend. Apple can well afford it. It has profits to the tune of $10.52 billion, even in a down quarter.
If you're looking for stocks to buy right now, the tech sector is a good option. While Robinson believes that the AAPL dividend increase will likely be the tech sector's largest this year, it is not likely to be the only one.
Let's look at a bit of history. According to FTPortfolios, the tech sector raised dividend payouts 24% on average annually from 2009, as the United States was pulling out of the financial crisis, to 2014. That almost dwarfs the increase of the No. 2 payout segment, financials, which grew dividend payouts just 7%.
Tech titans Cisco Systems Inc. (Nasdaq: CSCO) and Microsoft Corp. (Nasdaq: MSFT) are, along with Apple, among the 15 largest S&P 500 dividend payers.
In the last year, all tech companies in the S&P 500 paid investors total dividends of $59 billion.
And it's not just the past that creates tech dividend royalty. The S&P 500 tech sector's total cash at year-end 2015 was $580 billion. They can remain high dividend payers going forward on cash flow strength alone.
FactSet reports that healthcare tech – a slightly different segment than tech companies – was the leader in raising dividends per share in 2015. Dividends climbed 14.5% for the sector.
So, of all these dividend leaders to buy, which is the best of the stocks to buy right now? Is Apple, or Microsoft, or Cisco the best stock to buy right now?
How about all of them as stocks to buy right now? Robinson's favorite way to benefit from dividend-rich tech is to buy 94 tech dividend payers in one place. His recommended investment is the First Trust Nasdaq Technology Dividend Index Fund (NYSE: TDIV).
TDIV currently yields a yearly dividend of 3.04% ($0.96 per share quarterly). TDIV is an exchange-traded fund (ETF) that requires stocks to have a market capitalization of more than $500 million and to have paid a dividend in the last 12 months.
Semiconductor firms constitute more than 27% of the fund, software firms make up more than 15%, and telecommunications companies account for 14%. TDIV's total net assets are over $450 million.
Venerable IBM Corp. (NYSE: IBM) is TDIV's largest holding, followed by Cisco and Intel Corp. (Nasdaq: INTC) at No. 2 and No. 3. Apple is No. 5, and investors also get a number of excellent tech stocks in the fund, including Qualcomm Inc. (Nasdaq: QCOM), which Money Morning points out is the highest dividend-paying stock in the technology sector, with a yield of over 4%. By buying TDIV, all of them are stocks to buy right now.
Follow Money Morning on Facebook and Twitter.