The market is sending us decidedly mixed signals right now. We've had some welcome upward moves lately, notwithstanding a little halfhearted profit-taking yesterday.
Analysts all have different explanations for the buoyant markets – oil prices, the strong dollar, an uptick in dealmaking, and now even surging new home sales. Those are all to the good, but I think they're overestimating the importance of those factors.
Don't get me wrong – it's OK to get excited about the rally, because there are some constructive technical reasons to like it. Critically, lots of stocks in most sectors have come along for the ride.
But here's where those mixed signals I was talking about come in. The welcome upward moves just haven't been able to get the markets out of the "box" they've been stuck in for the past eight weeks or so. And, as you'll see, there's still a great deal of uncertainty about one sector in particular.
So I'm going to show you what my technical analysis reveals about how we can get "out" of the box, and where we'll likely land when we get there.
And then I'll recommend some profit plays to make right now…
The Box Isn't Budging
As I said, there have been some positive market developments in the past week, but the horizon isn't completely clear right now.
Have a look at this chart, which shows perfectly that "box" I spoke about.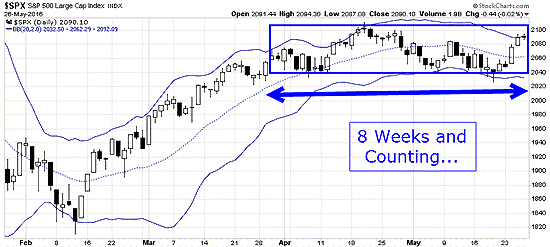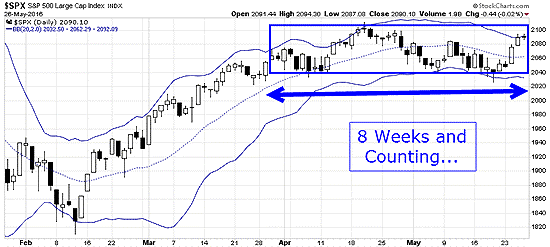 Early this past week we held the important support zone of 2,040 in the S&P 500.
Now, as we test the upper edge of our box, it will be important to see how the market reacts at the equally important 2,105 to 2,110 resistance area.
I'll be watching to see if the market can maintain any upward momentum and challenge this area or if it will have its next pullback falling short of challenging the recent swing highs.
The markets are telegraphing that an assuredly imminent U.S. Federal Reserve interest rate hike has yet to be priced in. Not for nothing is the total number of investors "in cash" close to a 15-year high. That money is out there on the sidelines because of uncertainty, mostly over the rate hike, but for other reasons you'll see in a moment.
I tend to think that the central bank won't let markets tumble far after any hike, and there are signs that line of thinking may be catching on out there, but the market is far from convinced.
But there's another big question mark on the market's mind.
The Rally Is Good, but Oil Uncertainty Still Reigns
You can't overstate the importance of oil as a barometer of the global economy, and despite some mixed-to-positive data in the United States, the rest of the world simply isn't faring as well, and that's helping keep traders on their toes – and downward pressure on oil.
The black stuff is still in an impressive climb, with fresh momentum coming from global geopolitical inputs. Production in the United States has fallen somewhat, but across the ocean, the so-called "Niger Delta Avengers" attacked a Nigerian oil pipeline last week in the country's restive Delta region, disrupting supplies. We're also seeing Venezuela teeter on the verge of total collapse right now. Both of these countries have some impact on global oil supply, but this is mostly psychological.
Closer to home and much more important to the United States, the mammoth Fort McMurray, Alberta, wildfire – which saw virtually the entire 88,000-plus population of Canada's most important oil hub evacuated last month – is now under control. Residents are returning to the area, but it will be some time before oil production in the province is what it once was.
Nevertheless, $50 oil "is a psychological milestone," Michael Wittner, the head of oil market research at Société Générale SA, said. Still, "some Nigerian oil will be back and all Canadian, and the big question is whether it will matter. The market might not care."
All of this is helping oil to flirt with the $50 mark, but until oil can stay above $50, it won't be "out of the woods" yet. Remember, the world's 50 biggest publicly traded oil companies need an average price of $53 a barrel to stanch their collective cash bleed, according to a report by Wood Mackenzie Ltd.
So oil and energy companies aren't necessarily a resounding "Buy" this week, but I do see a few stocks out there that look tempting right now.
What to Buy Now
In an uncertain market, where volatility is always waiting in the wings, uncorrelated or low-correlation stocks are your friend.
Last week, just before the long weekend, my Stealth Profits Trader readers cleaned up with a triple-digit win on Biogen Inc. (Nasdaq: BIIB) nine days after entering the trade on a stock that traditionally has a very low correlation to the broader markets. A strong Hooke pattern was the signal to move, but this stock remains a good buy right now.
I have been and continue to be very impressed with Lockheed Martin Corp. (NYSE: LMT). Another week, another multimillion-dollar contract seems to be the company's MO right now. It built on an unbroken winning streak last week after announcing it had been awarded a $424.7 million contract with the U.S. Navy. As part of the deal, Lockheed will supply MK 48 common broadband advanced sonar system upgrade kits as well as MK 48 heavyweight torpedo controls to the Navy. The latest contract is part of a five-year initiative to grow the inventory of the MK 48 Mod 7 torpedoes for the submarine fleets of the U.S., Royal Australian Navy, and several other Commonwealth and South American navies. Peace could break out all over, and I'd still like Lockheed's prospects.
Another old favorite of mine that continues to impress is classic utility PG&E Corp. (NYSE: PCG). I recommended the San Francisco, Calif., electric company last month and it's up a tidy 3.3%. In fact, the shares hit all-time highs on Tuesday, and I think there's still more room to run. The firm announced that it will be increasing its quarterly dividend rate by $0.035, which brings the annualized payout to to $1.96 per share. This is the first annual dividend hike by PG&E in six years, but there are even better days ahead. My Stealth Profits Trader readers are closing in on triple-digit profits with a trade on these shares, too.
And speaking of Stealth Profits Trader, my conference call last week was a big success. I recommended some specific trades to make that will give readers the chance to profit on two of the biggest long-term trends I've identified coming into the bottom half of the year. If you missed it, click here to access a recording.
I'll be back with a look at what to do when the markets get closer to those critical support and resistance levels I mentioned.
Follow Money Morning on Facebook and Twitter.
Join the conversation. Click here to jump to comments…
About the Author
D.R. Barton, Jr., Technical Trading Specialist for Money Map Press, is a world-renowned authority on technical trading with 25 years of experience. He spent the first part of his career as a chemical engineer with DuPont. During this time, he researched and developed the trading secrets that led to his first successful research service. Thanks to the wealth he was able to create for himself and his followers, D.R. retired early to pursue his passion for investing and showing fellow investors how to build toward financial freedom.