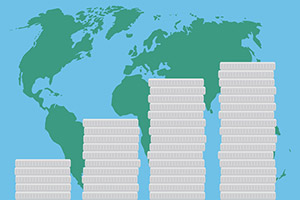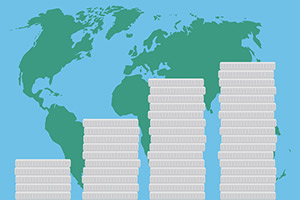 Wondering why silver prices are up today (Friday) after a bit of a pull back? We have your answer…
Short-term corrections aren't uncommon in precious metals markets, and there are some very good reasons for the recent drops in silver prices. In the long term, however, investing in silver remains a good play. Today we'll look at why silver rebounded, why it's been down, and why it's strong long term.
Why Are Silver Prices Up? Short-Term Outlook
There's been a recent silver price correction that experts including Money Morning Resource Specialist Peter Krauth have been warning was on the way. The price of silver hit its high mark towards the end of April and has declined along with both the price of gold and the U.S. Dollar Index (DXY).
The biggest factors weighing on silver prices in 2016 are the DXY and the speculation surrounding the Federal Open Market Committee (FOMC) meetings. In May, the FOMC decided not to raise interest rates, but just the fear of them doing so was enough for precious metal commodities to take a hit.
Silver prices dropped over 8% in May, which has many investors wondering about the future.
Then today, the price of silver was up about $0.40, or 2.5%, to $16.35 an ounce. Seems like buyers are coming out, and that pushes the price up, as the recent dip has made silver look good.
Gold buying was up, too, as the recent gold price dip has lured people to invest in physical gold.
So what's next – will there be months ahead of future silver price corrections, or will we see silver prices up once again? According to Krauth and other industry experts, the future looks bright for the grey metal.
Why Silver Prices Are Up Today, and the Long-Term Outlook
Year to date, silver's up nearly 16%, which is an impressive gain. Silver is currently trading at $16 an ounce, and Krauth doesn't expect the slump in silver prices to last much past mid-summer. In fact, most precious metal prices bottom out in June and begin to climb, which is the expectation with silver in 2016. There are several reasons to remain bullish on silver going forward.
Unlike gold, silver is used in everything from wiring to insulation to solar panels. This makes the precious metal a valuable commodity in both good economic times and shaky ones. In good times, the demand for these products surge, driving up the price of silver. In uncertain times, precious metals are used as safe-haven investments and as a means to diversify portfolios. While the stock market and world currencies aren't providing ease and comfort to investors this year, which is still good news for silver prices, there are other economic indicators that will provide even further long-term boosts in the price of silver.
Remember those particular uses for silver that we just mentioned? A booming housing market would certainly impact the demand for silver, pushing silver prices up. In fact, new data issued in the past week shows that purchases of new homes have risen to the highest rate in eight years, and contracts to purchase previously owned homes in April were the highest since 2010. For those looking at silver as an industrial metal, which accounts for nearly half of its demand, this is great news for the future of silver prices.
One of the best indicators of the growing demand for silver is the solar panel industry. This is closely related to the performance of the housing market in both the United States and abroad. The demand for silver hit a new annual record in 2015 and is expected to surpass those numbers in 2016. Its use in solar panel installations alone is projected to reach record numbers this year, with China accounting for half of the world's solar panel manufacturing. Bloomberg recently reported that Chile has expanded its solar industry so rapidly that in some areas it's giving away electricity for free. With 29 existing solar farms in the country, Chile has 15 more either under construction or planned.
While surging demand tends to drive silver prices up, a tightening of silver supplies will only help matters. That is exactly what is expected to happen going forward. The global silver deficit continues to increase. As reported in the Metals Focus global survey, we had a physical silver deficit of 793 metric tons (mt) in 2015. That deficit is expected to increase to 1,005 mt in 2016. According to CPM Group, a New York-based research group, output from silver mines this year will fall for the first time since 2011. These supply and demand factors give a good argument for why the market will push silver prices up long term.
Investing in Silver for Long-Term Gains
These pullbacks in silver prices are offering nothing short of an excellent buying opportunity for investors before the price of silver begins its upward climb once again.
For those who wish to invest in silver, the great news is that there are many choices. By far, the most popular method for buying silver is investing in physical silver. Silver can be purchased in the form of jewelry, silver coins, and bars. Take note that silver jewelry is not the most efficient means of investing, however, as you are paying a premium above the value of the silver. Many people purchase silver American Eagle coins from the U.S. Mint. In fact, 2016 is expected to produce record numbers for these sales. Silver coins and bars can be purchased from other sources as well.
If you don't wish to own physical silver, there are alternative investments that won't require your figuring out the logistics of storage and the potential expenses that come with holding coins and bullion. Silver exchange-traded funds (ETFs) are popular investments and, according to several sources, holdings in these funds are at the highest rates in several years. Just one popular silver ETF is ProShares Ultra Silver (NYSE Arca: AGQ), which has shown year-to-date gains of 28.8%.
The recent pullback in the price of silver may be giving some investors pause, but it shouldn't. In fact, the arguments that we'll see silver prices up for the long term are difficult to refute.
Follow Money Morning on Facebook and Twitter.