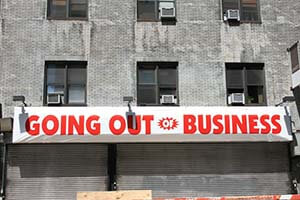 Companies sometimes must file for bankruptcy protection, either to restructure and reemerge from the proceedings debt-free, or to wind down operations. Once a business declares Chapter 11 bankruptcy, it stays in control of its assets, works out a plan with the courts to pay off its debts, and, ideally, comes back stronger than before.
Over the years, some companies have come back from bankruptcy stronger than ever — with customers none the wiser.
Here's a look at five companies many folks never knew went bankrupt…
Five Popular Companies That Quietly Filed for Bankruptcy Relief
Chapter 11 Bankruptcy No. 1: Texaco
In April 1987, Texaco Inc., the nation's third-largest oil company at the time, filed for Chapter 11 bankruptcy protection to allow it to pursue an expensive legal battle with Pennzoil Co.
The filing came six days after the U.S. Supreme Court overturned a federal court order that allowed Texaco to post a bond of only $1 billion instead of what Pennzoil was looking for — $12 billion. The skirmish was over a contract Texaco signed to buy Getty Oil in 1984. You see, Pennzoil had entered into an unsigned, yet still binding, agreement in 1983.
Texaco's ultimate bankruptcy filing was the largest in U.S. history at the time.
But the company didn't go under. In January 1989, Texaco and Saudi Aramco agreed to form a joint venture known as Star Enterprise. Therein, Saudi Aramco would own a 50% share of Texaco's refining and marketing operations in the eastern United States and Gulf Coast.
Texaco remained an independent oil company until 2001, when its refining operations merged into Chevron Corp. (NYSE: CVX).
Chapter 11 Bankruptcy No. 2: The Chicago Cubs
The Chicago Cubs filed for Chapter 11 protection in October 2009 as a way to speed the sale of the franchise to the Ricketts family (whose patriarch, Joe, founded TD Ameritrade).
The move was anticipated by previous team owner Tribune Co., who looked to complete the $845 million sale of the squad, Wrigley Field, and related properties as a way to wash its hands of the team completely.
The team's brief stay in Chapter 11 also protected the Ricketts family from potential claims from Tribune creditors.
In the years since the takeover, the Ricketts have amassed ownership of buildings surrounding Wrigley Field in an ongoing Chicago battle over rooftop viewership.
Meanwhile, though the Cubs' seasons haven't been outstanding since 2009 (they made it to the playoffs once), the team has enjoyed record crowds at Wrigley, landing in the top 10 every year for "Best Major League Baseball Game Attendance."
Chapter 11 Bankruptcy No. 3: Sbarro Pizza
The "mall pizza" chain took a hit in April 2011, filing for Chapter 11 with a plan in place to cut more than half of the company's outstanding debt.
The 1,045-restaurant-strong chain said it was suffering from a liquidity crunch and couldn't tap the financing it needed to recapitalize.
The cause of the company's woes could be traced back to 2007, when a surge in prices for two of its key ingredients – cheese and flour – broke Sbarro's bank. Coupled with the massive drop in discretionary spending brought on by the 2008 financial crisis, the pizza chain was going belly up.
But it has managed to stay in business. In 2014, Sbarro announced restructuring efforts that would lead to the closing of over 300 unprofitable stores and a litany of remodeling. It also opened non-mall locations and debuted a fast-casual concept called Pizza Cucinova, which only exists in Ohio.
Chapter 11 Bankruptcy No. 4: Six Flags Entertainment Corp. (NYSE: SIX)
This is a story of a major turnaround…
In June 2009, the amusement park filed for Chapter 11 bankruptcy protection after its shares were delisted from the New York Stock Exchange (NYSE) for failing to meet the exchange's quantitative listing criteria. Its 30-day average closing price was less than $1.00, and the company's cash flow had decreased by over $120 million annually since 2006.
Over the next seven years, Six Flags restructured its long-term debt, taking it from $2 billion down to $918 million by 2012.
Today, the company boasts 18 theme parks across the nation and rakes in more than $1 billion annually. Attendance has gone up in recent years, enabling it to build new premier rides.
The amusement park also became well-known for its advertising gimmick, featuring an elderly man dancing to club music…
Now here's a company that survived bankruptcy to bring us our favorite summer blockbuster action films that have raked in more than
$5
billion
since 2008…
Chapter 11 Bankruptcy No. 5: Marvel
On Dec. 27, 1996, Marvel filed for bankruptcy. It was bleeding money and owed $1.7 million to Walt Disney Co. (NYSE: DIS). Over one-third of Marvel employees were laid off. For a company that had created some of the most iconic and recognized characters in the world, the future seemed bleak.
In 1998, the company sold the cinematic rights to properties like X-Men and Spider-Man to Twenty-First Century Fox Inc. (Nasdaq: FOX) and Sony Corp. (NYSE: SNE) for quick cash. These movies managed to haul in some serious profits… for everyone but Marvel.
In 2005, Marvel went forward with a risky plan to create its own studios. It announced a seven-year, $525 million financing deal with Merrill Lynch Preferred Capital Trust (NYSE: MER-D.CL). As collateral, Marvel put up everything they had – including the properties to Captain America, The Avengers, Iron Man, Nick Fury, Black Panther, Ant-Man, Cloak & Dagger, Doctor Strange, Hawkeye, Power Pack, and Shang-Chi.
The move paid off. Iron Man made over $500 million and Marvel has never looked back, though they eventually sold that particular character off to Disney for $4.3 million in 2014.
Follow us on Twitter @moneymorning or like us on Facebook.
Japanese Prime Minister Warns of a Worldwide Market Crash: Group of Seven (G-7) summit leaders met recently to voice their concerns about emerging markets. Their host, Japanese Prime Minister Shinzo Abe, didn't waste any time to drop some disturbing information about an impending global financial crisis….