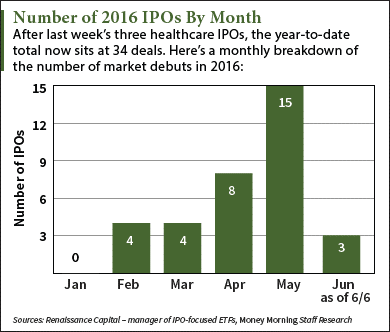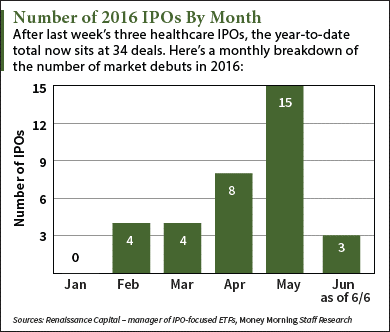 With two more deals on this week's upcoming IPO calendar, June is already off to a strong start.
Despite the shortened Memorial Day week, three IPOs hit the market last week as expected. The new offerings raised a combined $152 million.
The biggest IPO by deal size was NantHealth LLC (Nasdaq: NH), which raised $91 million and saw a first-day pop of 33%.
The first three days of June also saw a massive surge in IPO filing activity. While only nine companies filed for initial public offerings in the entire month of May, four have already filed so far this month.
The four companies, including tech firm Twilio, are set to raise a combined $2 billion, which makes last week the most active for IPO filings in 2016.
Now, here are the new IPOs this week, which include the third tech offering of the year…
Two Deals on the Upcoming IPO Calendar (June 6 – June 10)
New June IPOs No. 1: Atkore International Group Inc. (NYSE: ATKR) is a manufacturer of electrical and mechanical equipment used for commercial construction. The company specifically sells electrical cable systems and metal tubing for plumbing and other purposes. The firm was spun off of international security systems and electrical equipment supplier Tyco International Plc. (NYSE: TYC) and sold to private equity company Clayton Dubilier & Rice (CD&R). Atkore will be CD&R's third IPO of 2016 after SiteOne Landscape Supply Inc. (NYSE: SITE) and U.S. Foods Holding Corp. (NYSE: USFD).
The Atkore IPO will raise $252 million by selling 12 million shares at a $20 to $22 price range. It's valued at $1.4 billion and will hit the market on Friday, June 10.
New June IPOs No. 2: China Online Education Group (NYSE: COE) provides online English language instruction to Chinese-speaking students. Also known as 51Talk, the company offers the fastest-growing online service for English language education. China Online Education will be the third tech initial public offering of the year after SecureWorks Corp. (Nasdaq: SCWX) in April and Acacia Communications Inc. (Nasdaq: ACIA) in May. According to Renaissance Capital, a manager of IPO-focused ETFs, China's market for online English education has grown by 54% in 2016. Despite 51Talk's 2015 sales of $24 million – a 196% increase from 2014 – its heavy marketing expenses have cost the company $20 million.
The China Online Education IPO is set for a $46 million IPO by offering 2.4 million shares at a price range of $18 to $20. The company commands a $407 million valuation and will start trading on Friday, June 10.
Alex McGuire writes about upcoming IPOs for Money Morning. Follow him on Twitter for news on the biggest IPOs of 2016.
Like us on Facebook: Money Morning
One of the Most Popular Social Media Companies Is About to IPO… With the third tech IPO of the year debuting this week, the tech market is slowly making a comeback. And this social media company will be at the center of that comeback. Despite the Facebook IPO becoming the fourth-largest offering in U.S. history, there's no doubt this popular social media app will top it…