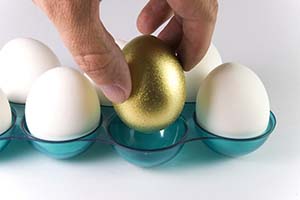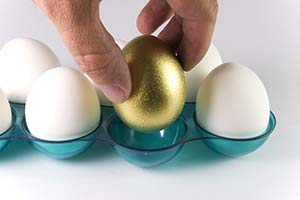 At any given time in the market, there are some good stocks, plenty of bad stocks, and a lot of choices that fall in between. For new investors looking for the best stocks to buy, the selections, expert opinions, and financial ratios can seem overwhelming.
Given that many of these factors can change on a daily basis, the best stocks of one day may not be the ideal selections for the next.
Here are some tips for investors for finding quality stocks that offer the potential for positive gains in this turbulent market.
How to Find the Best Stocks to Buy
One of the first things to remember is that you're investing in a company, not just a stock. With that in mind, you'll want to locate companies that are both earning money and providing positive returns to their investors.
There are several ways to determine this. Take a look at both the company's annual and quarterly revenue numbers. Are they growing? Ideally, you'd like earnings growth to be in the range of 10% or higher each year unless there is a good explanation. The debt level of a business is also a fundamental investment factor. Debt should be lower than the company's assets and preferably not rising from the prior year's level.
Finding a great stock is an excellent start, but that doesn't mean that it's a good buy or even the right choice for you.
Many investors look for stocks to buy that are somewhat undervalued, meaning that the price of the stock doesn't accurately reflect what the company earns or is worth. A good indicator of this is the price/earnings ratio (P/E ratio), which measures a company's current share price against the business' earning per share. P/E ratios vary by industry, but a lower ratio may indicate either buying opportunities or trouble for a stock. A large P/E could suggest that investors either expect good things or are overvaluing a company.
Finally, new investors will want to consider the level of risk that they are comfortable with before selecting individual stocks for investment. Investors learn that all investments hold some scale of risk and the reward for taking on higher levels of risk is the potential for greater returns. There is also the potential for higher losses so risk tolerance should be assessed and investment portfolios should be allocated in a manner that addresses some of that risk.
Best Stocks to Buy for New Investors
As a new investor, it often helps to invest in companies that you deal with on a daily basis and even those that you have a personal stake in. While some of your favorite brands may be risky investments or overhyped companies, here are a few well-known stocks that are considered among the best stocks to buy in 2016.
Best Stocks to Buy: United Parcel Service Inc. (NYSE: UPS) – Online retail is booming, and this isn't only great news for companies like Amazon, but for those guys in the brown trucks that are dropping off those Prime shipments at your doorstep every other day. United Parcel Service is not only a top stock to buy, but it's also an incredibly well-run company. For every dollar that is invested in the business each year, UPS earns back $0.32. The company is poised to increase its online retail shipment volume alone by 21% annually over the next five years and is anticipating profit growth from 7%-11% for the current year. The company's P/E ratio is 18.65 and UPS stock has increased 6.39% year to date.
Best Stocks to Buy: Facebook Inc. (Nasdaq: FB) – Facebook stock got off to a notoriously bad start with its 2012 overvalued IPO. Once past the glitches and related trauma that accompanied that event, the stock went on to gain 375% between mid-2013 and today. And it's not finished. Two of Money Morning's top experts, our tech expert Michael A. Robinson and Chief Investment Strategist Keith Fitz-Gerald, recommend FB stock. There are several reasons for this. Facebook has made some profitable acquisitions, including Instagram, WhatsApp, and the new Oculus VR virtual reality system. They also operate a proprietary targeted ad system that generates a great deal of revenue. In fact, Robinson believes that the stock could hit $250 in the next five years, which would double your investment should you buy FB stock today.
Best Stocks to Buy for Long-Term Gains
While slightly riskier than the two stocks that we just listed, these next two stocks are also recommended by many stock experts as among the best stocks to buy for long-term gains.
Phillips 66 (NYSE: PSX) – When Warren Buffett begins snapping up shares of a company, people take notice. This is precisely what has been happening this year with PSX as the billionaire investor has acquired more than $64 million in PSX stock in May alone, increasing his total holdings to $5.9 billion. Why would he do this? According to past interviews with Buffett, he makes many of these investments when he sees unrealized value. In early May, the company boosted its quarterly dividend by 12.5%, marking the sixth time the dividend has been increased. While revenue last year was slightly down, the long-term prospects for PSX are positive due to its strong refining and marketing business.
Alibaba Group Holding Ltd. (NYSE: BABA) – If you're among China's 109 million middle-class online retail shoppers, chances are you are shopping on Alibaba.com, not Amazon. This Chinese-owned e-commerce company provides both goods and services to businesses and consumers around the world. BABA launched the richest IPO in Wall Street history in 2014, and the stock is coming into its own in 2016. BABA shares have climbed nearly 18% in the past year, 14.34% in just the past three months, and are expected to continue a steady rise. In fact, Money Morning's Robinson predicts one-year returns of over 30% and forecasts that BABA stock could reach $150 per share in the next three to four years.
Readers – don't miss details on this bonus stock pick… the best "retirement stock" of 2016…
Follow Money Morning on Facebook and Twitter.