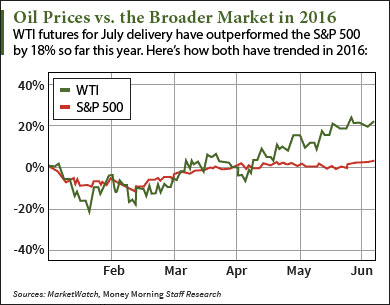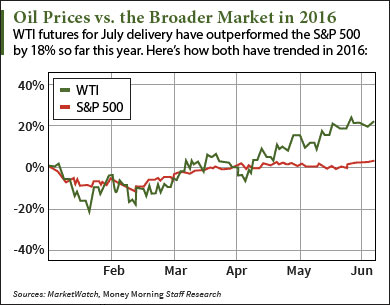 A confluence of three global factors has pushed today's oil price to its highest level in seven months.
At 9:15 a.m. today (Tuesday, June 7), WTI crude oil prices were up 1% to trade at $50.19. If the U.S. benchmark's most active futures contract maintains that level throughout the day, it will settle at its highest level since Nov. 4, 2015. Futures for July delivery have now gained 21.4% so far this year.
Brent crude oil prices were also leaping higher this morning. The global benchmark added 1.1% to $51.10 a barrel – the highest for the active August contract since Nov. 25, 2015. It's now up 22.2% in 2016.
The record highs in today's oil prices are thanks to events happening in three different parts of the world…
The 3 Factors Boosting Today's Oil Price
Bullish Factor for Today's Oil Price No. 1: Nigerian Supply Disruptions
Since February, the OPEC country has suffered severe supply shortages due to attacks on pipelines by the Niger Delta Avengers (NDA). This militant group is carrying out what it calls "Operation Red Economy," the goal of which is to cripple Nigeria's economy by destroying the country's pipeline system.
Its mission has been successful so far…
The NDA's attacks on the oil-rich region around the Niger River have cut the country's output from 2.2 million barrels per day to 1.65 million. According to Bloomberg, that's the lowest level since 1989. After the militants destroyed an underwater pipeline earlier this year, Royal Dutch Shell Plc. (NYSE ADR: RDS.A) was forced to close down a terminal that produced roughly 250,000 barrels per day.
It reportedly doesn't plan on stopping anytime soon. The NDA said on its Twitter Inc. (NYSE: TWTR) account it will keep bombing pipelines until the country can no longer produce oil…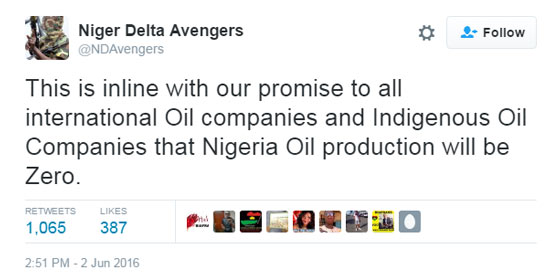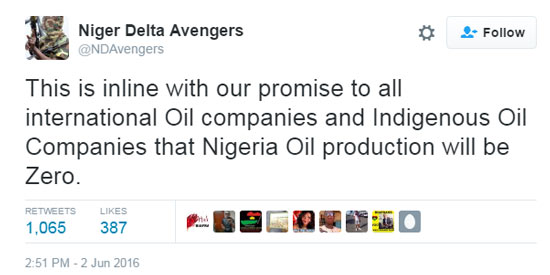 Here are two more factors moving today's oil price, one of which concerns the biggest oil producer in the world…
Bullish Factor for Today's Oil Price No. 2: Rising Oil Demand in Asia
The second thing propping up crude oil prices today is evidence of increasing global demand. This actually comes from Saudi Arabia, which recently raised the price of the oil it sells to Asia.
You see, Asia is set to be the center of global energy demand. According to the U.S. Energy Information Administration (EIA), Asian countries will show the largest growth in petroleum consumption over the next 20 years out of any other non-OECD region in the world. The continent's consumption is set to increase by 63% to 23.4 million barrels a day in 2040, with China alone accounting for 10.7 million.
Earlier this week, Saudi Arabia's state-owned oil giant Aramco announced it raised its price for Arab light crude for the second month in a row. The Kingdom's ability to raise the price of its crude oil and still sell it to Asian customers shows demand is rising in the world's biggest oil-consuming region.
Bullish Factor for Today's Oil Price No. 3: Weakening U.S. Dollar
The third reason why oil prices are up today is the tumbling dollar, despite U.S. Federal Reserve Chair Janet Yellen's comments yesterday (Monday).
After last week's jobs report showed May was the worst month for jobs growth since September 2010, Yellen gave an optimistic economic outlook. She stated there will be interest rate hikes this year but carefully avoided giving a timeframe for when they'll happen.
Although these kinds of hawkish comments would usually boost the dollar, it has declined in recent sessions. When the dollar loses value, it makes oil cheaper to buyers using other currencies, which increases international demand. The U.S. Dollar Index (DXY) hit a one-month low of 93.75 during trading yesterday and is down 0.2% today. These moves come after the DXY dropped 1.8% after the jobs report last Friday.
If the Fed raises rates this summer, it could have a devastating impact on American oil producers.
According to Money Morning Global Energy Strategist Dr. Kent Moors, these firms benefited from cheap credit because it let them easily roll over their debt. That means any rate hike will make their credit more expensive and likely become the last nail in the coffin for many U.S. oil companies.
"A big number of American energy companies are going to catch it in the neck via bankruptcies, M&A activity, and net asset sales," Moors said on May 26.
"But this chaos and consolidation means only one thing: there are huge profit opportunities for those who tread the waters carefully."
Here's how you can make money from the energy debt bloodbath once the Fed ultimately raises interest rates…
Alex McGuire is an associate editor for Money Morning. Follow him on Twitter for the biggest oil news updates.
Like us on Facebook: Money Morning
Related Articles: