Television pundits are starting to ramp up the "tech bubble" talk once again.
Normally, I'd let them talk...
But whenever this happens, regular investors heed their advice, get spooked, and run away from perfectly profitable, promising tech investments.
And that is more than I can stand. But this time, there is a bubble of sorts, although it's one that's going to leave us with the last laugh - and all the more profits.
That's because the bubble is forming in a particular segment that we're not exposed to in any way, shape, or form.
But some of the "Masters of the Universe" could end up going the way of the LaserDisc...
Our Best Investments Are Printing Money Now
Occasionally, the person proclaiming an impending tech bubble just happens to be sitting right next to me on FOX Business or CNBC.
So I turn to them and sock them with some cold, hard facts, like the kind found on corporate balance sheets.
For instance, just last month, Moody's Investors Service said that five tech leaders alone account for a full 30% of nonfinancial U.S. corporate cash...
Those companies are Alphabet Inc. (Nasdaq: GOOGL), Apple Inc. (Nasdaq: AAPL), Cisco Systems Inc. (Nasdaq: CSCO), Microsoft Corp. (Nasdaq: MSFT), and Oracle Corp. (Nasdaq: ORCL)... and they have more than $504 billion on hand.
If that's a bubble, bring me my wand and soapdish. These tech firms are essentially printing money.
When I have to argue back against the tech naysayers on cable, I always come back to a basic truth: Tech is the single biggest factor driving the economy today because it impacts every single sector.
But there is some danger out there. It's just not where they say it is...
Here's Where the Real Bubble Is
The "bubble" camp is making a gross, irresponsible overgeneralization when they talk about a tech bubble.
What they're really talking about is the so-called "unicorn bubble," the more than 169 privately held, pre-IPO tech firms valued at $1 billion or more.  
Yes, many of those so-called unicorns are overvalued. And yes, if that "bubble" pops - when some of those $1 billion-plus startups begin shutting down thanks to bloody-red balance sheets - some venture capitalists and hedge funds are going to get hurt, and a few could go extinct.
But that's just a tiny slice of the Silicon Valley pie. Plus, it's barely relevant to the public stock markets - those are all privately held companies that we're not invested in.
We are investing in the birth of the "Convergence Economy."
I'm talking about the merging of mobile devices, artificial intelligence, semiconductor chips, sensors, the cloud, Big Data, Wi-Fi, broadband, e-commerce, and streaming video, just to name a few.
In other words, we've long since passed the "tech tipping point" - and technology is now the "default" in every part of our lives.
You're about to see some trends and companies we're heavily invested in, but I'd challenge any "tech bubble" exponent to just go ahead try to imagine the following...
Picture a World Without Smartphones
The iconic iPhone went on sale almost nine years ago to the day, on June 29, 2007.
Apple's foray into handhelds was the birth of the smartphone revolution. It took the Silicon Valley legend just 74 days to sell the first million of that first-gen device.
Gartner says that last year alone, global smartphone sales hit 1.4 billion units, up 14.4% from the year before.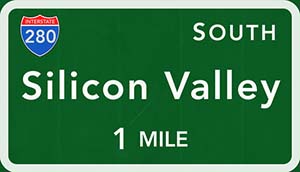 And there's a good reason why sales remain robust - for most people in advanced economies, the smartphone is as much a necessity as a pair of shoes. Billions of people use their smartphones for following the news, texting, emailing, snapping photos and "home movies," getting directions, listening to music, and mobile shopping.
In a separate study, Gartner says that, by the end of this year, roughly half of all employers will require workers to have their own mobile phones. No wonder Grand View Research says the global bring-your-own-device market will be worth $225 billion by the end of this decade.
Let's not forget that if we all chucked our smartphones in the toilet, that would mark the end of ride-sharing, courtesy of Uber and Lyft. Likewise next-gen messaging and photo-sharing from the likes of Snapchat, Instagram, and WhatsApp. And first-gen social media, courtesy of Twitter Inc. (NYSE: TWTR) and Facebook Inc. (Nasdaq: FB), would disappear as well.
Try Bringing Back the Chain Video Store
As I see it, the history of Netflix Inc. (Nasdaq: NFLX) proves just what I'm saying. Launched in 1998, Netflix began as a U.S.-only service that provided DVDs by mail. That's right - snail mail.
Netflix began streaming movies in 2007 and has never looked back. Today, it operates in 190 countries and has more than 81 million subscribers, 46 million of them in the United States.
One of the more disruptive platforms of the last 10 years, Netflix brought us the era of 24/7 online entertainment. It also gave rise to other services like Hulu and Apple TV and helped pave the way for YouTube as a viable web channel.
Consider that eMarketer says the number of U.S. digital TV viewers will reach 145.3 million in 2017, up from 106.2 million in 2012. The growth follows a shift from cable television to streaming video that is also driven by the rise of smartphones and tablets.
Of course, it's not just movies and TV shows we're talking about. Streaming has also turned the entire music industry upside down. CD sales remain in the toilet - and digital downloads are slowing down - but services like Pandora, Spotify, and Apple Music are on the rise.
In other words, web-based streaming is the future of home entertainment. There's simply no alternative.
Ditch Your Access to the Cloud
If you have kids or grandkids, they're probably big users of the cloud - and don't even know it.
Here's the thing. Today's young people love to stay in contact with each other using photos, such as with Snapchat, or short videos, shared through Vine. Both those services wouldn't be possible without access to remote data centers - the cloud.
Further, hundreds of millions of adults use the cloud to back up all the data they have on their PCs. Not using the cloud would mean they'd have to return to backing up everything on an external hard drive.
But as vital as this aspect of the cloud is, it pales in comparison to the needs of businesses and government agencies. These enterprises store their data on the cloud and get many of their applications via Software-as-a-Service (SaaS).
This explains why the cloud leader, Amazon Web Services, brought in $2.5 billion in cloud sales in this year's first quarter, a one-year increase of 64%. Plus, Amazon.com Inc. (Nasdaq: AMZN) now faces cloud competition from the likes of Alphabet and Microsoft, demonstrating just how fertile this market is.
The sector has become so crucial that just one part of it, SaaS, will be worth $106 billion by the end of this year, according to data compiled by Forbes. That's up 21% from 2015 levels.
Avoid Amazon.com and Attempt Brick-and-Mortar Shopping Only
Consumers and their purchases account for roughly 70% of the U.S. economy. More and more, they're buying their goods and services online, a trend that will only continue to grow.
Yes, e-commerce still lags physical stores in total sales volume. But it is, by far, the fastest growing part of retail.
Forrester Research pegs the growth at 10% per year from 2012 through 2017. By then, the web will account for 10% of all retail sales, totaling $370 billion.
Back in 2000, e-commerce sales stood at just $27.8 billion, or a mere 0.9% of retail. We're talking a 13-fold increase in 17 years. Not only that, but by the end of next year, 60% of all retail sales will involve the use of the web in some manner.
But these stats actually understate the impact of online shopping. Before hitting the mall or car lot, most people do online research and make their decisions before leaving the house. Retailing Today says 81% of shoppers go online before they step into a store.
Tech Is No Longer a Sector, but an Entire Economy
I'm guessing the tech bubble crowd won't be able to wrap their heads around a world without smartphones or online shopping, which only goes to show the idea that tech is in a bubble is pure baloney.
The people who claim it is still think of tech as a sector or field unto itself when, as shown by our thought experiment here, it's a full-blown economy.
High tech is literally the fabric of our modern lives. It's become as indispensable as shelter or food.
And as each day passes, tech becomes even more vital to the way we work, shop, stay informed, keep in contact with friends and family, and enjoy our free time.
So, if you want to make profit in the long haul, you must invest in tech.
Otherwise, you're missing out on the trends that truly drive the economy - and build investors' net worth.
Follow Michael on Facebook and Twitter.
This Year's Biotech "ASCO Effect" Set to Make This Tiny Stock Soar - Every year at this time, a small group of biotech stocks double, triple, or even quadruple in price like clockwork. It's all thanks to the "ASCO Effect" - a way to potentially pocket life-changing gains on tiny stocks in a matter of weeks. Who will the biggest winner be this year? Details here.
Join the conversation. Click here to jump to comments…
About the Author
Michael A. Robinson is a 36-year Silicon Valley veteran and one of the top tech and biotech financial analysts working today. That's because, as a consultant, senior adviser, and board member for Silicon Valley venture capital firms, Michael enjoys privileged access to pioneering CEOs, scientists, and high-profile players. And he brings this entire world of Silicon Valley "insiders" right to you...
He was one of five people involved in early meetings for the $160 billion "cloud" computing phenomenon.
He was there as Lee Iacocca and Roger Smith, the CEOs of Chrysler and GM, led the robotics revolution that saved the U.S. automotive industry.
As cyber-security was becoming a focus of national security, Michael was with Dave DeWalt, the CEO of McAfee, right before Intel acquired his company for $7.8 billion.
This all means the entire world is constantly seeking Michael's insight.
In addition to being a regular guest and panelist on CNBC and Fox Business, he is also a Pulitzer Prize-nominated writer and reporter. His first book Overdrawn: The Bailout of American Savings warned people about the coming financial collapse - years before the word "bailout" became a household word.
Silicon Valley defense publications vie for his analysis. He's worked for Defense Media Network and Signal Magazine, as well as The New York Times, American Enterprise, and The Wall Street Journal.
And even with decades of experience, Michael believes there has never been a moment in time quite like this.
Right now, medical breakthroughs that once took years to develop are moving at a record speed. And that means we are going to see highly lucrative biotech investment opportunities come in fast and furious.
To help you navigate the historic opportunity in biotech, Michael launched the Bio-Tech Profit Alliance.
His other publications include: Strategic Tech Investor, The Nova-X Report, Bio-Technology Profit Alliance and Nexus-9 Network.