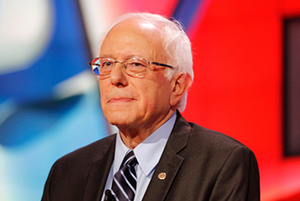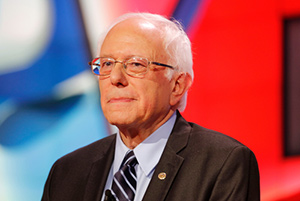 After a disappointing string of primary losses on June 7, Bernie Sanders has defiantly pledged to stay in the race against presumptive Democratic nominee Hillary Clinton.
Now, many Democrats, Republicans, and independents alike are wondering just how long Bernie Sanders is willing to fight.
Clinton swept four of six states on Tuesday, including California, which has the biggest delegate haul. Sanders won North Dakota and Montana.
Clinton now has 2,755 delegates to Sanders' 1,852. The required delegates needed to become the Democratic nominee is 2,383.
Despite many Clinton supporters and high-profile Democrats urging his surrender, Sanders said in front of his supporters Tuesday night that he'll continue to "fight hard" at least until the final primary in Washington, D.C., on June 14.
But many believe Sanders won't drop out of the race even if he loses the D.C. primary...
Here's How Long Bernie Sanders Will Stay in the Democratic Race
Many believe that Bernie Sanders will stay in the race until the Democratic National Convention in Philadelphia on July 27-28.
Trump Trivia: Donald Trump's name is recognized by almost all Americans. But the media hasn't told you everything interesting about the brazen billionaire. Here are five lesser-known facts about Donald Trump...
At this point, the only strategy Sanders can use to clinch the Democratic nomination away from Clinton is to sway her superdelegates. These are Democratic Party insiders that are free to vote for either Clinton or Sanders at the DNC. There are 619 superdelegates in the 2016 presidential election, and Clinton currently has the support of 571.
Sanders will need to grab at least 531 of Clinton's superdelegate supporters if he hopes to reach the magic 2,383 number. At best, winning the final primary in D.C. could reduce that must-have number to 485.
Many Sanders supporters believe the hundreds of superdelegates that backed Clinton early on have a duty to consider voting for Sanders. They see the system as rigged against a party outsider like Sanders.
Even before Tuesday's primaries, major news outlets were calling the Democratic race for Clinton because of her superdelegate support.
Sanders' strategy is a long shot for sure, but it's the only route to the Democratic nomination he has left. The last contested Democratic convention was the 1980 presidential race between Jimmy Carter and Ted Kennedy. Kennedy put up a strong effort, but ultimately failed to secure Carter's superdelegates.
Follow Money Morning on Facebook and Twitter.
Dark Money Part 1 - The Rise of Super PACs: Super PACs and "dark money" organizations are undermining the democratic power of you, the average American voter. It all started in 2010 with a landmark court decision that changed the rules of American politics forever...
[mmpazkzone name="end-story-hostage" network="9794" site="307044" id="138536" type="4"]