According to the Options Clearing Corp. (OCC), the average daily options volume was 6,470 in 1973, the year in which listed, exchange-traded options first launched.
Since then, the average daily options volume has soared to 16,443,005 – 2,500 times more than it was over 40 years ago.
And since weekly options trading started, it's become the most widely traded of any options class – averaging 25% of any option on the S&P 500.
This impressive growth is no coincidence. People are making a beeline to options trading because, the truth is, there's simply no better, easier way to risk so little and still make piles of money in days or weeks.
You just can't top options for big returns, and now the "secret" is out, and regular investors know it.
Take a look at what these can do for your bottom line…
Advantage No. 1: Options Trading Can Easily Triple Your Money
Options offer amazing versatility that you can use in a variety of ways to profit from very small fluctuations in the underlying equity – the stock that you're buying or selling options on.
What's more, in times of high market volatility, options are a welcome relief from the uncertainties of traditional investing methods. Here's one reason why…
Advantage No. 2: Options Can Give You Safe Leverage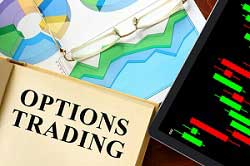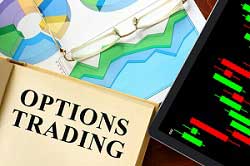 When you buy stock, you're at the mercy of the markets, which could cost you big time. In fact, U.S. stocks are more expensive now than ever before. So, for example, if you want to buy just one share of Amazon.com Inc. (Nasdaq: AMZN), you would have to spend around $947 dollars. And more often than not, people want to own more than a single share of stock in their portfolios.
But with options, you can actually control 100 shares of an expensive stock like AMZN for as low as $500 – serious leverage that can seriously boost your gains. Just imagine the kind of money you could make controlling 100 shares of stock at $500 compared to trading just one share of stock at over $940. Here's one way to do it.
Advantage No. 3: Option Trading Slashes Your Risk
I'm willing to bet that you have insurance on your car or house because it's the responsible – and safe – thing to do. Think of options in the same way. They can provide you with the same kind of safety net for your investments and trades.
Since you can control shares of a specific stock, you can also increase your leverage without tying up a large amount of capital in your trading account. You might have a notionally large position in, say, Apple Inc. (Nasdaq: AAPL) with an outlay of pennies on the dollar. And as I mentioned above, options are extremely versatile and offer strategies you can use to boost your profits while minimizing your risk… a luxury basic equity positions simply don't offer.
Advantage No. 4: Options Allow You to Trade in All Kinds of Markets
You can quickly – and easily – create a potentially unlimited stream of income by simply adding options to your portfolio.
You can buy and sell options that can skyrocket on tiny, 1% moves up or down in the biggest stocks, or set up trades that pay triple digits when stocks or currencies take a tumble.
And the best part is… you're not limited by market direction. Whether the market moves up, down, or sideways, there's always – always – a way for you to profit using options. Look at this strategy, for instance.
Advantage No. 5: Options Aren't Just Tools for the Elite Anymore
Options used to be reserved for Wall Street's elite traders. When people first started trading options, they mainly had to rely on newspapers and brokers to find, place, and track their trades. Nowadays, you can search for and place your trades online. And you can track your trades in a matter of seconds – and free of charge – using financial websites like the Chicago Board of Options Exchange (CBOE) and Yahoo! Finance.
Now options are accessible to just about everyone, with just a few steps to get cleared to trade. And virtually any discount broker provides access to them. Here's what you need to do to get started today…
Advantage No. 6: You Can Start with Very Little Money
One of the best benefits of trading options is that you just don't need much money to start. While the minimum amounts to start trading vary from broker to broker, most brokerages only require a deposit of $2,000 or less. That, and trading by a few simple rules, is all it takes.
Follow Tom on Facebook and Twitter.
Join the conversation. Click here to jump to comments…
About the Author
Tom Gentile, options trading specialist for Money Map Press, is widely known as America's No. 1 Pattern Trader thanks to his nearly 30 years of experience spotting lucrative patterns in options trading. Tom has taught over 300,000 traders his option trading secrets in a variety of settings, including seminars and workshops. He's also a bestselling author of eight books and training courses.