The Dow Jones Industrial Average today (Friday, June 10) slumped more than 100 points as oil prices fell on supply concerns and investors weighed the possibility of a Brexit. With oil falling below $50 per barrel, energy stocks had a bleak Friday. It was a particularly tough day for shale producers, which are under stress due to significant debt across the industry. Shares of Whiting Petroleum Corp. (NYSE: WLL) and Bill Barrett Corp. (NYSE: BBG) were both off more than 10% on the day.
Get In Now Before This Stock Takes Off… The world's biggest chip maker recently invested $25 million in this tiny tech firm. Find out how to make this $5 stock a part of your portfolio today. Read more…
First up, check out the results for the Dow Jones Industrial Average, S&P 500, and Nasdaq: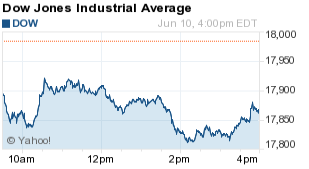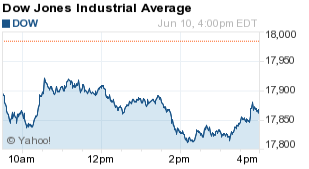 Dow Jones: 17,865.34; -119.85; -0.67%
S&P 500: 2,096.07; -19.41; -0.92%
Nasdaq: 4,894.55; -64.07; -1.29%
Now, here's the top stock market news today…
DJIA Today: Oil Prices Crater, Financial Stocks Rocked Again
First up, concerns about the United Kingdom leaving the European Union after a new poll indicated voters are leaning toward a departure from the world's largest economic bloc.
The bond markets were a mess thanks to Japan's continued debasement of its own economy and concerns about the Brexit. This morning, Japanese 10-year bond yields slipped to a new record low of -0.155%, while British and German bonds also slipped to fresh lows.
The downturn had a hard impact on financial stocks. Shares of JPMorgan Chase & Co. (NYSE: JPM) and Wells Fargo & Co. (NYSE: WFC) were off 1.4% and 1.6%, respectively, while Citigroup Inc. (NYSE: C) slipped 2.5%. Big banks are taking it on the chin as traders largely expect the U.S. Federal Reserve to hold off on the timing of its next interest rate hike. Bank stocks are off to their worst start for the year since 2011.
Crude oil prices slumped sharply after the weekly Baker Hughes Inc. (NYSE: BHI) rig count rose for the second straight week in the United States. WTI prices were off roughly 3%, while Brent crude dipped another 2.7%. While the crude oil price drop has been tied to expectations that production is set to increase around the globe, Money Morning Global Energy Specialist Dr. Kent Moors says this "oil dip" isn't going to last. In fact, he's got five new reasons why the oil-price recovery is here to stay.
But the big news today centered on Tesla Motors Inc. (Nasdaq: TSLA), which saw shares decline by 4.6%. The company denied it forced Model S vehicle customers to sign non-disclosure agreements over repairs to its suspension systems. An automotive blog wrote on Wednesday the firm was engaged in a cover-up to prevent its customers from talking to regulators at the National Highway Traffic Safety Administration. Despite concerns about today's breaking news, we remain bullish on TSLA stock. Here's why.
Now, let's look at the day's biggest stock movers and the must-own commodity for today…
Top Stock Market News Today
The rise of super PACs and "dark money" political organizations is undermining the democratic power of U.S. citizens. Watch this video to learn more about how these shady organizations have changed the rules of American politics…
Follow Money Morning on Facebook and Twitter.
Watch These Five Companies in 2016… There was a huge absence of IPO activity last year. In fact, only 170 companies went public in 2015 – down from 275 the year before. But 2016 is about to change all that as some of the biggest companies in the world prepare to hit the market. Here are the five we're keeping an eye on…