The WTI crude oil price today (Friday, June 10) fell to its lowest level in a week, but Money Morning Global Energy Strategist Dr. Kent Moors says you can still turn a profit as oil prices hover below $50 a barrel.
That's why we're recommending one of the best oil funds to buy right now. It's gained nearly 23% over the last three months and has a lot more room to run in 2016.
First, here's how oil prices have performed recently – and why today's decline is only temporary…
Why the WTI Crude Oil Price Fell Below $50 Today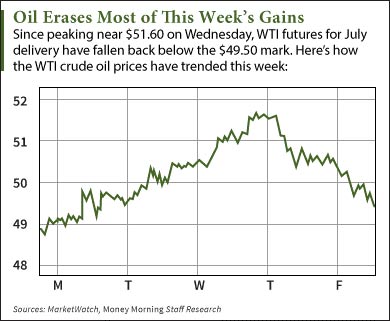 At 12:15 p.m., the WTI crude oil price today was down 2.3% to $49.41 a barrel. Although the U.S. benchmark is down more than 4% from a peak of $51.60 on Wednesday, it's still expected to post a weekly gain of at least 2%. Futures for July delivery have now gained 0.6% so far this month.
The Brent crude oil price was also volatile during midday trading. The global benchmark declined 2.2% to trade at $50.83 a barrel. Futures are still up 1.9% in June.
Crude oil prices are under pressure today due to renewed strength in the U.S. dollar. The DXY Index – used to measure the dollar against several other currencies – has gained 1% to 94.42 over the last two days. The DXY is climbing as investors prepare for next week's FOMC meeting on interest rates. Since oil is globally priced in dollars, the rising DXY pulls oil prices lower because it makes the commodity more expensive to users of other currencies.
But interest rate chatter and the strengthening dollar are just short-term factors. Crude oil prices are expected to rise over the long term thanks to steadily declining supply…
The most recent data from the Energy Information Administration (EIA) shows monthly U.S. output declined from 284.6 million barrels to 282.9 million from January to March. The agency's long-term outlook projects daily production to fall by 830,000 barrels to roughly 8.6 million.
The EIA stated in its International Energy Outlook report last month it expects the WTI crude oil price to hit $66 a barrel over the next year. Brent crude oil prices are also projected to reach $76 over the same time frame.
But according to Moors – a 40-year veteran of the energy industry – these higher oil prices will drag refining stocks lower this year. Since high oil prices make it more expensive for refining companies to produce gasoline, their margins are squeezed and they end up making less money.
That's why Moors says this exchanged-traded note (ETN) – which is an ETF that holds debt like a bond – is the more profitable investment this year…
Buy This Fund to Profit from the WTI Crude Oil Price in 2016
The investment we're recommending is the JPMorgan Alerian MLP ETN (NYSE Arca: AMJ). This is the best way to play WTI crude oil prices because it tracks the performance of midstream master limited partnerships (MLPs).
You see, midstream MLPs are companies that earn 90% of their revenue from transporting and storing oil. Because they just move oil instead of own it, these firms still make money regardless of where oil prices trade.
"With refining margins being squeezed, midstream assets are the much better play," Moors told Energy Advantage subscribers on June 3. "That's why our portfolio includes the JPMorgan Alerian MLP ETN, which tracks the whole midstream energy segment."
But that's not the only MLP pick Moors recommends. In fact, he recommended another midstream stock to his Energy Advantage subscribers back in February. Shares of this stock are expected to gain nearly 30% within the next year.
You can check out Moors' entire energy portfolio by signing up for his Energy Advantage newsletter, right here…
Alex McGuire writes about oil for Money Morning. Follow him on Twitter for the biggest WTI crude oil price updates.
Like us on Facebook: Money Morning