The International Monetary Fund just issued a dire new warning to China, and it has many fearing a possible stock market crash in 2016.
The IMF warned that growing corporate debt in China is an intensifying problem. They continued saying the debt must be immediately tackled if the Asian nation wants to avoid harming itself and the global economy.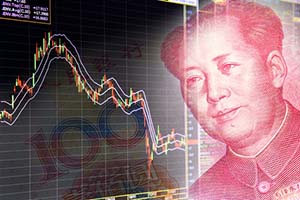 The IMF, an international organization of 189 countries headquartered in Washington, D.C., issued that warning over the weekend. The main goal of the IMF is to promote international financial stability and sustainable economic growth.
This is not the first time we've talked about China's debt as a possible 2016 stock market crash catalyst…
China's total debt of roughly 225% of gross domestic product (GDP) is not the immediate concern. It's the country's rising corporate debt, approximately 145% of GDP, that's so troubling.
"Mounting corporate debt is a key fault line in the Chinese economy," David Lipton, IMF's first deputy managing director, said at a conference in China on Saturday. "Corporate debt remains a serious – and growing – problem that must be addressed immediately and with a commitment to serious reforms."
According to the IMF, the past experiences of other countries with massive debt buildups shows how serious this problem has become. It also underscores the need to tackle governance problems in the corporate and banking sectors that led to the underlying problem.
Urgency to act cannot be overstressed and is crucial in order to avert a larger crisis, according to the IMF.
"Company debt problems today can become systemic debt problems tomorrow," Lipton said.
"And systemic debt problems can lead to much lower economic growth, a banking crisis, or both."
A key characteristic of China's escalating liability crisis is its state-owned enterprises (SOEs). The IMF calculates that these account for roughly 55% of corporate debt. However, they only produce about 22% of economic output.
Last year, SOE profits fell 6.7% year over year while their total revenue fell 5.4%, according to Chinese government data.
And banks are holding more and more non-performing loans. The past year's credit boom is simply extending the problem.
A recent IMF estimate pegged the potential losses for China's banks from bad corporate loans at 7% of GDP. And that was a conservative estimate, the agency warned. It did not exclude exposures in the "shadow banking" sector.
Shadow (less regulated) lending assets in China ballooned to 45 trillion yuan as of June 30. That was equal to about two-thirds of the economy and was up from 19.2 trillion yuan in 2011, according to Moody's Investors Service estimates.
And this week's IMF announcement is not the only 2016 stock market crash warning sign we've seen. Here are the other issues in China that could lead to a market crash, as well as the best way to protect your money when the stock market crashes…
Protect Your Money from a Stock Market Crash as China Woes Mount
Prospects of a sharp yuan devaluation have also raised fears of rapid capital outflows from China. According to an earlier IMF warning, that would pose risks to global growth.
Beijing saw $100 billion per month in average currency outflows during November, December, and January. The yuan declined 1.8% against the greenback in that period.
The yuan is trading near the five-year low it touched in January. Meanwhile, the Shanghai Composite Index is this year's worst performer among 93 global stock measures, according to Bloomberg. Goldman Sachs cautioned earlier this month that yuan weakness may trigger capital outflows and increase wagers on a one-off devaluation.
China, whose economy last year grew at its slowest pace in 25 years, is wrestling with rising debt levels and overcapacity.
The IMF's ominous warnings come as the world grows increasingly worried about a slowdown in China and its impact on the rest of the world. A major worry is a potential stock market crash in 2016.
That's why we've compiled a list of the three ways investors can prepare for and protect against a stock market crash.
Go long gold: The precious metal is a safe-haven money alternative that acts like an insurance policy against geopolitical risks, currency debasements, and stock market plunges. Gold is one of the best performers this year, up nearly 21% year to date. Gold mining stocks are doing even better, with high triple-digit gains for many in the sector. Here we highlight the best gold stocks to buy in 2016.
Short the S&P 500: Take advantage of a pullback in stocks by shorting (betting against) the broader market. Investors can do this with the ProShares Short S&P 500 ETF (NYSE Arca: SH). This $3.03 billion market cap exchange-traded fund rises when the S&P 500 declines. At a recent $19.98 per share, SH offers an inexpensive and easy way to play a market pullback.
Hold Cash: In a world rampant in negative rates, bond yields at record lows, and currency valuations dwindling, a strong argument exists for holding the U.S. dollar. Plus, having a cash stash ready allows you to buy beaten-down equities at attractive prices when stocks retreat and are poised for a bounce.
Follow us on Twitter @moneymorning and like us on Facebook.
Why Gold Buyers Look So Smart: Over the last few months, billionaires like Stanley Druckenmiller have been loading up on gold. In March, George Soros' fund purchased $124 million in a gold ETF. As an economic collapse looms, find out why gold investors are looking so smart right now…
Related Articles: