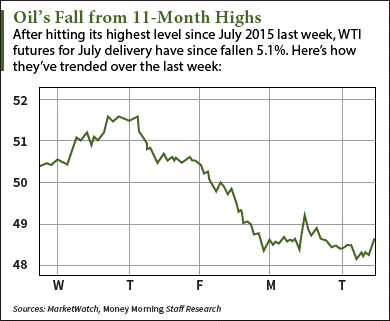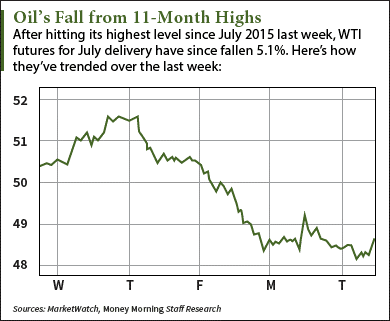 The West Texas Intermediate (WTI) crude oil price declined for the fourth straight session today (Tuesday, June 14) despite a bullish demand report from one of the world's top energy agencies.
At 9:45 a.m., the WTI crude oil price was down 0.6% and trading at $48.61 a barrel. The U.S. benchmark has now plunged more than 5% from its 11-month high of $51.23 on Wednesday, June 8. Futures for July delivery are now down 0.8% so far this month.
Brent crude oil prices saw an even bigger dip this morning. Brent – the global benchmark used for roughly two-thirds of all oil futures contracts around the world – fell 0.8% to $49.94 a barrel. Futures for August delivery are currently down 4.9% from last week's 11-month high of $52.51.
And the decline in today's oil price comes despite a bullish report from the International Energy Agency (IEA)…
This Bullish Report Can't Lift the WTI Crude Oil Price
Early this morning, the IEA increased its 2016 demand forecast in the agency's new monthly oil market report.
According to the energy watchdog, daily global demand will rise by 100,000 barrels this year to 1.3 million barrels thanks to emerging markets in China and India. The agency said the boost in global demand will happen despite rising output from Kuwait and the United Arab Emirates. These two OPEC members increased daily production by 120,000 barrels and 70,000 barrels in May, respectively.
Investors still worry rising demand is enticing U.S. oil companies to bring more output online, which could send the WTI crude oil price lower again. Last week, Baker Hughes Inc. (NYSE: BHI) reported the number of active oil rigs in the United States increased for the second week in a row to 328. That caused crude oil prices to fall 3% and settle back below the important $50 mark.
But Money Morning Global Energy Strategist Dr. Kent Moors recently outlined five reasons why today's WTI crude oil price dip won't last.
While some of these factors concern domestic issues, a few of these reasons deal with violent geopolitical conflicts that have huge implications for the global oil market in 2016…
Five Reasons Why the WTI Crude Oil Price Won't Stay Low for Long
The first reason why today's oil price drop is temporary is the ongoing Nigerian supply shortage.
Over the last four months, a militant group called the Niger Delta Avengers (NDA) has been attacking Nigeria's oil facilities and pipelines system. The group calls its mission "Operation Red Economy," which is meant to damage Nigeria's economy by destroying the nation's oil industry and costing it millions in export revenue.
Bloomberg reported the NDA's attacks have cut Nigeria's daily output from 2.2 million barrels to a 27-year low of 1.65 million. The group even forced Royal Dutch Shell Plc. (NYSE ADR: RDS.A) to shut down a terminal that churned out 250,000 barrels per day.
Moors – who has worked with high-ranking energy agencies around the world in a career spanning 40 years – says these events will help increase global demand down the road.
"Nigeria happens to be one of the last sources of prized light sweet crude oil," Moors said on June 9. "The cost implications of the NDA's actions will have big repercussions down the supply chain."
A second country suffering from a supply shortage is Libya – another big source of light sweet crude.
Since the 2011 Arab Spring, the OPEC nation has dealt with a series of tumultuous conflicts between the government and Islamist extremists. Before the civil war, Libya was producing more than 1 million barrels a day. But United Press International (UPI) reports the country produces about 360,000 barrels a day as of March.
Libya's output has likely fallen even further since then as ISIS continues to emerge. The terrorist organization has put a chokehold on oil operations in the region by smuggling oil and reselling it on the black market.
Across the world from these militant threats is Canada, whose raging wildfires are the third bullish supply factor.
Since May 1, wildfires have ravaged Alberta's oil region. While the fires have destroyed more than 2,000 buildings and urged the government to declare a state of emergency, they also disrupted at least 480,000 barrels of output a day. According to the Financial Times, that's about 20% of the region's total daily production of 2.4 million barrels.
Although the duration of these supply disruptions is unpredictable, they've already had a big impact on the market.
"Together, these three disruptions have already taken more than a million barrels per day off the market," Moors noted. "That, of course, serves to support higher prices."
The last two factors are more closely tied to oil market dynamics than geopolitical events…
The fourth is the falling dollar thanks to the low chances of the Fed raising interest rates this summer.
You see, low interest rates weaken the value of the dollar against other major currencies. When the dollar declines, it makes crude oil cheaper for users of currencies like the euro and the yen. Since consumers typically buy more of a cheaper product, oil demand increases and the WTI crude oil price rises in response.
And the fifth and final factor is declining U.S. oil production.
Despite the U.S. rig count rising by single digits recently, most companies can't afford to keep their rigs online. With crude oil costing under $49 a barrel, these producers can't turn a profit from drilling wells that cost anywhere from $500,000 to $3 million. Most firms can only cover the operational and maintenance costs of these wells when the WTI crude oil price is near $70.
This will urge producers to use old wells that are already in place and offer less output. That can only lead to a gradual drop-off in supply until prices reach about $65, which would justify an increase in production activity.
"All of this means that, although the oil price outlook is improving, this will be a balancing act for the remainder of the year," Moors said. "A $60 oil price is possible before the end of the year, but the road there won't be a straight line."
Alex McGuire writes about crude oil for Money Morning. You can follow him on Twitter for updates on breaking energy news.
Like us on Facebook: Money Morning
This Billion-Dollar Natural Gas Project Could Yield Big Profits: Shell recently announced a huge natural gas investment in Pennsylvania. The sheer scope of this project could have an incredible impact on the future of the natural gas market – and it'll open up great opportunities for investors…
Related Articles: