Sen. Chris Murphy (D-CT) launched a talking filibuster about two hours ago at 11:20 a.m. ET on the Senate floor. He was quickly joined by fellow Senate Democrats in a collective effort to pressure Republicans to accept legislation that would deny suspected terrorists from purchasing firearms and require universal background checks.
"I am prepared to stand on the Senate floor and talk about the need to prevent gun violence for as long as I can," Murphy tweeted this morning before taking the podium. "I've had #enough."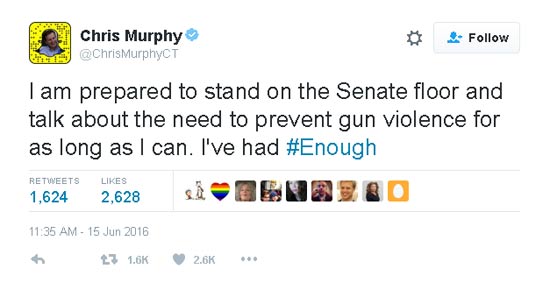 Murphy's motion comes three days after the Orlando massacre that killed 49 individuals and injured dozens more in the worst terrorist attack on U.S. soil since 9/11.
Who Will Be Trump's VP? Some say Sarah Palin. Others say Newt Gingrich. Still others are claiming former Minnesota Gov. Jesse Ventura will nab "second-in-command." We've sifted through the litany of possible candidates to bring you our top five…
The Connecticut senator's sentiment toward keeping guns out of terrorists' hands echoes that of Donald Trump. The GOP presumptive nominee also posted on Twitter this morning that he would be meeting with the National Rifle Association (NRA) about disallowing individuals on the "terror watch list" to purchase firearms.

Follow Money Morning on Facebook and Twitter.
Why Gold Buyers Look So Smart: Over the last few months, billionaires like Stanley Druckenmiller have been loading up on gold. In March, George Soros' fund purchased $124 million in a gold ETF. As an economic collapse looms, find out why gold investors are looking so smart right now…