Earlier today, Senate Democrats pushed for more FBI funding to ramp up the agency's ability to track and stop domestic terrorists in the wake of Sunday's tragedy in Orlando.
They heralded the proposal as a "pro-security" amendment to the current Commerce, Justice, and Science spending bill, reported Politico this morning. The measure is aimed at bolstering resources for the FBI's counterterrorism efforts and includes funding for active shooter response training.
Senate Democrats specifically asked that $190 million be added to the spending bill proposal – which provides funding for the FBI, the Commerce Department, and science-related agencies – that currently sits at $56.3 billion.
The "pro-security" measure would divvy up the additional funds as follows:
$175 million for the FBI's counterterrorism efforts
$15 million for active shooter response training
Calls for additional FBI funding are not unusual during spending bill talks. After the 1995 bombing of the Oklahoma City federal building and the attacks of Sept. 11, 2001, the FBI has taken the lead on domestic counterterrorism. Its expenses have grown in kind, meaning there's less funds available for other U.S. Justice Department divisions (e.g. the Commerce Department, science-related agencies, etc.):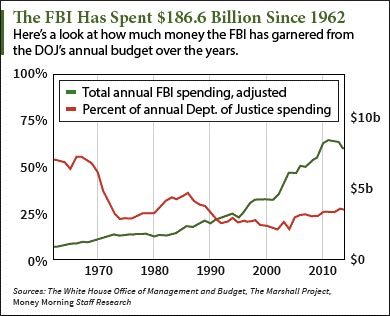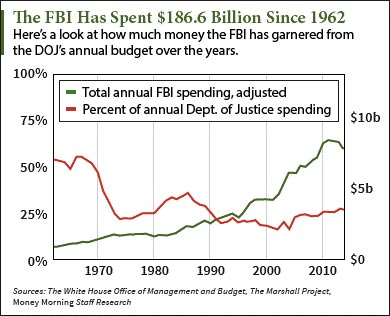 Today's Democratic proposition in the Senate was met with more bipartisan patronage than expected, particularly from Sen. Lindsey Graham (R-SC) — though his vocal support was not one of unwavering agreement…
Graham agreed that the FBI indeed needs more money. But he also voiced his concerns about where, precisely, that money was going to come from.
"So let's have a package," Graham said, according to Politico. "Let's replace sequestration, take it off the table for the FBI… Let's have a robust, healthy debate about funding."
Sen. Richard Shelby (R-AL), chair of the appropriations subcommittee that oversees the FBI, agreed with Graham, stating that he likewise thinks the agency needs more money.
But the discussions stopped there.
That's because, in the midst of the spending bill talks this morning, Sen. Chris Murphy (D-CT) launched a standing filibuster in an attempt to get his GOP counterparts to agree to address the issue of gun control today.
Murphy was joined by other Senate Democrats in the filibuster, which means they are, in effect, preventing the chamber from continuing on with any FBI spending bill amendment votes.
Follow on Twitter @moneymorning or like us on Facebook.
Saudi Arabia Will Create the World's Largest Public Company… Saudi Arabia is in a transitional period right now. As renewables and natural gas transform the global energy landscape, the Saudis are tapping into a new mantra – "diversify or die." And this strategy includes creating the single largest publicly traded stock in the world…
Related Articles: