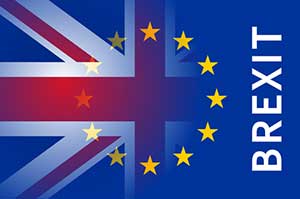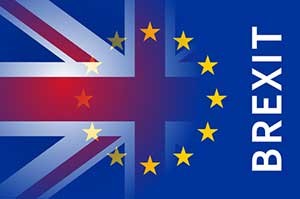 Can you name every member of the European Union (EU) off the top of your head?
It's not an easy task — there are 28 countries in the EU, and another 17 members of the Eurozone within the EU.
With a momentous referendum set for Thursday, June 23, a decision to "Brexit" weighs heavy in international news right now. "Brexit" refers to a British exit from the European Union.
You see, British citizens have increasingly questioned how beneficial it is to stay in the EU.
First, Britain's national currency is the pound, while the majority of EU members use the euro. That worries British officials, as the EU may act in the best interest of the euro — and not the pound — when it makes decisions.
Second, the EU has a lax labor law policy for workers not born in the EU. An influx of cheap labor from non-EU born workers has left many blue-collar workers feeling threatened. According to CNBC, there are 14 million workers who live in the EU who were not born in an EU country.
And third, lobby groups for a Brexit argue that trading within the EU restricts Britain's global trading abilities. Without having the EU as a major trading partner, Britain could focus on building relationships with larger economies like China.
EU referendum polls are too close to call right now. The latest from the Daily Telegraph on June 13 has 49% in favor of leaving and 48% in favor of staying. The vote next week looks like it will come down to the wire.
Now's the time get more familiar with the 28 EU member countries. Should some of the biggest economies in the EU start to falter on account of a Brexit, it will impact the strength of the U.S. dollar, interest rates, and overseas spending that U.S. companies rely on…
Brexit Chart: Here Are the Largest and Smallest EU Economies
We've compiled a list of the 28 members of the EU, plus their GDP as of 2013. Our Brexit chart is in alphabetical order, by European Union member country: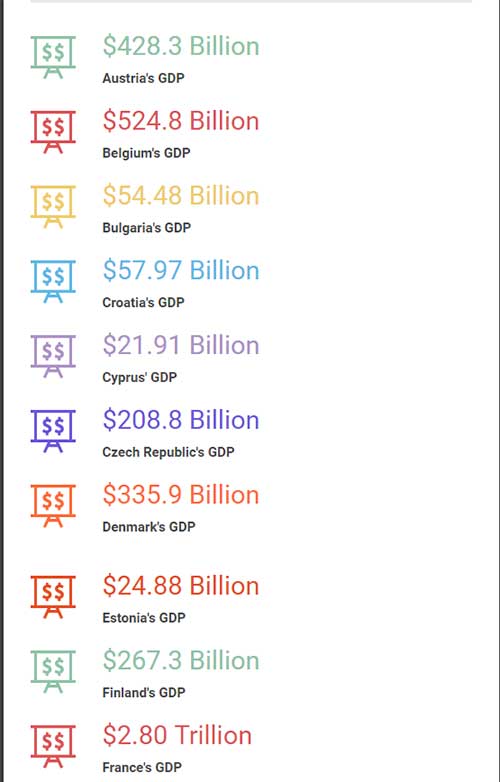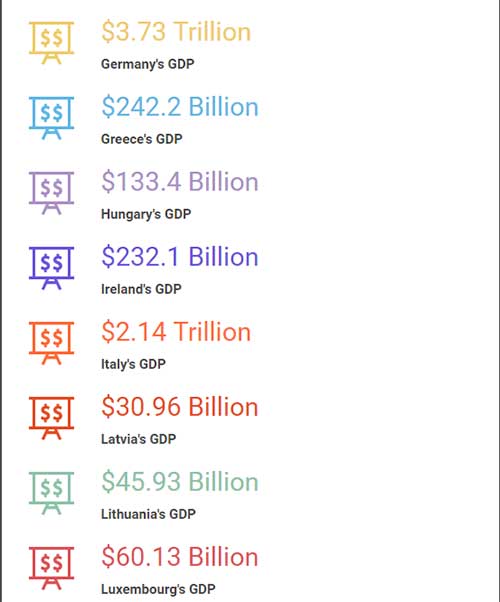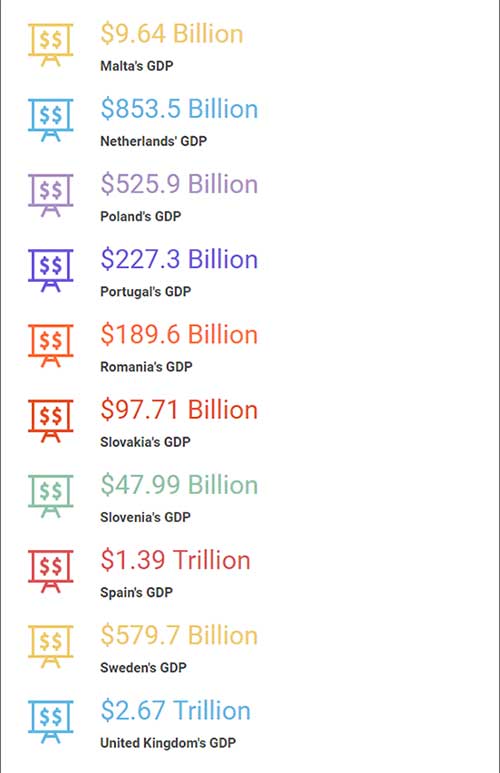 Did you know all 28 countries in the EU? Let us know on Twitter @moneymorning and Facebook.
Brexit: Buy The Rumor, Sell the Fact: In 1992, George Soros broke the Bank of England by shorting the sterling pound. It was a move that made him $1.5 billion. Now, the Bank of England is about to break itself. Before the Brexit vote on June 23, we discovered two ways to profit during the chaos. Here's how…  
Related Articles: