The Twitter Inc. (NYSE: TWTR) stock price has surged more than 10% this week after Microsoft Corp. (Nasdaq: MSFT) purchased LinkedIn Corp. (NYSE: LNKD) for a whopping $26.2 billion.
You see, the acquisition has investors hoping that Twitter will become the next target for a major tech acquisition.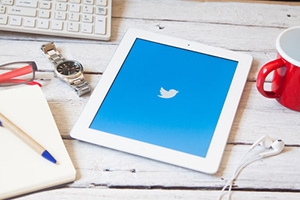 But we're not buying into this week's TWTR stock price rally. Before we get into our bearish stance on the TWTR stock price, here's what you need to know about this week's Twitter stock surge.
The LinkedIn purchase was announced by Microsoft execs on Monday. The $26.2 billion price tag represents a 50% premium to LNKD's closing price on Friday. Microsoft is betting LinkedIn can reinvigorate its software offerings.
The deal ignited talks about the possibility of Twitter being snapped up by another company. In fact, the Twitter stock price jumped 4% Monday on the news.
Then on Tuesday, Twitter made its own announcement. The micro-messaging site said it has invested about $70 million in SoundCloud. Founded in 2007, SoundCloud is a global online audio distribution platform based in Berlin, Germany. It allows users to upload, record, promote, and share their originally created music.
In March, SoundCloud released a subscription service called SoundCloud Go. The company currently has 175 million unique monthly visitors. Its subscription service has tracks from independent labels, major labels, and publishers.
Twitter tried to purchase SoundCloud in 2014, but backed out of the deal. Investors deemed the SoundCloud news as a sign that Twitter was still working to improve its limping platform.
Still, takeover speculation is the biggest driver of the TWTR stock price this week. But reading too much into this recent price spike could be dangerous.
There are still some very fundamental reasons to avoid Twitter stock in 2016…
Why We Remain Bearish on the TWTR Stock Price in 2016
While both LinkedIn and Twitter are social networking platforms, they are distinctly different businesses.
LinkedIn gets most of its revenue from recruiters who flock to the site in hopes of attracting key professional hires. Meanwhile, Twitter is a play on mobile advertising. Its top rivals include behemoths like Alphabet Inc. (Nasdaq: GOOGL) and Facebook Inc. (NASDAQ: FB).
LinkedIn has 433 million members, up 19% year over year (YOY). Twitter has 310 monthly active users, up just 3% YOY.
Plateauing user growth in not the only concern at Twitter. The company has lost 70% of its executives over the last several months.
And revenue continues to disappoint…
When Twitter reported Q1 2016 results in late April, shares sank 12% on a revenue miss and uninspiring guidance.
Revenue for the quarter came in at $594.5 million, short of the $608 million analysts were expecting. Twitter also said it expects Q2 revenue of $590 million to $610 million, well below analysts' estimates of $678 million.
Twitter continues to struggle with product and user growth. That does make it a takeover target. Some argue Twitter could do better under a bigger umbrella.
Yet takeover speculation has swirled around Twitter for years. Google, Apple Inc. (Nasdaq: AAPL), Comcast Corp. (Nasdaq: CMCSA), and Microsoft have all been named as possible buyers.
A buyer for sputtering Twitter may surface one day. But it won't be because LinkedIn is no longer on the market. It will be because CEO Jack Dorsey failed to turn Twitter around. And don't expect an outsized premium like the one Microsoft paid for LinkedIn.
With takeover speculation fading, the TWTR stock price slipped 2.76% Thursday to $15.52. Year to date, TWTR shares are off 32.93%. Over the last three years, the TWTR stock price has lost 62.67%.
Follow us on Twitter @moneymorning and like us on Facebook.
Your Money Morning Guide to Investing in Metals: There are very few assets that have held their value longer throughout history than silver and gold. That's why the two metals are universally considered the best safe-haven investments out there. To give you a better understanding of how to participate in the metals market, we developed this guide to show you how to buy gold and silver…
Related Articles: