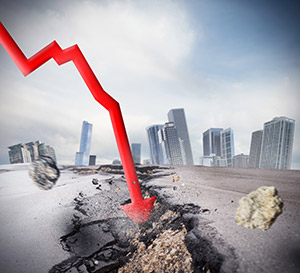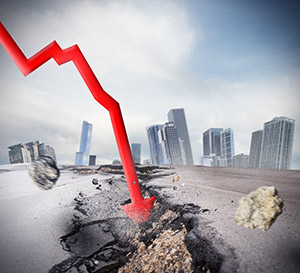 The Bank of Japan (BOJ) decided to leave its monetary policies unchanged today (Thursday), creating yet another trigger for a 2016 stock market crash.
Analysts weren't surprised by the BOJ's move, but it still was unwelcomed news. The S&P 500, Dow Jones Industrial Average, and Nasdaq were all down in intraday trading today.
The economic policies in Japan may just seem like a problem abroad, but Japan is the world's third-largest economy. Anything that happens to Japan's economy will have far-reaching consequences.
And because of Japan's economic policies, and others like it, we are staring directly at a potential 2016 stock market crash. But there are always ways to make money and protect your investments during economic uncertainty.
In fact, we have one must-own investment to share with you today.
But first, here's why Japan's current monetary policy is so dangerous for the global markets.
On Jan. 29, Japan implemented a dangerous plan to encourage economic stimulus: negative interest rate policy (NIRP).
Japan cut interest rates from 0% to -0.1%. That forced commercial banks to pay fees for depositing money with the BOJ. The BOJ believes this will encourage commercial banks to lend more money and not hoard cash.
When more money is lent to businesses and individuals, more money will supposedly be spent.
You see, Japan is desperate to improve its economy...
Japan's economy also suffered during America's financial crisis in 2009. But while the GDP growth rate fell to -2.8% in America, Japan's GDP growth rate fell to -5.5%. The American economy stabilized in 2011, and the United States was able to see positive GDP growth of 1.6%.
Japan, meanwhile, reported a negative GDP of -0.5% in 2011.
Sign up for SMS so you never miss special events, exclusive offers, and weekly bonus trades.
While the concept of negative interest rates has been around since the 19th century, the long-term ramifications are still being ignored.
Plus, negative interest rates will cause a Catch 22: Banks can charge higher fees to customers for holding money to make up for the cost of negative interest rates. Those customers don't want to pay these extra fees and can keep their money out of banks.
With less customer money, banks have less money to lend. With less money to borrow, businesses and consumers can't spend money.
That's a problem that NIRP proponents ignore.
Another problem is banks absorbing the fees and not passing them on to the customer. This could cut into the bank's revenue. And with less revenue, bank stocks could plummet.
Combined with volatile oil prices, poor job growth within the United States, and the upcoming Brexit vote, the odds of a stock market crash or stock market correction are growing.
But there is one simple investment to make that can protect your money, and even help you profit, during a stock market crash...
Ahead of the 2016 Stock Market Crash, Make This One Simple Investment
Gold is currently trading at $1,317 an ounce. This is the first time it has traded above $1,300 since 2014.
Gold was trading for $1,063.22 per ounce on Jan. 1. Just two months later on March 1, gold was trading for $1,260.77. That's an increase of 18.58%.
Gold prices are soaring because the metal is a "safe haven" for investors during times of economic crisis. And investors have been racing to add the precious metal to their portfolio since the end of 2015.
For Q1 2016, the demand for gold increased by 21% year over year, according to the World Gold Council.
And the demand isn't just for physical bullion...
Investors want all kinds of exposure to gold, pouring $7.6 million into the exchange-traded fund (ETF) SPDR Gold Trust ETF (NYSE Arca: GLD) in Q1. In 2016, GLD is up 23.28%.
Billionaire investors are also protecting their portfolios with gold exposure. Stanley Druckenmiller, who runs Duquesne Capital Management, said in May that his largest currency allocation right now is in gold.
George Soros, who famously made $1.5 billion in 1992 shorting the Bank of England, is even more bullish on gold than Druckenmiller. Soro's fund cut 37% of its U.S. stock holdings in Q1. His fund then purchased $264 million worth of shares in Barrick Gold Corp. (NYSE: ABX), the world's largest gold miner.
ABX is up 180.62% so far in 2016.
With the triggers for a stock market crash still present, gold will continue to be in high demand.
The Bottom Line: The Bank of Japan relying on negative interest rates to bolster its economy is a trigger for a stock market crash. And because of uncertainty across the globe, the price of gold has climbed 23% since the beginning of the year. An ounce of gold is trading at its highest levels since 2014, and the precious metal is one of the simplest yet safest ways to protect your portfolio...
Jack Delaney is an associate editor for Money Morning. You can follow him on Twitter and follow Money Morning on Facebook. 
Top Tips for Buying Gold in 2016: If it isn't, buying gold should be on the top of your "to do" list. Gold is not only a great way to protect your investments, but prices for the precious metal are skyrocketing at levels we haven't seen since 2014. These are the top tips on buying gold for 2016 every investor needs to know about...