Of course the Fed has pulled out all the stops to try and kick-start a modest 2% inflation rate. You see, governments don't just want inflation, they absolutely need it if they want to maintain even the faintest hope of managing their multitrillion-dollar debt burdens.
So far, nothing has worked… But, as I've said, and as recency bias shows, we're likely to be swamped with more inflation than anyone bargained for, courtesy of government spending.
That's because they're about to embark on a spending and money-printing spree of historic proportions.
This could make quantitative easing look like chump change. The entire world is going to be getting in on the action, led by the United States…
… and it's likely to happen no matter who moves into 1600 Pennsylvania Ave. NW in January. Both Clinton and Trump are talking this up in a big way. It's the one thing they can actually agree on.
One thing no one is mentioning, however, is how this spending spree will act like rocket fuel to one stock I mentioned three months ago. It's already done about twice as well as the markets, and based on what I see coming, that's barely the start of the gains…
The Biggest Buildout in History Is Starting Now
Anyone who drives a car or turns on the tap can see it. America has to start beefing up its infrastructure.
The U.S. alone needs to spend $3.32 trillion on infrastructure between now and 2025, yet will barely reach half that level at $1.88 trillion, according to the American Society of Civil Engineers.
So you can imagine that, during election season, the possibilities haven't escaped the two main contestants.
For her part, Clinton has said the United States is "dramatically underinvesting in our future," pressing for roads and waterways to be funded. Her campaign outline suggests she would boost public spending on infrastructure by $275 billion over five years and even establish a national infrastructure bank.
According to Bloomberg, Trump has called America's infrastructure "terrible," saying he'd "start the greatest long-term building project in American history." He proposes a massive trillion-dollar program to rebuild the country's deficient infrastructure.
HSBC Global Chief Economist Janet Henry recently said, "Overall we now have a fiscal stimulus in the global economy. It is not large, but it is getting bigger and, for the first time since 2010, we estimate that global government spending will grow more quickly than global GDP."
It's expected that worldwide government spending will see larger gains this year than in any since 2009.
And we know where most of that money is going.
Here's the Inflation Connection
Like I said, governments and central bankers alike are desperate for inflation.
After multiple rounds of global QE, and now negative rates in Europe and Japan, central banks may not be totally out of ammo, but their options certainly are limited.
All their tactics so far have failed to produce inflation, in large part because the primary goal was actually to rehabilitate teetering banks.
On the other hand, a global effort to print and spend could be what the doctor ordered if the goal is to kick-start inflation. And who could possibly be better at profligate spending than governments?
For its part, the European Central Bank has now gone beyond sovereign bonds, resorting to buying the debt of private companies in order to "stimulate" by once again keeping interest rates as low as they can possibly go.
Which apparently is below zero, in one of the more preferred "safe havens," Germany. Just last week, yields on German 10-year bunds, the benchmark for Europe, went negative for the first time ever.
And now the Bank of Japan is again expected to take fresh measures to weaken the yen through aggressive easing. Problem is, any gains they've made in the last few years have pretty much evaporated.
So it should surprise exactly no one that at the G-7 meeting in May, Japan boasted about its new plan to spend $200 billion (that hasn't been printed yet) over the next five years on quality infrastructure "around the world."
The China-led Asian Infrastructure Investment Bank (AIIB), too, is looking to put some $100 billion in funding to work, while the national Ministry of Transport and the National Development and Reform Commission have confirmed $720 billion of infrastructure spending from 2016 to 2018, encompassing 303 projects.
Thanks to high real estate inventories and a cresting manufacturing sector, infrastructure is getting a bigger nod from the administration.
So you can easily see how it's no stretch for us to expect trillions in global infrastructure spending over the next several years. That's going to launch some monstrous inflation, but the profits I'm going to let you in on will see you're safe and sound.
Here's the play…
Big Spending Spree, Bigger Profits
Back on March 8, I said to make a play on the iShares Global Infrastructure ETF (Nasdaq: IGF).
Since then IGF is up by 6.6%, almost double what the three big indexes have returned, and I think it's headed much higher for all the reasons I outlined above.
In fact, look at how well it's performed against the broader market since the start of the year.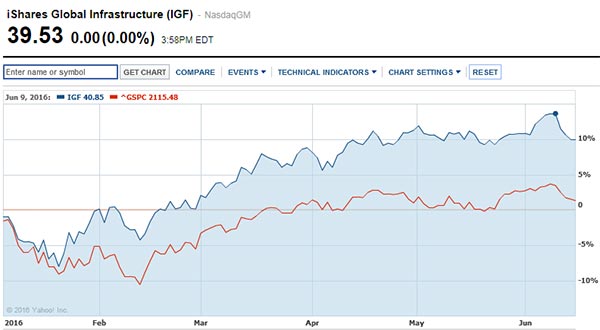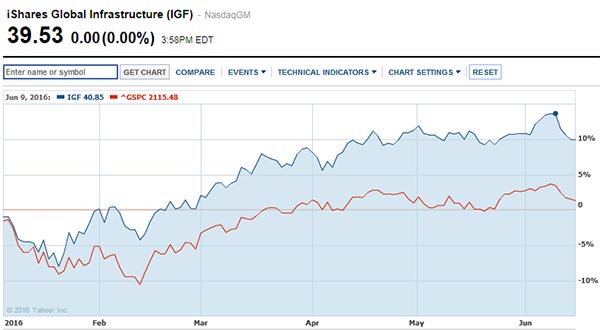 While the S&P is barely treading water, the iShares Global Infrastructure ETF is actually up by 10% since the start of 2016.
Remember – this buildout will be worldwide, and this fund gives you unbeatable geographical diversification, with IGF invested at 35% in the United States, 9.5% Australia, 9% Spain, 7.4% Canada, 7% Italy, 6.5% UK, 6% France, 4.5% China, and 3.4% Japan, with the balance sprinkled across a few more emerging and developed countries.
And with an election fast approaching, this is probably the one sector that's best placed to profit from the coming tsunami of pork-barrel politics.
Except now you know exactly how to position yourself to benefit.
Follow Money Morning on Facebook and Twitter.
The government wants inflation, and the government is going to get inflation, no matter what that means for your money. Paper currencies are going to go out of style, fast. But if you follow the protection and profit recommendations in Michael Lewitt's 2016 Gold Profit Playbook, you'll find yourself among the lucky few who've managed to preserve your wealth. Click here to get the playbook, along with all of Michael's Sure Money service at no charge.
Join the conversation. Click here to jump to comments…
About the Author
Peter Krauth is the Resource Specialist for Money Map Press and has contributed some of the most popular and highly regarded investing articles on Money Morning. Peter is headquartered in resource-rich Canada, but he travels around the world to dig up the very best profit opportunity, whether it's in gold, silver, oil, coal, or even potash.