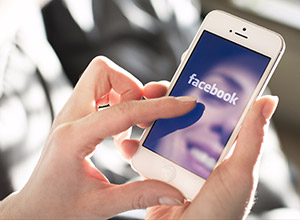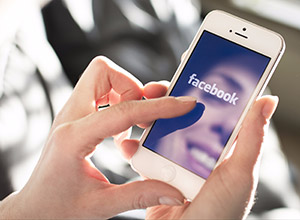 Even though the Facebook stock price is up 40% in the last 12 months, Wall Street once again is focusing on a short-term outlook.
The FB stock price is down 3.52% over the last five days after short seller Andrew Left from Citron Research announced on June 13 he was shorting FB stock. Left stated that Facebook Inc. (Nasdaq: FB) is losing its relevancy.
He also stated Snapchat is a growing competitor.
Of course, long-term investors shouldn't worry about this small dip. In fact, Money Morning Director of Tech & Venture Capital Michael A. Robinson sees the Facebook stock price climbing to $250 per share by 2020.
That's a gain of 118% from today's opening price of $114.42.
Today, we'll share two reasons why the Facebook stock price will climb so dramatically in the next four years. But first, we wanted to explain why long-term shareholders should not be scared of the bearish comments by Left.
Left is correct that Facebook isn't as popular as it once was. In a study conducted by Piper Jaffray, teens thought that Facebook was the most important social network in the fall of 2012. In the fall of 2015, Facebook was the fourth-most popular social network.
But here's what's important: Instagram was voted as the most important social networks to teens in the fall of 2015. And of course, Facebook owns Instagram. Snapchat was only voted as the third-most important social network to teens.
And even though Facebook may have lost relevancy, it still leads all social networks in monthly active users (MAUs) with 1.65 billion. Analysts estimate that Snapchat has roughly 200 million total users.
What Citron is missing is Facebook's incredible growth trajectory.
And here are two more reasons why Facebook stock will trade for $250 per share by 2020…
These Two Factors Will Send the Facebook Stock Price to $250 per Share
One of the factors that will send Facebook stock to $250 per share is Instagram.
Analysts didn't see what Zuckerberg saw in Instagram when he bought the picture app for $1 billion in 2012. At the time, Instagram only had 30 million users and generated no revenue, according to Forbes.
But a little over four years later, Zuckerberg has transformed it into its own unique network. Instagram now has more than 400 million MAUS, which is an increase of 1,233% since Facebook first bought it.
More importantly for shareholders, Zuckerberg is turning Instagram into a massive revenue source. While Facebook has never reported Instagram's revenue, analysts believe Instagram could have brought in as much as $750 million in 2015.
By 2017, research site eMarketer projects 10% of Facebook's global ad revenue will come from Instagram.
The other factor that will send the Facebook stock price to $250 by 2020 is virtual reality (VR).
Facebook purchased Oculus VR for $2 billion in 2014.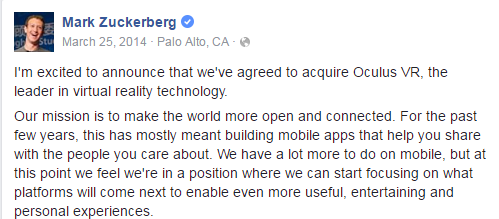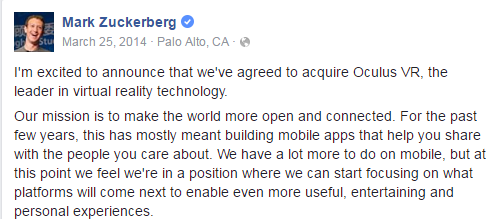 Just like with Instagram, pundits were skeptical how VR would help a social network.
Virtual reality is mainly limited to the gaming industry right now, but Zuckerberg literally saw a world of possibility within VR. He also sees a ton of profit…
You see, Zuckerberg wants to use virtual reality to provide you with courtside seats to watch LeBron James and Stephan Curry from the comfort of your own home. He also wants patients and doctors to meet face to face even without being in the same room, and Zuckerberg believes VR will be a game changer for students and teachers.
Generating ad revenue through virtual reality is a new frontier. But if anybody can do it, it will be Zuckerberg.
By 2020, intelligence firm Tractica believes that sales revenue from VR accessories, head-mounted displays, and VR content will reach $21.8 billion worldwide.
Analysts at Thomson First Call have a one-year price target of $142.87 for FB stock. That's a 24% gain from today's opening price of $114.43.
But Michael Robinson believes that's too conservative.
Because of Facebook creating impressive new revenue sources, Robinson projects that Facebook stock will trade for $250 per share by 2020. That's a potential profit of 118% in just four years.
Jack Delaney is an associate editor for Money Morning. You can follow him on Twitter and follow Money Morning on Facebook. 
Don't Miss These Apple Stock Gains: Apple stock hasn't received a lot of love lately. In fact, AAPL is down more than 9% so far in 2016. But we found something interesting: Apple grew profits in a certain division by 60% last year. And for whatever reason, everyone on Wall Street is completely ignoring it. Find out more here…