There are four new IPOs this week expected to raise a combined $299 million in proceeds.
But the biggest offering on this week's IPO calendar is the first tech "unicorn" to go public in more than seven months…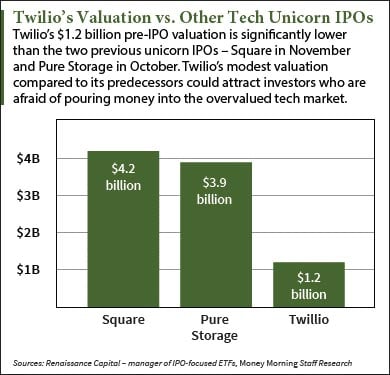 Twilio Inc. (NYSE: TWLO) is a cloud software company based in San Francisco. The firm offers application program interfaces (APIs) that help web developers add messaging and video capabilities to their mobile apps. Twilio's biggest customers include other startups like Uber and WhatsApp as well as public companies like Zendesk Inc. (NYSE: ZEN) and The Coca-Cola Co. (NYSE: KO).
Despite losing $35.5 million in 2015, the company's sales are growing faster than ever. According to Renaissance Capital, a manager of IPO-focused ETFs, Twilio's year-over-year sales increased 78% in the first quarter. That's faster than just about every other private software-as-a-service (Saas) company.
Twilio is the first unicorn – Silicon Valley's term for private tech companies valued at more than $1 billion – to hit the market since Square Inc. (NYSE: SQ) last November. The initial public offering comes at a time when tech unicorns have stayed private for longer due to fears of dried-up funding and broader volatility in the tech market. The tech-centric Nasdaq index is down 3% so far this year.
If the Twilio IPO succeeds, it will show the tech IPO sector how unprofitable, high-valued startups can still offer market-beating returns. Twilio is set to raise $130 million by selling 10 million shares at a $12 to $14 price range. The company is valued at $1.2 billion and will start trading on Thursday, June 23.
Now, here are the rest of the upcoming IPOs this week, including one of the fastest-growing medical device firms in the entire healthcare sector…
Three More New IPOs This Week (June 20 – June 24)
Selecta Biosciences Inc. (Nasdaq: SELB) is a biotech company developing nanoparticles for use in medical treatments. Founded in 2007, the Massachusetts-based firm is using its nanoparticles research to create a treatment for gout – an extreme form of arthritis common in feet. Although the treatment passed phase 1b trials, it is Selecta's only clinical candidate. This – along with the company's meager $7 million in sales from March 2015 to March 2016 – speak to Selecta's lack of long-term growth prospects.
The Selecta Biosciences IPO will raise $64 million by offering 4.25 million shares at a price range of $14 to $16. The company commands a $271 million valuation and will hit the market on Wednesday, June 22.
Tactile Systems Technology Inc. (Nasdaq: TCMD) develops and sells at-home devices for treating lymphedema – a condition characterized by swelling of the arm or leg due to lymph node damage. Its core product is the Flexitouch system, which uses compression therapy to maintain oxygen delivery that's often impeded by the swelling. Unlike other medical device firms that have gone public in 2016, Tactile Systems is profitable and offers high growth potential. From March 2015 to March 2016, the company earned $66 million in sales. That's much more than the $3 million in sales booked by Viveve Medical Inc. (Nasdaq: VIVE), the last medical device IPO.
The Tactile Systems IPO will generate $60 million by selling 4 million shares for $14 to $16 each. The company is valued at $262 million and will debut on Wednesday, June 22.
Gemphire Therapeutics Inc. (Nasdaq: GEMP) is a biotech firm that targets cardiovascular disease. It's developing a drug believed to effectively reduce triglyceride and cholesterol levels. The company was founded in 2008 and is majority owned by pharmaceutical giant Pfizer Inc. (NYSE: PFE). The Gemphire IPO is set to raise $45 million by offering 3.75 million shares at a price range of $11 to $13. It's valued at $113 million and will begin trading on Thursday, June 23.
Alex McGuire writes about the IPO market for Money Morning. Follow him on Twitter for updates on the most important IPO news.
Like us on Facebook: Money Morning
This Popular Tech Company Is Set to IPO This year… With the first unicorn of the year going public this week, the tech market is making a slow and steady comeback. That's why we're watching one social media company set to be at the center of this comeback. The Facebook initial public offering may have been the fourth-largest IPO in history, but that deal will pale in comparison to this popular social media company…