Global markets are absolutely enthralled by the possibility of the United Kingdom's exit from the European Union, the so-called "Brexit." We're seeing volatility in all the big global markets, particularly currencies, like the euro and pound sterling.
That's partly because the competing "Leave" and "Remain" camps are in a statistical dead heat, and partly because investors fear the disruptions to trade and commerce that would come from any British exit.
Now, it's true that, should a majority of British voters decide to leave the world's largest economic bloc, we can expect markets to take the brunt of it.
But that doesn't mean there aren't many compelling plays available for traders to make money on what could be a historic event of massive proportions. This is no time to hunker down and go to cash.
Instead, I'd like to show you one of my favorite trades for this kind of event. Yes, while this will be a unique historical moment, it's nothing we haven't seen - or more to the point, traded - before.
In fact, this is a trade I make regularly. Let me show you...
Here's the Big Opportunity in Brexit
The United Kingdom has a unique - call it "a la carte" - relationship with its partners across the English Channel. It's a full member of the European Union, but it carved out a number of critical "opt-outs" to the several treaties and agreements that established the Union years ago.
Now, these opt-outs aren't unique to the UK; in addition to the UK, the Republic of Ireland, Poland, and Denmark all have at least one, and the Czech Republic wants one.
These opt-outs cover things like the EU's "borderless" Schengen zone, common defense, court jurisdictions, and, most importantly for us, currencies.
You see, back at the turn of the century when Europeans were trading in their francs, lira, drachmas, pesetas, schillings, marrkas, escudos, marks, and guilders for euros, the United Kingdom negotiated an opt-out of the common currency so that its citizens could keep using their traditionally strong currency, the pound sterling.
That is one of the most important opt-outs the UK holds, and it's what's going to help this trade make us a lot of money.
The pound has been absolutely battered by Brexit anxiety in the markets, fluctuating by as much as 15% over the course of several months.  The euro, too, has been subjected to near-unthinkable stress.
Sign up for SMS so you never miss special events, exclusive offers, and weekly bonus trades.
Should the referendum, which has been running at a dead heat, reveal that the majority of British voters want their government to start exiting the EU, that volatility is going to seem like a tempest in a teacup. Confidence in the pound, and importantly, the euro, should plummet even further.
So, as options traders, we want to look at what's happening in between the euro and the U.S. dollar - or look at a trading tool we can use that tracks it, like the Guggenheim Currencyshares Euro Trust (NYSE Arca: FXE).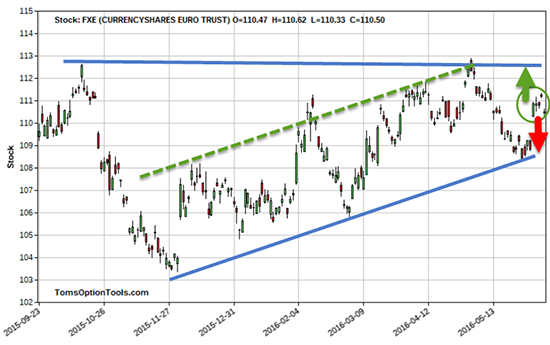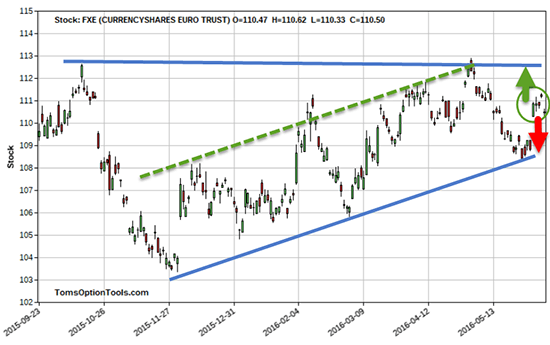 If you look at the chart above on FXE, you can see that it's currently pretty much trading in the middle of the range. I've emphasized in the chart the horizontal resistance area line and the ascending support line.
The trend over the date range I've highlighted in the chart is an overall uptrend. And some of the questions technical anaylsts and traders are asking are whether or not this trend will continue  - or if it will reverse...
From the chart, I'm inclined to say that it's in no-man's land.
So your potential option strategies are to go long calls or go long puts - or look for a possible credit spread opportunity based on what this ETF may or may not do, like not trading above $113 or not trading below $108.
Brexit Is Really a Glorified Earnings Announcement
Another way to treat the upcoming Brexit vote is like an earnings announcement.
When you're looking to trade around earnings, one of the best strategies you can use is a straddle. A straddle is a trade where you buy a call and put at the same strike price with the same expiration date simultaneously on one order. What makes a straddle so great is that it helps you profit regardless of which direction the stock goes.
The key to making a straddle work is this: an upcoming, date-driven catalyst, just like Brexit. That way, you know whether the stock (or ETF, in this case) is going to pop or drop on the date of a specific announcement or decision. And your goal here is to have it pop or drop significantly enough to cover the cost of the straddle while still capturing profits.
We're going to take a look at a current straddle situation per my own tools' options chain, but keep in mind that this is to illustrate what a straddle is and how it can make you money - I'm not actually making a trade recommendation to you...




Now the ETF itself is currently trading around $110.50 as of the time I'm writing this. So the option chain lists options that, as fate would have it, list a $110.50 strike for both the calls and the puts.
This means the straddle has strikes that are right at-the-money (ATM) for the underlying asset. This is how a straddle is usually constructed - with a call and a put with the same expiration month and the same ATM options bought-to-open.
Your total cost of this straddle is $2.32 (calls at $1.17 + puts at $1.15 = $2.32). You can assess that $2.32 as the amount the markets are pricing that this ETF could move higher or lower.
A $2.32 move higher would make FXE trade at $112.82 (based on the trading price of $110.50 I mentioned above). A $2.32 move lower would make FXE trade at $107.68. Both of those prices are at the respective resistance and support lines. This pop or drop to those prices likely will not provide an opportunity for a double, so going one week further out to expiration with the same strikes could provide you with an extra bit of time for FXE to work higher or lower to the point at which you double your money.


As an example, the July Week 2 straddle above would only cost $2.55 or $0.23 and would buy you that extra week of time.
And when it comes to Brexit...
The UK isn't about to become an international pariah if the "Leave" camp wins. No one is going to stop doing business in the country, or Europe, for that matter. The British can leave the Union, but they can't sail their islands further out into the Atlantic Ocean. I don't think we can expect a return to the "bad old days" of the 20th century when the continent went to war with itself twice. There's too much at stake, and the relationships are too closely intertwined - in or out of the EU.
The UK and Europe can and almost certainly will renegotiate their relationship on many different fronts, establishing a "new normal."
That's almost certain to bring rich trading opportunities, too, but as traders today, we should look for opportunities to take on either bullish or bearish trades now and after Britain votes on June 23 and the subsequent price movement of FXE.
But our main objective today is how we can make a profitable trade right now.
Follow Tom on Facebook and Twitter.
Wall Street Can't Keep This Secret Any Longer... Five years ago, a whole new way to trade hit Wall Street.  Since then, bankers, traders, and hedge fund managers have been keeping things quiet (so they could keep these incredibly fast profits to themselves). But now Tom Gentile's spotted a pattern that even the Wall Street insiders can't see.  And he's ready to show how you can double your money in four days - week after week.  To take part in Tom's special event on Saturday, June 25, and get all his updates, just click here now.
Join the conversation. Click here to jump to comments…
About the Author
Tom Gentile, options trading specialist for Money Map Press, is widely known as America's No. 1 Pattern Trader thanks to his nearly 30 years of experience spotting lucrative patterns in options trading. Tom has taught over 300,000 traders his option trading secrets in a variety of settings, including seminars and workshops. He's also a bestselling author of eight books and training courses.