The silver price today (Monday, June 20) is climbing higher following last week's rally to a six-week high. As of 9:55 a.m., silver prices were up 0.2% and trading at $17.45.
Silver is coming off of a crazy trading week, and that's putting it mildly.
The price of silver started last week pretty calmly, but began moving higher as the week progressed. By Thursday, the metal received a dramatic boost as investors flocked to precious metals for safety. That day saw the silver price reach its highest level since May 2.
There were two reasons for all this silver price fluctuation.
First, the market began anticipating the Fed's recent meeting and whether or not the Fed would raise interest rates. Second, polls showed the "Leave" side leading in the upcoming Brexit referendum, which helped push up fears of uncertainty.
All of this added up to some wild action for silver prices. You could feel the anxiety as the sell-off in global stock markets and oil prices boosted safe havens like silver, gold, the U.S. dollar, and sovereign bonds.
However, what's interesting to note is how silver stocks have behaved in relation to the silver price. That may give us a clue for what may be in store in the near term.
Before we examine the recent relationship between silver stocks and silver prices, let's see why prices rallied last week…
Why the Silver Price Today Is Gaining After Last Week's Record High
On Monday, June 13, the price of silver managed to recover from a sell-off earlier in the session. It climbed throughout the day to gain 0.4% and close at $17.40.
The metal saw weakness the next day as the Fed's two-day FOMC meeting kicked off. Silver prices fell 0.2% and settled at $17.36.
But the silver price reversed on Wednesday after the Fed announced it would not hike rates this month. By the end of the day, prices closed at $17.49 for a gain of 0.7%.
This chart shows how the dollar performed last week…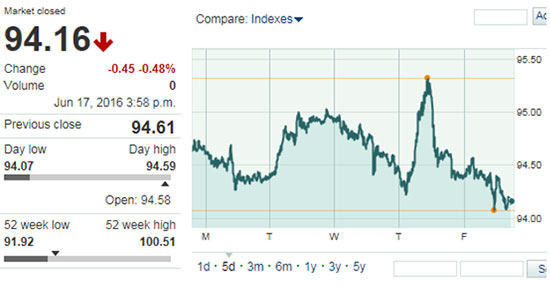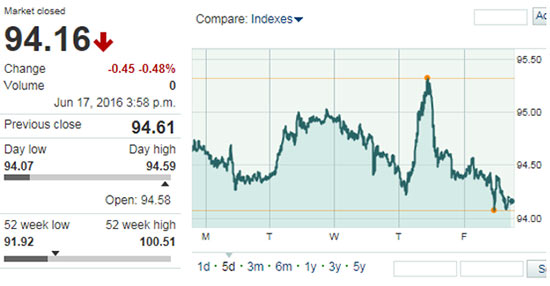 As you can clearly see, the U.S. Dollar Index (DXY) endured considerable volatility before and after the Federal Reserve announcement. But this time, silver prices followed – rather than moved against – the dollar as investors sought safe-haven assets.
The silver price movement got really interesting on Thursday, June 16. The metal had already been climbing before market open, peaking at $17.80 in early morning trading. Although it slightly retreated throughout the day, the price of silver closed at $17.61 for a 0.7% gain. That was the highest close since May 2.
It seems the run-up was caused by anxiety surrounding the upcoming Brexit referendum. The side supporting Britain leaving the EU has been gaining in the polls, which has investors concerned. Sadly, a member of parliament supporting Britain staying in the EU was attacked and killed last week. The tragedy prompted both sides to suspend campaigning through Friday.
It also triggered rumors that the referendum itself might be delayed. That released some air from the silver price balloon as investors accounted for a possible vote pushback.
On Friday, June 17, silver fell 1% to settle near $17.45. The metal still posted a weekly gain of 0.7%.
The silver price today is running on last week's momentum and is up 0.2% to $17.45 this morning.
With silver moving ahead of this week's Brexit vote, investors want to know what clues we can glean from the metal's recent action.
That's why we want to look at the recent performance in silver stocks.
As you'll see, silver stocks and silver prices have taken on a strange relationship over the last week…
The Peculiar Correlation Between the Silver Price Today and Silver Stocks
One metric I always like to consider is how silver stocks behave relative to the price of silver itself.
If we compare these two over the past week, it's interesting how silver prices are up while silver stocks are down.
Normally, silver stocks will leverage silver on the upside and downside. With silver up 0.7% last week, investors expected to see silver stocks up about 1.5%. Instead, silver stocks – represented by the iShares Silver Trust ETF (NYSE Arca: SLV) – are down nearly 1%.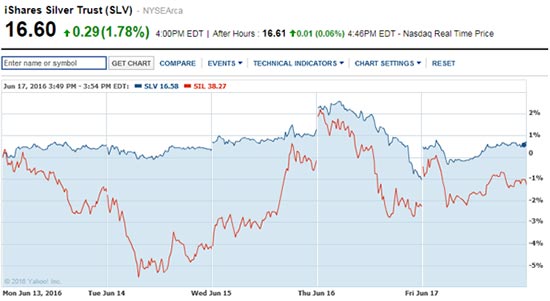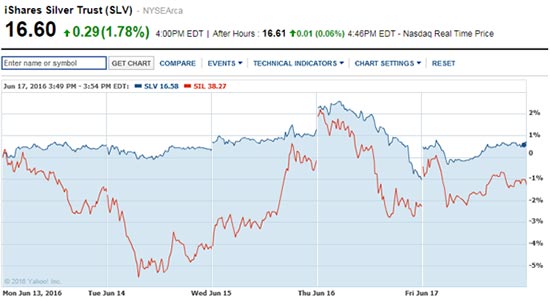 Since the silver price has risen on safe-haven buying, you'd think silver stocks would confirm these gains by also rallying higher. This disconnect between prices and stocks has me remaining cautious, which is why I want to see how silver prices behave in the coming weeks.
Still, one key takeaway we have from last week's action and the silver price today is that the metal rallies when push comes to shove and investors seek shelter from volatility.
Stay tuned to Money Morning for constant silver price updates. Follow us on Twitter and like us on Facebook.
Readers – don't miss details on this bonus stock pick… the best "retirement stock" of 2016…
Join the conversation. Click here to jump to comments…
About the Author
Peter Krauth is the Resource Specialist for Money Map Press and has contributed some of the most popular and highly regarded investing articles on Money Morning. Peter is headquartered in resource-rich Canada, but he travels around the world to dig up the very best profit opportunity, whether it's in gold, silver, oil, coal, or even potash.