Sometimes a profit-hunting trip is just a profit-hunting trip.
Take Tim Cook's recent trek to India.
Late last month, the Apple Inc. (Nasdaq: AAPL) CEO visited the subcontinent as part of a plan to boost sales there.
Practically before his plane landed, though, the cable TV cynics were blabbing about how the trip was merely a "cover" for Apple's share-price struggles and the slowdown in iPhone sales in China.
But really, Cook's "Indian vacation" is emblematic of a much larger story - one that savvy tech investors can use to pile up market-crushing gains.
I'm talking about a new trend in which U.S. tech companies are targeting the world's second-most-populous nation and No. 7 economy with billions in new investment.
And I'm talking about Digital India - the nation's effort to...
Increase the country's digital literacy, especially in rural areas
Build out superfast web connections
Create millions of hardware, software, and services tech jobs
After watching those Wall Street "screaming heads" fail to connect the dots, I knew we could use their blind spot to crush the market.
And I've found a little-noticed firm that's best positioned to spearhead growth in this massive market. It's poised to climb 23% in the coming months while paying a 2% dividend.
Take a look...
6 Million New Web Users Every Month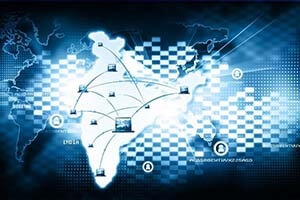 But before I show you how we'll cash in on this tech boom, let's take a look at how India became such a fertile investing area.
The reason is simple. India is adding 6 million new Internet users every month.
I got that tidbit from Jeff Bezos, CEO of Amazon.com Inc. (Nasdaq: AMZN).
Just three years ago, his firm had little presence in India.
Today, Amazon operates 21 fulfillment centers. Plus, Bezos just announced a fresh $3 billion investment in the country because he expects e-commerce sales to increase sharply there. That's on top of the $2 billion he announced in 2014.
The country's economy grew 7.3% in the fourth quarter of 2015. And it surged another 7.9% in the first quarter of 2016.
Without a doubt, India is the world's most dynamic economy - right now.
In just the past decade, India's economy - now worth $2 trillion - has leapt past the economies of Italy, Brazil, Canada, South Korea, and Russia. A decade from now, India will likely be in the global top five.
Much of that growth is coming from the tech sector. Analysts at McKinsey & Co. have identified a dozen disruptive industries in India that will be worth a combined $1 trillion by 2025. They range from cloud computing to clean energy to advanced genomics.
Ernst & Young's annual survey of global tech spending found that India attracted the third-highest level of foreign investment in the tech sector last year, right behind the United States and the United Kingdom.
Tech CEOs Are "All In"
As India lures a lot of tech investment, it's also becoming a big hub for tech exports. And the United States is its biggest trading partner.
That's why Indian Prime Minister Narendra Modi visited Silicon Valley last year.
Modi's message hit home with the tech community. He said that his Digital India plan was an "enterprise for transformation, unmatched in human history."
That might sound like typical political hype, but he's likely right - or at least close to it. Any country with 1.3 billion people who are quickly adopting the Internet is likely to have a huge impact on the global tech sector.
His Sept. 26 Digital India speech in San Jose kicked off a major wave of tech investment.
Alphabet Inc. (Nasdaq: GOOGL) announced plans to provide Wi-Fi access in 500 Indian train stations. Microsoft Corp. (Nasdaq: MSFT) unveiled plans to make the subcontinent a key hub for its global cloud computing platform. And Qualcomm Inc. (Nasdaq: QCOM) is investing $150 million in Indian tech startups.
Facebook Inc.'s (Nasdaq: FB) Mark Zuckerberg is way ahead of his peers. The country is already Facebook's second-largest market, though Zuckerberg is aiming higher.
"India is the world's largest democracy; it's one of the biggest countries, where if you really have a mission of connecting every person in the world, you can't do that without helping to connect everyone in India," he said at a town hall-style meeting at the India Institute of Technology Delhi last year.
The Indian IT Pioneer
We want to find the firm that is best positioned to spearhead growth in this massive market.
Infosys Ltd. (NYSE ADR: INFY) is that firm.
Infosys was once known mostly as a provider of outsourced tech services. But with each passing year, it has built up a deeper set of tools to offer clients, from consulting to system design to artificial intelligence.
Infosys, headquartered in Bangalore (India's so-called Silicon Plateau), has, since getting started in the early 1980s, been a great partner to global tech firms that need local market expertise or wanted to take advantage of the firm's low-cost outsourcing services.
But as Infosys' skill set and reputation has grown, it's moving well beyond its local partner and outsourcing roots. And it's attracting new clients at a rapid clip.
Back in 2011, Infosys worked with 600 global clients. Five years later, that figure has risen to 1,100. Nearly 400 of them spend more than $100 million every year on the firm's software and services.
Look for Infosys to play an even greater role in the global tech landscape in coming years as it relies on India's education system, which produces roughly 1 million new engineers every year.
Those graduates know where to turn when it's time to start a career. Business Today magazine ranked Infosys as India's most preferred company for employment.
Infosys will surely need their skills. The firm is making a big push into a new division called Digital Services. It's a costly upfront investment as Infosys has to build a deep bench of engineers with master's degrees. Yet Infosys can also charge a lot more for the projects that these staffers can handle.
You can see the early payoff of that shift by a quick glance at the numbers. Sales are likely to grow in the low teens in both 2017 and 2018, thanks to strong demand for Infosys' products in foreign markets and rising investments in India's technology foundation.
The Next Tech Titan
Here in the United States, Infosys isn't a household name like Google or Apple. At least not yet.
But as investors start to focus on the world's fastest-growing economy, they will look for that trend's best player - and one that is rich in profits and cash flow.
With a share price of $18, Infosys has a market value of $41 billion. It has roughly $5 billion in cash on hand, no debt, and pays a dividend with a 2% yield.
This is a stock that will benefit greatly from the country's transformation from emerging economy to one that will live up to Prime Minister Modi's dream of a truly Digital India.
Follow Money Morning on Facebook and Twitter.
Cash In on the "War Against Sugar" with... a Chocolate Company: The anti-sugar tide is a growing and unstoppable trend - as well as a fantastic moneymaking opportunity. One stock will ride this wave and a trio of growth catalysts to huge profits. And get this - you probably think of it as a chocolate company...
Join the conversation. Click here to jump to comments…
About the Author
Michael A. Robinson is a 36-year Silicon Valley veteran and one of the top tech and biotech financial analysts working today. That's because, as a consultant, senior adviser, and board member for Silicon Valley venture capital firms, Michael enjoys privileged access to pioneering CEOs, scientists, and high-profile players. And he brings this entire world of Silicon Valley "insiders" right to you...
He was one of five people involved in early meetings for the $160 billion "cloud" computing phenomenon.
He was there as Lee Iacocca and Roger Smith, the CEOs of Chrysler and GM, led the robotics revolution that saved the U.S. automotive industry.
As cyber-security was becoming a focus of national security, Michael was with Dave DeWalt, the CEO of McAfee, right before Intel acquired his company for $7.8 billion.
This all means the entire world is constantly seeking Michael's insight.
In addition to being a regular guest and panelist on CNBC and Fox Business, he is also a Pulitzer Prize-nominated writer and reporter. His first book Overdrawn: The Bailout of American Savings warned people about the coming financial collapse - years before the word "bailout" became a household word.
Silicon Valley defense publications vie for his analysis. He's worked for Defense Media Network and Signal Magazine, as well as The New York Times, American Enterprise, and The Wall Street Journal.
And even with decades of experience, Michael believes there has never been a moment in time quite like this.
Right now, medical breakthroughs that once took years to develop are moving at a record speed. And that means we are going to see highly lucrative biotech investment opportunities come in fast and furious.
To help you navigate the historic opportunity in biotech, Michael launched the Bio-Tech Profit Alliance.
His other publications include: Strategic Tech Investor, The Nova-X Report, Bio-Technology Profit Alliance and Nexus-9 Network.