The Tesla Motors Inc. (Nasdaq: TSLA) stock price is plummeting today (Wednesday) on news CEO Elon Musk has proposed acquiring SolarCity Corp. (Nasdaq: SCTY) in a deal valued up to $2.8 billion.
The TSLA stock price today sank more than 10% to $198 at market open. Many analysts are questioning the industrial logic and even the ethics of the deal. The TSLA stock price is now down nearly 17% in 2016.
Before we get into why analysts dislike the deal, here's why the two companies want to join forces…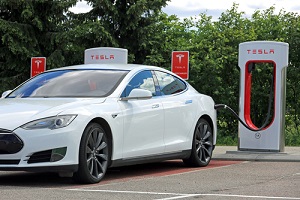 Musk is the chairman and largest shareholder in each firm. Musk owns 21.1% of Tesla and 22.2% of SolarCity. Yet Musk excused himself from voting on the proposed deal at the Tesla board meeting at which it was approved. Musk will also abstain from any vote on the SolarCity board.
Musk said the timing was right for the deal. That's because Tesla is ramping up production of batteries used in conjunction with solar panels, SolarCity's chief business.
Tesla's blog also touted the deal. In a post, Tesla said the companies are a great fit. Both are driven by a mission of sustainability, innovation, and overcoming any challenges that stand in the way of progress.
"Tesla customers can drive clean cars and they can use our battery packs to help consume energy more efficiently, but they still need access to the most sustainable energy source that's available: the sun," TSLA said in a statement.
The merger would allow Tesla's electric car customers to harness the power of the sun in an "end-to-end clean energy product" as soon as 2017. They also said the deal builds on an existing partnership between the two. Right now, SolarCity utilizes Tesla batteries in its solar projects.
Other potential benefits include synergies from cross selling, technical, and cost collaborations. Dramatic improvements in solar technology are also possible. And storage costs will drop dramatically.
Merging the two companies will also improve the setup efficiency.
"Instead of having, say, three different trips to a house to put in a car charger and solar power and a battery pack, you can actually integrate that into a single business," Musk said.
Despite Musk's optimism, analysts are very skeptical of the merger…
They say the deal would add to the growing complexity and vertical integration of Tesla. It will also add an unprofitable operation to TSLA's already strained finances. A number of firms trimmed their TSLA stock price targets and ratings following the news.
Axiom Capital's concern is that TSLA is a high-tech car company that pioneered electric vehicles and battery storage. They view SCTY as a low-tech solar vendor. The firm is also worried about the cash burn at both companies.
In May, SCTY trimmed its full-year earnings outlook following a slow start to the year for solar installation. Even the high end of Tesla's all stock offer ($26.50 to $28.50 a share) is below where SolarCity was trading in early May. It is also just half SCTY's value a year ago.
The SCTY stock price jumped 10.10% to $23.80 on the Tesla offer.
Musk dismissed talks that he is bailing out SolarCity. He said the solar company could easily raise money on its own.
Musk also encouraged investors to think long term when it comes to the deal and the TSLA stock price. He sees the potential for a trillion-dollar market value for the merged company that combines a clean energy company offering solar power and electric cars.
As we've stated all along, a long-term view is best when talking about the TSLA stock price…
Why the TSLA Stock Price Today Looks So Attractive
Earlier this month, long-term investor Ron Baron said in a CNBC interview that Tesla could be a stock to own for the next decade or two.
"I think in this one investment we can make $6 or $7 billion" over that time period, he said. "I think this could be one of the largest companies in the United States and the whole world."
Baron has accumulated a $300 million stake in Tesla over the last three years, with an average cost per share of $210. He acknowledged that he has made little so far on his investment, but as a long-term investor he noted it takes him a while to make money.
Baron believes Tesla will continue to grow at a quick clip.
"They're going to be $20 billion in sales next year, $20 billion. This year, they're doing $8 or $9 billion. Last year they did $5 or $6 (billion)."
Money Morning also has a long-term view on the TSLA stock price.
The sharp volatility in the day-to-day trading of TSLA shares, common among cutting-edge companies, means the stock is not suitable for short-term investors.
At a recent $201.42, the Tesla stock price is down 16.5% year to date. But three- and five-year returns of 86.43% and 637.10% show the TSLA stock price's potential.
Follow us on Twitter @moneymorning and like us on Facebook.
Opportunity Alert: Reckless Fed interest rate tinkering has cranked up the volume on market uncertainty, making this "contrarian" stock picker's method even more critical. You can grow incredibly wealthy using his "secret" – even when markets are going down. He's had a nearly unstoppable record of success, scoring 217 double- and triple-digit peak-gain winners in less than five years. Find out how you can get a chance to pocket these kinds of gains for yourself. Read more here…
Related Articles: