Investors around the world are fearing a stock market crash today (Friday) as global stock markets tank in the wake of the Brexit vote.
Before we get into the possibility of a stock market crash in 2016, here's how stock markets around the world are reacting to the historic Brexit vote.
Investors were cautious all week leading up to the Brexit vote as a number of Brexit polls showed neck-and-neck results. When the final tally of 51.9% for "leave" and 48.1% for "remain" came in, the bottom dropped out from under stock markets globally.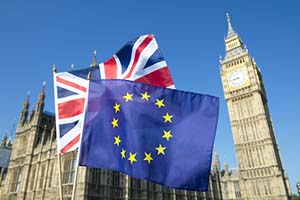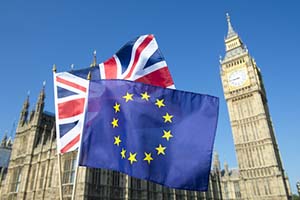 London's FTSE 100 and the Stoxx Europe 600 both plunged more than 8% in early trading Friday. The pound traded as low as $1.3230. That was the lowest level against the U.S. dollar since 1985.
Japan's Nikkei tumbled 7.9%. Germany's DAX fell 7.2%.
U.S. markets were also rocked by the Brexit vote today. The Dow was down more than 500 points in morning trading. The Dow, S&P 500, and Nasdaq were all down more than 2% early.
Those early drops only stoked the fears of a stock market crash today…
Yet a great deal of talk continues to focus on the fact that the United States is a relatively safe place compared to other foreign equity markets. So we could see a quick reversal with extremely heavy volume.
Still, the biggest question is if Brexit will usher in a stock market correction or even a stock market crash. A stock market correction is defined as decline of 10% or more and is generally temporary. A stock market crash is defined as a sudden and dramatic decline in stocks driven by panic as much as economic factors.
For months, Money Morning has been warning investors about the impact a Brexit could have on markets. And we've also been giving readers advice on how to protect their money in a situation just like this.
Here are the three best ways to protect yourself during extreme market volatility and a possible stock market crash in 2016…
3 Ways to Protect Your Money During a 2016 Stock Market Crash
Buy Gold: In times of global and economic uncertainty, gold is the go-to safe-haven investment. Gold is a money alternative that retains its value better than paper money during times of risk. Investors have piled into gold this year after a volatile start for stocks. Money has continued to pour into gold amid the growing use of negative interest rates, a slowdown in China, lower for longer rates in the United States, and concerns about the U.S. presidential election. Gold was up just shy of 20% before Thursday's vote. Friday, the precious metal surged 5.4%, or $67.80, to $1,325.00 an ounce. That was a 27-month high and put gold's year-to-date gain at more than 25%. Find the best gold stock to buy in 2016 here.
Short the Broad Market: If you are worried about the overall market falling, you can short the S&P 500. The ProShares S&P 500 ETF (NYSE Arca: SH) allows you to do this. This exchange-traded fund, which has a $3.03 billion market cap, rises every time the underlying benchmark falls. SH just underwent a 1:2 reverse split Friday. At last check it was up 2.23% at $40.49. During the 2008-2009 financial meltdown, SH hit $97.08. If we see a stock market crash in 2016, SH could revisit or even surpass that old level.
Sit on Cash: There is a reason people like to say cash is king. The phrase often comes up when prices across markets are elevated and investors move to save their cash for when prices are cheaper. If we do get a stock market crash in 2016, holding cash will allow you to do some lucrative bargain hunting for beaten-down stocks that have become true value plays.
But exercise caution and don't let emotions dictate your investment moves.
"Right now is the time to protect yourself, but you will have a chance to buy all kinds of assets at going-out-of-business prices in the not-too-distant future, because, to be honest, a lot of companies may go out of business but the ones that don't will be trading like they might," says Money Morning Global Credit Strategist Michael E. Lewitt.
Follow us on Twitter @moneymorning and like us on Facebook.
Your Money Morning Guide to Investing in Metals: There are very few assets that have held their value longer throughout history than silver and gold. That's why the two metals are universally considered the best safe-haven investments out there. To give you a better understanding of how to participate in the metals market, we developed this guide to show you how to buy gold and silver…
Related Articles: