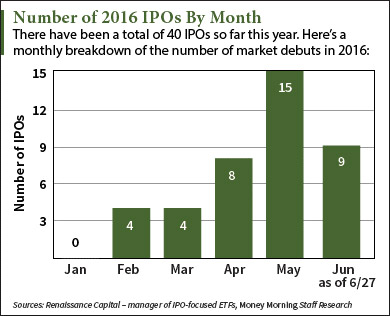 There are five upcoming IPOs this week as the second quarter comes to an end. According to Renaissance Capital, a manager of IPO-focused ETFs, all five offerings are expected to raise a combined $275 million in proceeds.
The IPO market in Q2 saw an impressive increase in activity from the first quarter. As of today (Monday, June 27), 32 initial public offerings have priced this quarter – four times the number of deals that priced during the first quarter. Those 32 companies raised a combined $5.3 billion in proceeds, eclipsing the $700 million raised in Q1.
Leading the pack of new IPOs this week is Global Medical REIT Inc. (NYSE: GMRE)…
Global Medical is a real estate investment trust (REIT) based in Bethesda, Maryland. The company owns 12 healthcare facilities across eight states and earns an average of $6.7 million in rent every year. These income-producing properties include various hospitals and surgery centers. The firm is going public to repay some of its debt and raise enough money to finalize acquisitions of two facilities in Connecticut and Pennsylvania.
The Global Medical IPO will be the second REIT IPO of the year behind MGM Growth Properties LLC (NYSE: MGP), which raised $1.1 billion in April. The REIT market has been booming this year thanks largely to the Fed's hesitance to raise interest rates. The Dow Jones REIT Total Return Index (REIT) is up 8.7% in 2016. That compares to a 1.5% decline for the Dow Jones Industrial Average during the same time.
With the MGM IPO being one of the largest offerings of the year, Global Medical is poised to attract plenty of interest when it starts trading this week. It will raise $100 million by selling 9.1 million shares at a price range of $10 to $12. The company is valued at $133 million and will hit the market on Wednesday, June 29.
Here are the rest of the deals on this week's IPO calendar, including one of the most popular brands of iced tea in the eastern United States…
Four More Upcoming IPOs This Week (June 27 – July 1)
Syros Pharmaceuticals Inc. (Nasdaq: SYRS) is a Massachusetts-based pharmaceutical company targeting genes that carry diseases. The firm's leading drug candidate, SY-1425, will treat patients with leukemia and enter phase 2 clinical trials this summer. The Syros Pharmaceuticals IPO is set to generate $60 million by offering 4 million shares at a $14 to $16 price range. The company commands a $363 million valuation and will debut on Thursday, June 30.
Tactile Systems Technology Inc. (Nasdaq: TCMD) develops and sells at-home devices for treating lymphedema – a condition characterized by swelling of the arm or leg due to lymph node damage. Its core product is the Flexitouch system, which uses compression therapy to maintain oxygen delivery that's often impeded by the swelling. Unlike other medical device firms that have gone public in 2016, Tactile Systems is profitable and offers high growth potential. From March 2015 to March 2016, the company earned $66 million in sales. That's much more than the $3 million in sales booked by Viveve Medical Inc. (Nasdaq: VIVE), the last medical device IPO.
The Tactile Systems IPO will generate $60 million by selling 4 million shares for $14 to $16 each. The company is valued at $262 million and pushed its debut date back from last week. Although no official date has been announced, TCMD stock is expected to start trading sometime this week.
Gemphire Therapeutics Inc. (Nasdaq: GEMP) is a biotech firm that targets cardiovascular disease. It's developing a drug believed to effectively reduce triglyceride and cholesterol levels. The company was founded in 2008 and is majority owned by pharmaceutical giant Pfizer Inc. (NYSE: PFE). The Gemphire IPO is set to raise $45 million by offering 3.75 million shares at a price range of $11 to $13. It's valued at $113 million and will hit the market sometime this week after its delay from last week.
Long Island Iced Tea Corp. (Nasdaq: LTEA) is a beverage company offering ready-to-drink iced tea. The firm sells several varieties of flavored bottled teas, including mango, peach, and lemon. It's one of the largest producers of iced tea on the East Coast in terms of sales to retail outlets. The Long Island IPO is set for a $10 million deal by selling 1.54 million shares for $6.50 each. It has a $55 million valuation and will start trading sometime this week.
Alex McGuire is a financial writer for Money Morning. Follow him on Twitter for news on the 2016 IPO market.
Like us on Facebook: Money Morning
This Popular Tech Company Is Set to IPO This Year… After Twilio went public last week, it's clear the tech market is making a slow and steady comeback. That's why we're watching one social media company set to be at the center of this comeback. The Facebook initial public offering may have been the fourth-largest IPO in history, but that deal will pale in comparison to this popular social media company…