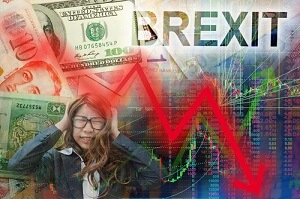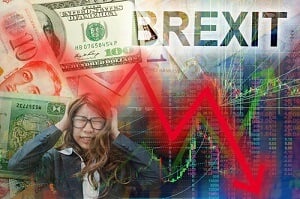 Right now, there is no way of knowing the long-term Brexit impact the global economy is facing.
But here is what we've seen in the short term since the Brexit vote:
The euro has fallen by 3.5% against the U.S. dollar since June 23
The pound has fallen by 11.48% against the U.S. dollar since June 23
The Dow Jones Industrial Average is down 3.29% since June 24
The Nasdaq is down 4.26% since June 23
The S&P 500 is down 3.41% since June 24
The potential devastating consequences of the Brexit impact are causing investors to act out of fear. And with the negative Brexit news flooding mainstream media headlines, it's easy to understand why investors are so fearful.
But instead of feeding into that fear, we want to provide Money Morning readers with three specific investments to make during these uncertain times.
But before we share those investments, we want to make sure our readers understand the full Brexit impact we're seeing this week…
Currencies and global markets are sliding after the June 23 Brexit vote because of the economic uncertainty the Brexit results have created.
The long-term consequences that can't be measured right now by the Brexit results involve:
The resignation of Prime Minister David Cameron and new United Kingdom leadership
Other EU members potentially leaving
Trade agreements becoming more complicated across Europe
Germany growing its power in the EU and potentially dictating future policies
While the EU is viewed as being heavily bureaucratic, the Brexit only increases economic instability across Europe.
And with the slowing of the Chinese economy, poor job growth in the United States, the potential catastrophic consequences of negative interest rates, and volatile oil prices, the Brexit results are fueling fears of a potential global recession.
All of this uncertainty means investors need to make specific investments to protect their portfolios. That's why we've picked the three best investments to make because of the current and future Brexit impact…
Protect Yourself from the Brexit Impact with These 3 Investments
In times of uncertainty, Money Morning Global Credit Strategist Michael Lewitt recommends buying gold.
When stocks plummet and currency loses its purchasing power, gold helps shield portfolios from losses.
Ahead of the Brexit vote, investors have been adding more and more of the precious metal to their portfolios. On Jan. 1, an ounce of gold traded for $1,063.22. Today, gold is trading for $1,329.40 an ounce.
That's a profit of 25% in just six months.
Investors are drastically increasing their purchases of physical gold like American Gold Eagle coins. From January to May 2015, 197,000 ounces of American Gold Eagle coins were sold. From January to May 2016, 427,000 ounces of American Gold Eagle coins have been sold.
Exchange-traded gold funds like the SPDR Gold Trust ETF (NYSE Arca: GLD) are also flourishing. Investors poured $7.6 million into GLD in Q1, and GLD is up 24.98% so far in 2016.
Lewitt's second recommendation is to bet against the S&P 500…
Since opening at 17,946.13 on June 24, the Dow Jones Industrial Average has fallen 3.29%. And if you think that the stock market will continue to fall, you can actually make money every time the S&P 500 goes down with ProShares Short S&P 500 (NYSE Arca: SH).
During the financial crisis of 2008, SH traded for as high as $97.08. If we experience another stock market crash and SH trades at those levels again, investors would profit 135% from today's opening price of $41.25.
Finally, Lewitt wanted to make sure Money Morning readers weren't overlooking a specific asset during economic uncertainty: the U.S. dollar.
Even though currencies are volatile right now, Lewitt still says the U.S. dollar is the best of a bad bunch. Eventually, he believes incompetent central bankers and currency devaluation will lead to the collapse of the euro and yen.
That makes the purchasing power of the U.S. dollar much more powerful.
And in times of economic chaos, keeping cash gives you the spending power needed to buy cheap, beaten-down stocks.
"Right now is the time to protect yourself, but you will have a chance to buy all kinds of assets at going-out-of-business prices in the not-too distant future, because, to be honest, a lot of companies may go out of business but the ones that don't will be trading like they might," Lewitt says.
The Bottom Line: The Brexit impact will have long-term consequences, but the global markets are reacting to fear of the unknown right now. Investors can still protect themselves, though, by purchasing gold, betting against the S&P 500, and keeping the U.S. dollar on hand.
Jack Delaney is an associate editor for Money Morning. You can follow him on Twitter and follow Money Morning on Facebook. 
Next: Can Silver Prices Climb Another 12%? You have to see our Resource Specialist's shocking prediction….