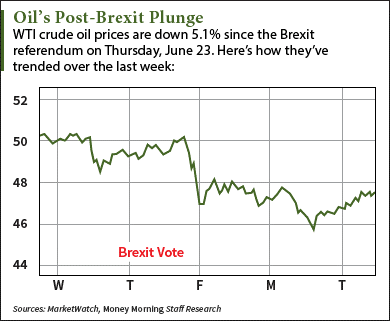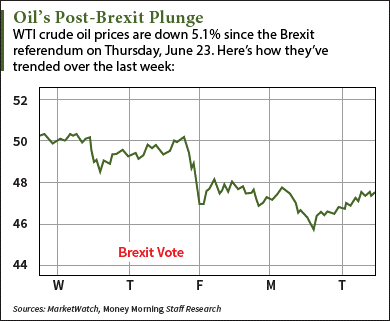 Oil prices today (Tuesday, June 28) are seeing a surprising surge following three sessions of volatility after the Brexit vote.
At 9:15 a.m., West Texas Intermediate (WTI) crude oil prices today were up 2.7% and trading at $47.57 a barrel. Yesterday, the U.S. benchmark closed at a two-week low of $46.33 a barrel. Futures for August delivery are now down 4% in June.
Brent crude oil prices today were also pushing higher. The global benchmark gained 2.6% to trade at an even $49. Futures for September delivery closed at $47.16 yesterday – the lowest settlement since May 10. They're now down 2.6% this month.
Here's why crude oil prices today are stabilizing in the wake of the most chaotic market event in recent history…
Why Oil Prices Today Are Rising Just Three Sessions After the Brexit
There are two major reasons oil prices are up today: the dead-cat bounce in global markets and the decline in the U.S. dollar following last week's sell-off.
You see, stock markets around the world were thrown into chaos on Friday, June 24, after Britain voted to leave the EU in the historic Brexit vote. Roughly $2 trillion vanished from the global market on that day alone. The benchmark indexes in the UK, Germany, and France dropped 3.2%, 6.8%, and 8%, respectively. In the United States, the Dow Jones Industrial Average and S&P 500 plunged 3.4% and 3.6%.
The British pound also crashed to its lowest level in more than three decades. It was down more than 10% at one point on Friday, marking the currency's largest daily drop ever. This volatility in the pound sent international investors flocking to the dollar, which rose 2.5% to its highest since early June.
Any rise in the dollar depresses crude oil prices because a strengthening dollar makes oil more expensive to users of other currencies.
But the rebound in oil prices today comes as the jump in global markets and the pound weakens the dollar's appeal. The Dow Jones, the pound, and the Eurozone's benchmark STOXX 600 index are up 0.7%, 0.8%, and 2.5%, respectively. Meanwhile, the U.S. Dollar Index is down 0.1%.
Despite the rise in oil prices today, the Brexit decision could cause more oil price volatility in 2016. Money Morning Global Energy Strategist Dr. Kent Moors says the British pound's lingering wounds from the decision will have an adverse effect on futures, especially Brent crude oil prices.
But these negative effects will only have a short-term impact.
In fact, Moors – who has served as an advisor to high-level energy agencies in Russia and the United States – sees Brent and WTI crude oil prices hitting these price targets this year…
Our Brent and WTI Crude Oil Price Predictions for 2016
Although the pound's volatility and Britain's unpredictability could lower oil prices in the near term, Moors sees WTI crude oil reaching $58-$60 this year. He also predicts Brent crude oil prices will move into the $62-$65 range by the end of 2016.
And there are two fundamental reasons for these gains – falling supply and increasing demand.
Supply has steadily declined over the last two years and will continue to do so as more companies take their rigs offline. According to oil field services firm Baker Hughes Inc. (NYSE: BHI), the U.S. oil rig count has plunged from a peak of roughly 1,600 in 2014 to 330 last week.
Most companies are shutting down drilling projects because they simply can't afford to keep their rigs online. With crude oil costing under $48 a barrel, these producers can't turn a profit from drilling wells that cost anywhere from $500,000 to $3 million. Most firms can only cover the operational and maintenance costs of these wells when the WTI crude oil price is near $70.
This will urge producers to use old wells that are already in place and offer less output. That can only lead to a gradual drop-off in supply until prices reach about $65, which would justify an increase in production activity.
Meanwhile, demand will steadily rise this year and next. The U.S. Energy Information Administration (EIA) reported global annual oil consumption is expected to rise 1.5% to 95.26 million barrels a day this year. For 2017, it's projected to reach 96.73 million.
These forces of supply and demand – along with the balance between what Moors calls "paper" and "wet" barrels of oil – will push prices toward his projected ranges this year.
The Bottom Line: The effects of last week's Brexit referendum are still being felt in both the energy market and broader global markets. Despite the bounce in oil prices today, expect more volatility in the coming weeks. But our long-term projections on oil prices are still bullish. As U.S. supply slowly draws down and global demand increases, both Brent and WTI crude oil prices could see gains of more than 20% by the end of 2016.
Alex McGuire writes about energy prices for Money Morning. You can follow him on Twitter here for constant updates on oil and gas news.
Like Money Morning on Facebook.
Brexit Triggers Rush to "Insure" Life Savings: Billionaires are sinking millions into "crash insurance" in an effort to protect themselves against another 2008-style meltdown. If you haven't shielded your holdings you better act now before all hell breaks loose. Read more…