In 1977, outfielder Reggie Jackson was on top of the world.
Arguably the best player of the Oakland A's dynasty, which won three straight World Series, Jackson was also the very first big-money free agent. He is also legendary for the three towering home runs he hit in during game six of the '77 World Series. It was that feat that earned him the name Mr. October.
Since retiring in 1987 with five World Series rings, Jackson has been able to turn another of his great passions – American muscle cars – into a thriving tech-centric business.
The Hall of Famer's interest in automobiles harks back to the days he spent in rural Pennsylvania helping his father fix the vans needed for the family's dry cleaning business.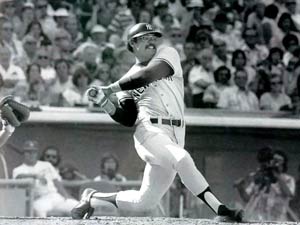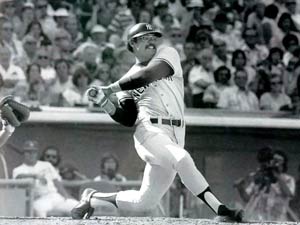 Jackson, a case study in self-reinvention, recently launched ReggiesGarage.com. He hopes to leverage his fame and auto expertise to tap into a classic-car specialty parts market – a market that analysts have pegged at $36 billion.
Jackson started working on this specialty startup years ago. And now, following a recent team up with one of the world's largest tech firms, Mr. October's website is bound to be a home run for investors…
Let's take a look…
"Mr. October" Goes Three-for-Three
Oct. 18, 1977, is a date that baseball lovers will never forget.
It was game six of the World Series against the Los Angeles Dodgers. Jackson hit three home runs in a row, each on the first pitch, from three different LA pitchers.
Only the great Babe Ruth ever hit three homers in a single World Series game (in fact, "The Babe" did it twice, in 1926 and in 1928).
But he didn't do it on consecutive pitches or consecutive at-bats.
By the time he retired, Jackson had hit 563 home runs and retired as the all-time leader in Series slugging, with a .755 average.
Just as important, he had amassed a collection of 30 pristine classic muscle cars.
According to car collector firm Hagerty, in 2011 muscle cars in "excellent condition" were valued at roughly $200,000 apiece. Five years later, that figure has risen to $300,000. A 1970 Plymouth Barracuda with a Hemi engine (known as a "Hemi Cuda") recently sold at auction for $3 million.
Jackson's longtime presence at car auctions like Barrett-Jackson and events like SEMA in Las Vegas are likely to help draw enthusiasts to his business, says Peter MacGillivray, vice president of events and communications for SEMA.
"Reggie's reputation as a car guy is well known," he says. "Most of the people running these [auto parts] businesses are in the hobby, so like them he has the chance to parlay his expertise into a brand people will trust."
With Reggie's Garage, Jackson is able to cater to elite customers all while targeting fast-growing web sales.
In fact, in the U.S. alone, online sales rose 14.6% in 2015, says the U.S. Commerce Department, while sales at brick-and-mortar stores barely budged. No surprise, considering that e-commerce now accounts for $342 billion in sales, up from $112 billion a decade ago, according to eMarketer.
Jackson had been working on creating his business for a number of years. But after spending a six-figure sum on a variety of backend solutions that either proved incompatible or just plain cumbersome, Jackson turned to a German software giant…
Enter SAP SE (NYSE ADR: SAP).
The firm recently unveiled its new SAP Anywhere service, aimed at smaller firms like Reggie's that have between 10 to 200 employees.
It's hard to overstate how savvy of a move this is for Jackson.
An All-Star Partnership
The Small Business Administration (SAP) says more than 500,000 new small businesses launch each year, and there are more than 28 million of them in operation today.
SAP's CEO Bill McDermott has a keen sense of the role that small businessmen play in the economy. In fact, he has known Reggie Jackson for years and got a first-hand view of the challenges in running a business like Reggie's Garage that must track hundreds of thousands of products.
The SAP Anywhere software is designed like a dashboard. It shows financial figures, online usage trends, supplier delivery times, and even a product's location in the warehouse. It's a pretty complex software engine, but for small business owners like Jackson, it's quite simple to manage.
SAP took a really smart approach to building out SAP Anywhere, working with the top firms in a range of tech niches. For example, the software works seamlessly with PayPal Inc.'s (Nasdaq: PYPL) payment system.
Alphabet Inc. (Nasdaq: GOOGL) is also a partner, making sure that the Android mobile computing system offers a range of handy apps that help clients connect from a range of devices and locations. United Parcel Service Inc. (NYSE: UPS) offers the shipping and logistics features embedded in SAP Anywhere.
This software achieves one simple goal: It lets small businesses look like big ones to their clients. And it wraps all this in bulletproof digital security. Best of all, it can reside completely in the cloud.
SAP is pushing hard into the cloud and expects to grow its cloud-based subscription services from around 21 billion euros ($23.2 billion) in 2015 to around 27 billion euros ($29.8 billion) by 2020.
To make that happen, the firm has partnered with International Business Machines Corp. (NYSE: IBM) to help modernize almost every type of software and service it offers.
SAP has already built a robust business network named HANA. The platform makes analytics applications smarter, speeds up business processes, and simplifies massive data infrastructures. Now, the firm is rolling out HANA Cloud as a major growth platform.
This cloud system will combine a range of once-distinct software programs that previously were only housed on in-house network servers. For example, all of the data collected by the billions of Internet of Things (IoT) will be captured on cloud-based servers and seamlessly rolled into the firm's traditional business analytics systems.
Few tech firms can offer such a broad set of services to clients big and small. And that's the result of a very savvy acquisition strategy. Over the past decade, SAP has bought the leading tech firms in various niches, including Ariba Networks (business commerce), SuccessFactors (cloud-based HR and CRM software), and Business Objects (data analytics).
That broad suite of offerings has helped SAP remain a go-to enterprise firm. Clients as diverse as 3M Co. (NYSE: MMM), BP Plc. (NYSE: BP), and Deloitte & Touche all count on SAP to handle their entire network ecosystem.
Gearing Up for Growth
Of course, SAP can count on steady massive recurring sales from its many blue-chip clients. But its move to the cloud and its outreach to the small business market are turning this value stock into a growth play.
For example, 2017 profit growth is likely to be 50% greater than sales growth, and I am looking for sustained double-digit profit gains. SAP recently announced that first-quarter earnings rose 38% from the year before.
With a $94 billion market cap, the stock trades at $79. Last year, it brought in $5.6 billion in levered free cash flow.
Our goal is to find tech stocks before they really hit their stride, and SAP is setting up to be the type of leading tech stock that can greatly outperform the overall market.
While Reggie's Garage is still ramping up – it currently features some 100,000 items for sale, but Jackson hopes to vastly expand that soon – the site already comes across as a car geek's delight.
 Follow Money Morning on Facebook and Twitter.
High Tech Is About to Send This Strategic Metal Soaring… The precious metals market is hot. So hot, in fact, that while demand for this strategic metal seems like it couldn't get any higher, supply is getting impossibly tight. That makes now the perfect time to buy – but you'll have to act quickly…
Join the conversation. Click here to jump to comments…
About the Author
Michael A. Robinson is a 36-year Silicon Valley veteran and one of the top tech and biotech financial analysts working today. That's because, as a consultant, senior adviser, and board member for Silicon Valley venture capital firms, Michael enjoys privileged access to pioneering CEOs, scientists, and high-profile players. And he brings this entire world of Silicon Valley "insiders" right to you...
He was one of five people involved in early meetings for the $160 billion "cloud" computing phenomenon.
He was there as Lee Iacocca and Roger Smith, the CEOs of Chrysler and GM, led the robotics revolution that saved the U.S. automotive industry.
As cyber-security was becoming a focus of national security, Michael was with Dave DeWalt, the CEO of McAfee, right before Intel acquired his company for $7.8 billion.
This all means the entire world is constantly seeking Michael's insight.
In addition to being a regular guest and panelist on CNBC and Fox Business, he is also a Pulitzer Prize-nominated writer and reporter. His first book Overdrawn: The Bailout of American Savings warned people about the coming financial collapse - years before the word "bailout" became a household word.
Silicon Valley defense publications vie for his analysis. He's worked for Defense Media Network and Signal Magazine, as well as The New York Times, American Enterprise, and The Wall Street Journal.
And even with decades of experience, Michael believes there has never been a moment in time quite like this.
Right now, medical breakthroughs that once took years to develop are moving at a record speed. And that means we are going to see highly lucrative biotech investment opportunities come in fast and furious.
To help you navigate the historic opportunity in biotech, Michael launched the Bio-Tech Profit Alliance.
His other publications include: Strategic Tech Investor, The Nova-X Report, Bio-Technology Profit Alliance and Nexus-9 Network.