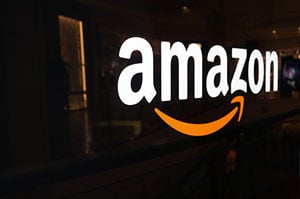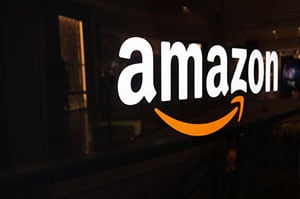 The Amazon stock price is already up 65% in the last 12 months, but a competitor's bankruptcy can help it climb even higher.
We are going to share more information about this bankruptcy and why it affirms our bullish stance on the Amazon stock price in 2016. But first, we wanted to make sure Money Morning readers understand why the AMZN stock price has been falling this week.
Even though Amazon mainly relies on North America for sales, the Amazon stock price is still impacted by global events like the Brexit. From June 23 to June 27, AMZN fell 3.2% after the Brexit vote. In comparison, the Dow fell 3.6% between June 23 and June 28.
But that 3.2% drop is just a short-term setback. If you want to see the stock's real value, you need to look at the company's performance over the last year. Remember, AMZN stock is up 65% in the last 12 months. In comparison, the Dow Jones Industrial Average is up just 0.93%, and the Nasdaq is down 3.64% during the same time.
Amazon.com Inc. (Nasdaq: AMZN) crushed its Q1 2016 earnings expectations, starting 2016 off on a positive note. In Q1, Amazon had reported earnings per share (EPS) of $1.07 on $22.7 billion in revenue. In Q1 2015, Amazon reported a loss of $0.12 on $22.7 billion in revenue.
That's a 28% increase in revenue in just one year.
And while most investors are still nervous about the markets because of the Brexit backlash, Amazon shareholders recently received even more good news...
Because of the recent bankruptcy filing from a retail competitor, Amazon could see an influx of new customers. In fact, 61% of shoppers from a survey said they were taking their business to Amazon.
Today, the AMZN stock price actually climbed 0.23% higher than its opening price of $715.50 on June 23. And this bankruptcy will help AMZN shares climb even further.
Roughly 61% of this store's shoppers said they would turn to Amazon once it closes its doors. And that could end up adding billions in sales to Amazon's bottom line...
The Amazon Stock Price's Climb Will Be Helped by This Bankruptcy
On June 28, research firm MKM Partners released a study on where Sports Authority customers plan to shop.
Of the 1,200 people surveyed, 61% said they would shop at Amazon when Sports Authority closed its doors. MKM analysts projected Dicks Sporting Goods Inc. (NYSE: DKS) would gain $560 million in sales by 2017 if it captured just 20% of the displaced business from Sports Authority.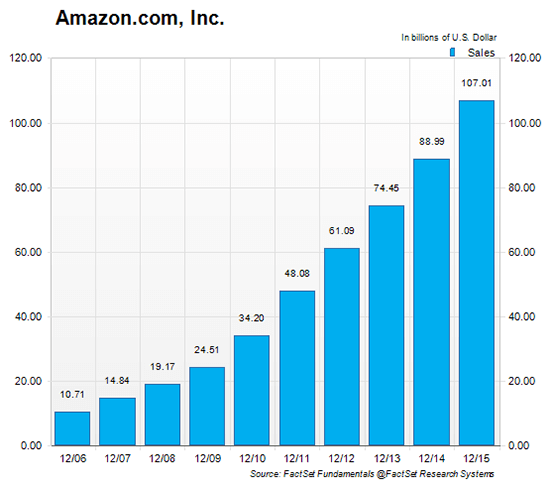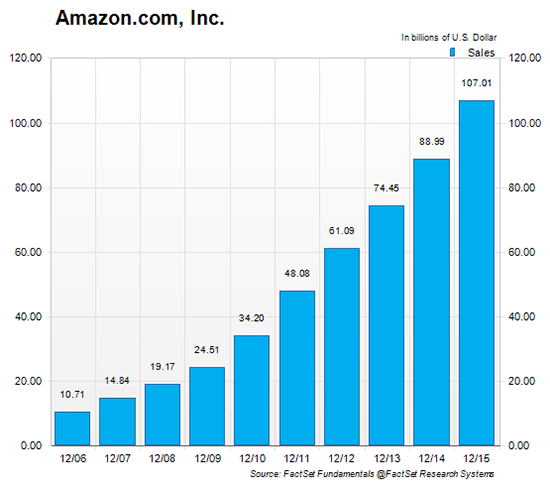 If Amazon is able to capture 40% of that market, that could add billions in sales.
And there's reason to believe Amazon will eventually win over even more displaced retail customers...
You see, more and more malls and physical retail locations are disappearing because of shifts in consumer spending habits. By 2025, real estate research firm Green Street Advisors projects more than 15% of U.S. malls will fail or turn into non-retail space by 2025.
Amazon is simply crushing iconic stores like Sears Holdings Corp. (Nasdaq: SHLD) and Macy's Inc. (NYSE: M) in terms of revenue, and that trend is not going to stop:
Amazon's 2015 revenue: $105 billion
Macy's 2015 revenue: $27.08 billion
Sears' 2015 revenue: $25.1 billion
Online shopping is so appealing because consumers can often find a wider selection of goods than offered in stores, can easily price compare, and don't have to spend money on gas to get to a mall or store.
As more and more physical retailers shut down their physical locations or close for good, Amazon's online marketplace will only continue to prosper.
Analysts at Thomson First Call have one-year price target of $802.42 for Amazon stock. From today's opening price of $717.20, that's a potential gain of 11.88%.
The Bottom Line: The Amazon stock price slightly fell with the rest of the market after the Brexit vote. But because of the demise of physical retailers and Amazon's impressive business model, AMZN can continue to climb.
Jack Delaney is an associate editor for Money Morning. You can follow him on Twitter and follow Money Morning on Facebook. 
Is It Time To Invest in Marijuana? According to ArcView Market Research, U.S. companies that sell legal pot will generate $6.7 billion in sales by the end of 2016. This is going to be the next booming industry, so make sure you aren't left behind. Read this now...