Gold prices saw another week of gains thanks to the continuing fallout of the Brexit vote.
The building uncertainty around the Brexit has grown so much that it's even flipped the odds of a Fed rate hike. Before the results showed Britain voted to leave the EU, traders expected at least one rate hike this year. Since then, those odds have dropped to nearly zero.
In fact, the odds of a rate cut before Brexit were 0%. Now it's being assigned a probability of 10%, putting it ahead of a rate hike. What's more, traders are pegging a 20% probability of a Fed rate cut at meetings later this year and into early 2017. That was unthinkable just a few weeks ago.
But the fuel for the price of gold hasn't ended there. On Thursday, June 30, Bank of England Governor Mark Carney suggested fresh stimulus measures could come soon. He noted "some monetary policy easing" would be required in response to ease Brexit consequences.
Needless to say, that hurt the pound sterling further, making gold even more attractive in response.
As more investors flock to gold for its safe-haven appeal, one other factor will boost gold prices even further over the long term.
Let's take a look at the gold price this past week, which ended with the metal posting its second straight quarterly gain…
Why Gold Prices Are On Track for a 1.3% Weekly Gain
After a scoring a 2.1% gain the previous week, the price of gold opened Monday, June 27, on a strong note. It opened around $1,328 and traded within that range to close at $1,324 for a 0.3% gain on the day.
The next day saw the gold price drop somewhat as the dollar held steady. The yellow metal fell 1% to settle at $1,311. The U.S. Dollar Index (DXY) was nearly unchanged as it closed slightly above 96.
On Wednesday, gold prices saw a slight increase throughout the day. They ticked up 0.5% to end the session at $1,318.
Here's how the U.S. Dollar Index trended over the past five sessions…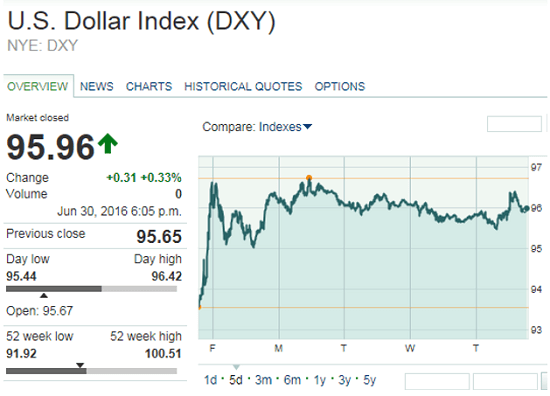 Then on the last session of the second quarter yesterday (Thursday, June 30), gold enjoyed a bit more strength. Prices opened flat at $1,318 and rose 0.3% to settle at $1,322. That pushed the gold price to a 25% quarterly gain.
As of 1:25 p.m., the gold price today (Friday, July 1) is up 1.4% to $1,338.80. That puts it on track for its highest close since March 2014.
Even after all of this Brexit action wears off, the price of gold will have strong fundamentals moving ahead in 2016.
Here's the biggest factor we're watching this year…
One Fundamental Factor Driving Gold Prices Higher in 2016
Most of the action in the last week was centered on Friday and Monday. On the first day of the week, the dollar took the lead for safe havens as the DXY surged by nearly 100 basis points intraday.
Here's how global stock markets looked on Monday…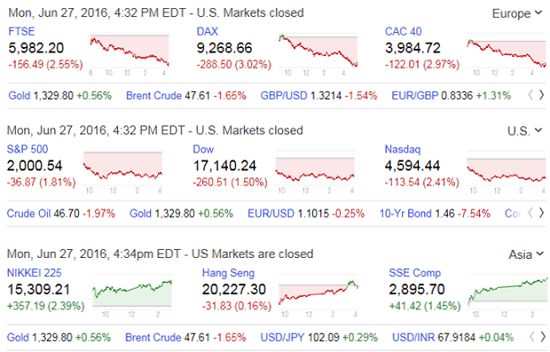 Notice how Asian markets shrugged off the Brexit vote, but European and U.S. indexes took a plunge. And in the past week, the UK pound actually hit a 31-year low.
With all that blood in the streets, it's been nice to see gold's safe-haven qualities send prices on a rally.
While more investors buy gold as a hedge against market volatility, one fundamental will boost prices further: increasing demand.
You see, gold prices still trade well below their five-year average. And as gold output is expected to fall from 3,150 metric tons in 2015 to 3,050 this year, low prices will attract more international buyers.
The biggest source of demand will be in Asian countries. Last year, India surpassed China as the biggest buyer of physical gold, importing more than 1,000 metric tons. That's up from 900 metric tons in 2014.
U.S. demand also continues to rise. According to the U.S. Mint, sales of the American Buffalo 1-ounce gold coins hit 112,500 during the first half of 2016. That's up from 96,500 during the same period last year.
With gold prices currently at a two-year high, investors consider this rally part of the broader commodity boom this year. The Bloomberg Commodity Index is up 13.9% in 2016.
But gold shouldn't be thought of as a commodity. In fact, it should be considered insurance against market volatility.
According to Money Morning Global Credit Strategist Michael Lewitt, you should buy gold as soon as possible. That's because this "extinction-level event" could decimate portfolios and retirement accounts worldwide…
Follow Money Morning on Twitter and Facebook.
Join the conversation. Click here to jump to comments…
About the Author
Peter Krauth is the Resource Specialist for Money Map Press and has contributed some of the most popular and highly regarded investing articles on Money Morning. Peter is headquartered in resource-rich Canada, but he travels around the world to dig up the very best profit opportunity, whether it's in gold, silver, oil, coal, or even potash.