The BlackBerry Ltd. (Nasdaq: BBRY) stock price fell 3% to $6.35 this morning (Wednesday) after the company announced it will stop making its Classic keyboard smartphone model.
With the BBRY stock price now down 31% year to date and 76.88% over the last five years, investors are wondering if there is any value left.
But before we get to the BlackBerry stock outlook, here's a look at the news rattling the beleaguered BBRY stock price today...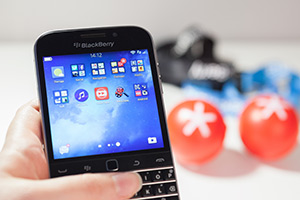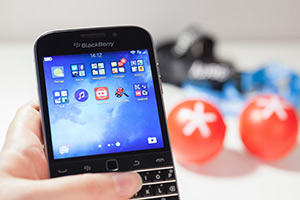 Late Tuesday, BlackBerry confirmed in a blog post it will discontinue the Classic smartphone. The smartphone line was launched less than two years ago. BlackBerry hoped the Classic would attract customers eager for a physical keyboard in a market saturated with touchscreen models.
The Classic is similar in design to its Bold predecessor and is powered by the revamped BlackBerry 10 operating system (OS). The operating system has been struggling to capture market share lost to Apple Inc.'s (Nasdaq: AAPL) iPhone and others.
The latest comScore data estimated 197.4 million Americans owned smartphones (79.3% mobile market penetration) at the end of 2015. Apple led the pack, followed by Samsung, LG, Motorola, and HTC.
On the software side, BlackBerry OS fell below 1% in 2015, a number it hasn't seen in the United States for more than a decade.
While it has discontinued the Classic, BlackBerry has launched a phone powered by Alphabet Inc.'s (Nasdaq: GOOGL) dominant Android software and has plans for several more.
Last month, BlackBerry Chief Executive John Chen expressed confidence that the company's slimmed-down handset business can show a profit by a self-imposed September deadline. But a number of analysts urged the company to ditch the unit.
BlackBerry's decision to end production of the Classic puts additional pressure on BlackBerry to exit handsets. Without a popular mid-range priced smartphone, BlackBerry likely won't be able to keep its handset business going.
And this isn't the only setback that has been weighing on the BBRY stock price in 2016...
According to Reuters, an internal U.S. Senate memo sent by IT staff last week said BlackBerry had told top U.S. carriers Verizon Communications Inc. (Nasdaq: VZ) and AT&T Inc. (NYSE: T) that all BlackBerry devices running BlackBerry 10 had been discontinued.
The memo also said the Senate's mobile communications services department had just over 600 BlackBerry devices in stock at the end of June, including 320 Classic devices. The other models referenced as discontinued include the Passport, which also has a physical keyboard, and the Z10 and Z30 touchscreen models.
That's a big blow to BlackBerry, whose operating system has been touted as the most secure. And that's a big part of the reason the BBRY stock price is down more than 12% in the last month alone.
Now that the BBRY stock price is trading near $6.42, some investors are wondering if this is the time to scoop up shares at such a low price. But is there really any value left in BlackBerry shares?
The Future of the BBRY Stock Price in 2016
When BlackBerry posted earnings on June 23, earnings per share came on at $0.08, well ahead of the $0.08 loss analysts expected. Revenue fell 39.2% year over year to $400 million. That missed the $470.82 million Wall Street was looking for.
Following the results, analysts weighed in. And many of them remained bearish on the BBRY stock price.
MKM Partners lowered its BlackBerry stock price target to $7.50 from $8.50. The firm said software was solid but devices and service access fell faster than expected.
RBC Capital Markets cut its BlackBerry price to $7 from $8. The firm said it does not see a meaningful change in BlackBerry's fundamental outlook.
BlackBerry's blog post Tuesday said change is only natural. But many analysts question if BlackBerry can change enough to last.
Without question, BlackBerry has its fans. But with its phones unavailable in stores and major carriers not offering coverage, even diehards have switched.
BlackBerry's software unit may survive for the next several years, but its hardware business is done. As for the BlackBerry stock price, the potential for any upside also looks done.
Wall Street's Next Wipeout - Will You Be Ready? A Wall Street analyst reveals a little-known "crash insurance" strategy that could "insure" your assets - up to $1 million or more - with the potential to keep you fully covered before the Brexit sends the unprotected to the poorhouse. Read more...
Follow us on Twitter @moneymorning and like us on Facebook.
Related Articles: