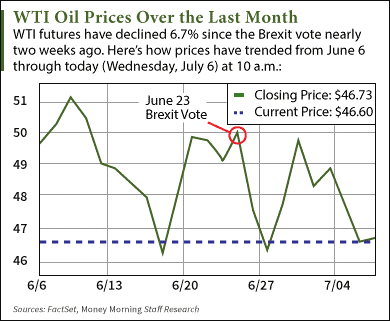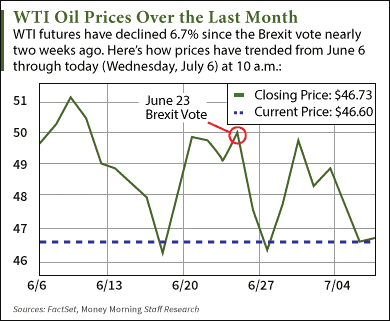 WTI Crude Oil Price Prediction 2016: The aftermath of the Brexit vote has put significant pressure on oil prices around the world.
Since the UK voted to leave the EU on June 23, WTI crude oil prices have plunged 6.7%. Meanwhile, Brent crude oil prices – the global price benchmark – are down 7.2% over the same period.
But Money Morning Global Energy Strategist Dr. Kent Moors just released new oil price targets for WTI and Brent in 2016. These targets are far above today's (Wednesday, July 6) WTI and Brent prices of $46.60 and $47.28. And there are two reasons why we're confident in these targets.
First, here's why oil prices dropped in response to the Brexit vote…
Crude Oil Price Prediction: Why Oil Will Shake Off This Brexit Shockwave
The biggest reason why crude oil prices fell after the Brexit vote was widespread currency volatility.
Britain's historic decision roiled European currencies as indexes like London's FTSE 100 and the Eurozone's STOXX 600 plunged 2.4% and 6.8%, respectively. The dives in both indexes dragged the British pound to a 31-year low of $1.28. It still hovers at that level today.
Any crash in a foreign currency will usually send oil prices lower. That's because foreign investors will buy into the U.S. dollar as a way to hedge against their home currency's volatility. When the dollar rises in value, it lowers the prices of dollar-denominated commodities like oil. That's because it becomes more expensive to users of foreign currencies. In other words, it takes more pounds per dollar to buy oil.
Moors – an energy market veteran with more than 40 years of experience advising global oil agencies – says investors should expect more oil price volatility as the pound adjusts to the new environment. With its decision to leave the EU, the UK will become a second-tier economy and energy finance will slowly move from London to New York. That will likely cause both London-based Brent and New York-based WTI to dip in the short term.
"The pound will linger and have an adverse impact on Brent crude oil prices," Moors explained after the Brexit vote. "Since most futures contracts are denominated in dollars, the exchange problems will also affect WTI crude oil prices."
But he still sees both benchmarks hitting these price targets by the end of 2016 thanks to two fundamental factors…
Our Brent and WTI Crude Oil Price Predictions for 2016
Moors sees WTI crude oil prices hitting the $58-$60 range by the end of the year. For Brent, he predicts prices will reach $62-$65 by the same time.
And the first fundamental trend that will boost prices is declining oil supply.
According to U.S. Energy Information Administration (EIA) data, total U.S. supply has declined 2.6% over the last two months from 540.6 million barrels to 526.6 million. That has coincided with the falling U.S. rig count. The number of operational rigs is down 47% over the last year to 341.
Although the count has risen recently, Moors says U.S. drillers can't increase production and turn a profit until WTI reaches the mid-$60 range. These companies burn through money at current price levels since wells cost upwards of $3 million to drill and maintain.
The high cost of drilling new wells will force producers to get output from drilled-but-uncompleted (DuC) wells. These are old wells already in place that offer less output. That will gradually lower supply until the WTI crude oil price hits $65, which would justify a boost in drilling new wells.
The second factor is record 2016 demand.
According to the International Energy Agency (IEA), global oil demand is on track to reach 95.8 million barrels a day in 2016. That's higher than any other point in human history. The EIA pushes the envelope further by saying global consumption will hit 96.7 million a day by 2017.
The Bottom Line: The Brexit vote rocked energy markets around the world as the huge rally in the dollar sent oil prices below the important $50 mark. While oil prices may stay below that level in the short term, there's no reason to run away from the oil market. Long-term fundamentals always trump short-term geopolitical events. That's why we see declining supply and rising demand sending WTI and Brent toward the $58-$60 and $62-$65 ranges by the end of 2016.
Alex McGuire is an energy writer for Money Morning. Follow him on Twitter here for the biggest updates on the post-Brexit oil market.
Like us on Facebook: Money Morning
Next Up: What Big Banks Won't Tell You About Their Oil Price "Forecasts"